International Gambling News Roundup: 30 May 2017

Welcome back to another edition of the International Gambling News Roundup. As usual, our topics of discussion today are weighted towards legal developments from around the world but we will also be touching on several other topics of interest.
Here's what we have on the menu for today:
UK Gambling Commission Releases New Gaming Industry Stats
South Africa Follows Through on Threat to Seize Gambling Winnings
Tennis Still Top Among Sports for Suspicious Betting
Online Betting Ring Busted in Vietnam
Sports Betting Legalization Bill Introduced in the USA
Online Sports Betting Grows by 23% in France
UK Gambling Commission Releases New Gaming Industry Stats
The UK Gambling Commission publishes the latest domestic gambling industry statistics twice a year in May and November. These reports are always interesting as they provide a realistic look at how the industry is developing and they come from a reliable source. All stats collected by the UKGC come straight from licensed operators both online and in the real world.
These reports are chock-full of useful information for anyone involved in the industry. For example, we learn from the latest report that online gambling of all types accounted for 32% of the overall gambling market in the UK. Within the online gambling industry, casino games (and particularly slots) generated the most turnover. We also learn that in the online betting industry, football and horse racing betting dominate online betting.
Here are some of the key findings:
Total gross gambling yield of the gambling industry in the UK from October 2015 through September 2016 was £13.8 billion
Total gross gambling yield of the online gambling industry in the UK over that same period was £4.5 billion
Online gambling (betting, bingo and casino) accounted for 32% of the total gambling industry in the UK from October 2015 through September 2016
Remote gambling and betting is the largest single sector of the overall UK gambling market
Within the online gambling industry, casino games generated the highest turnover and £2.4 billion in gross gaming yield
Of that amount, slots dominated with £1.6 billion in gross gaming yield
Online sports betting (including horse racing, pools betting and exchanges) produced £1.9 billion in gross gaming yield
Football and horse racing betting dominate the online sports betting industry
And below is a graph from the report that shows how much each sector contributes to the overall gambling industry in the UK: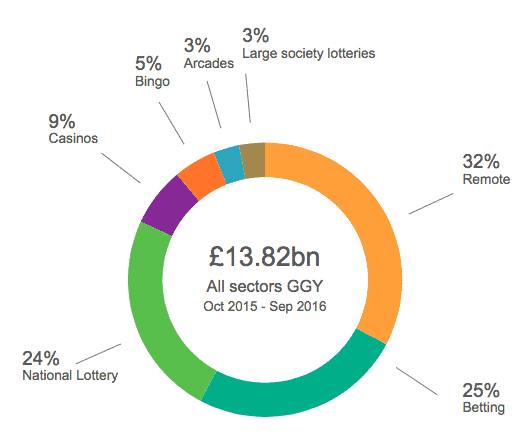 Note: The UKGC defines "gross gambling yield" as "the amount retained by operators after the payment of winnings but before the deduction of the costs of the operation."
South Africa Follows Through on Threat to Seize Gambling Winnings
A paper published by South African authorities last year suggested seizing gamblers' winnings among other measures to crack down on unlicensed online gambling. We didn't hear anything regarding these measures immediately after reporting on them, but a recent story from Calvin Ayre reports South African Authorities have begun confiscating winnings obtained at unlicensed gambling sites.
According to the report, the Department of Trade and Industry has confiscated roughly R1.25m ($97,000) from several gamblers who won money at unlicensed gambling sites hosted overseas. Now that the government has shown it is serious and banks have agreed to cooperate, South African gamblers are going to have a hard time playing real money casino games or poker online.
Gambling laws in South Africa outlaw all forms of online gambling except for sports betting provided by licensed operators. All other forms of online gaming are considered illegal – both for those running the games as well as for players. Players are not only subject to having their winnings confiscated but can also face fines as high as R10m if caught playing at unlicensed gambling sites.
Tennis Still Top Among Sports for Suspicious Betting
Tennis continues to be a troublesome sport for suspicious betting according to the latest report from sporting integrity body ESSA. In the first quarter Integrity Report for 2017, ESSA identified 27 alerts of suspicious betting activity across all sports. Twelve of those reports came from tennis matches, which made tennis the top sport for suspicious betting activity for the ninth consecutive ESSA quarterly report.
In comparison, football had four cases of suspicious betting, volleyball had four, snooker had two, basketball had two and boxing, handball and ice hockey each had one.
This report shows international tennis still has a long way to go in clearing its name in light of a match-fixing scandal that has been brewing for more than a year now. The scandal first broke in January of 2016 when BuzzFeed News and the BBC published the results of an investigation that uncovered a number of findings such as a core group of players who were found to lose matches when highly suspicious bets had been placed against them.
Although concerning, the report does express some degree of optimism for the future of tennis integrity. ESSA Chairman Mike O'Kane stated in the report that:
"The figures for Q1 follow a similar trend to previous reports. We know that tennis, in particular, has been working hard to address this situation and we await with interest the imminent publication of the Independent Review Panel's interim report. It is a process that ESSA has engaged in and welcomed as an important step, and we hope that the Panel's recommendations are both evidence-based and provide practical and proportionate actions."
O'Kane went on to explain:
"In addressing this issue at any level, there must be a clear understanding that well-regulated betting products, in themselves, neither create nor support match-fixing. That illicit activity is a result of corrupt sportspeople and criminals seeking to defraud betting operators. Those operators are the intended victims of that fraud and any mitigating actions will be best served acknowledging that."
Online Betting Ring Busted in Vietnam
Vietnamese police have arrested 10 people and seized 461m dong ($20,400) in a raid on a major online betting ring this week. In addition to the arrests and cash seizure, police recovered two vehicles, four computers and sixteen phones used in the operation.
According to Gambling Insider and local news reports, the betting operation took wagers online totaling nearly $62 million so far this year alone. Those reports also state that it remains unknown if this gambling ring was connected to any of the major international betting sites that cater to Vietnamese customers contrary to local law.
Most forms of gambling are strictly prohibited in Vietnam. The operators of underground gambling rings as well as patrons can be subject to criminal penalties if caught participating in unlawful gambling. For years, even brick-and-mortar casinos were off-limits to locals. Those laws were relaxed in 2017 such that locals may visit certain local casinos but only if they are 21 years of age or older, have no criminal record and can prove they earn at least 10 million dong per month.
Sports Betting Legalization Bill Introduced in the USA
US Congressman Frank Pallone has released a discussion draft of a bill titled the Gaming Accountability and Modernization Enhancement Act (GAME Act). The GAME Act seeks to overturn a longstanding federal prohibition of sports betting as well as allow states to legalize and regulate online gambling.
If the GAME Act becomes law, it would finally put an end to the Professional and Amateur Sports Protection Act (PASPA) that has made single-game sports betting illegal in every state except Nevada. The GAME Act would also allow individual states to legalize online gambling if the states provide proper regulations and controls.
The GAME Act emerged out of the House Energy and Commerce Committee, for which Congressman Pallone serves as the Ranking Member. In 2016, Congressman Pallone asked the committee to hold a hearing to examine the relationship between fantasy sports and gambling. Since then, he has conducted an extensive review of federal gaming laws and come to the conclusion that current gaming laws are not working as intended.
In a press release, Congressman Pallone stated:
"Despite the federal gaming laws in place today, Americans are betting up to $400 billion a year on sporting events alone. It's time to recognize that the laws are outdated, and the GAME Act will modernize them by increasing transparency, integrity and consumer protections."
The GAME Act for now remains in draft form. As the Washington Post explains, this means the bill has been submitted in order to solicit feedback from stakeholders and there is no timeline for when action will be taken on the bill.
Online Sports Betting Grows by 23% in France
A recent report from French regulator ARJEL reveals that online sports betting handle recorded by French betting sites grew from €516 million in Q1 2016 to €633 million in Q1 2017 for a growth rate of 23%. ARJEL also reports that the revenue from sports betting grew by 16% over that same period, from €82 million in Q1 2016 to €94 million in Q1 2017.
The original report is only available in French for now. ARJEL says an English-language version of the report will be released shortly.
In the meantime, Yogonet provides some other interesting statistics gleaned from the report:
The number of female sports bettors increased by a whopping 40% to 79,000
The number of male sports bettors increased by 21% to 829,000
Online tennis betting grew by 41% and more than half of tennis bets are now made via in-play betting
Other Gambling News from 2017: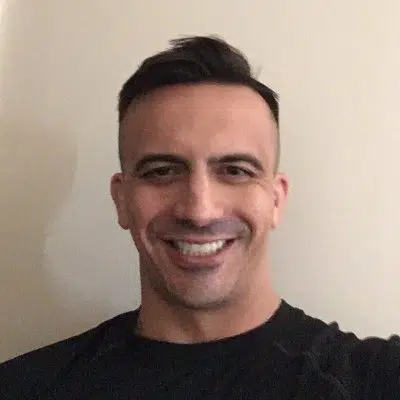 Wes Burns has more than a decade's worth of experience as a writer, researcher, and analyst in the legal online betting industry and is co-founder of OnlineBettingSites.com. Wes approaches his work from the viewpoint of players.