UK General Election Betting Countdown and Preview: 2017

The time until the next UK general election can now be counted down in hours. This week's general election comes a full three years earlier than normal due to Prime Minister Theresa May calling for a snap election back in April. On 8 June, the British people will take to the polls once again and vote for who they want to represent them in Parliament.Theresa May called for this election in an effort to secure her party's vision for the future regarding Brexit negotiations. Her hope is to win a bigger Conservative majority and form a more united government as the UK and EU begin Brexit negotiations. Labour party Jeremy Corbyn welcomed the opportunity to increase his party's lead and now here we are.
In a statement made in April, Theresa May called for the snap election after accusing opposition parties of trying to jeopardise the UK's Brexit process and negotiations. May then put the issue to a motion in the House of Commons and got the two-thirds majority required to proceed with a general election.
Betting on the UK Election Online
Last minute polls show a strong Conservative advantage heading into the election. Their poll numbers have dropped precipitously in these final few days, but all indications are that the Conservative party will nonetheless perform well overall. The latest UK election betting odds all reflect that likelihood as well.
Not surprisingly, online bookmakers are following the election closely. You can bet on the UK general election at Paddy Power and ComeOn among other online betting sites.
The UK election markets at online bookmakers include betting on which party will win the most seats, the makeup of the next government (Conservative majority, Labour majority, etc.) and many other alternative markets related to turnout percentages, over/under betting on total seats for each party, the winning party of each constituency and the prime minister after the election.
We have covered political betting somewhat frequently over the past year, but the internals of UK politics are still beyond our expertise. As such, our post today focuses on the simple facts regarding polling data and betting odds. We will not be making any predictions beyond recommending certain bookmakers for each outcome based on the prices being offered for those outcomes.
General Election Betting Odds
The Conservative party has momentum in its favour and the betting odds show that as clearly as any poll. Election betting sites are offering 1/5 on Conservatives holding the majority after the election while Paddy Power is offering 2/9 and ComeOn 4/23.
Of these, Paddy Power offers the best value for your money. A £100 at Paddy Power on the Conservatives will net you £22.22 in pure profit compared to betting £100 at Will Hill for £20 in profit or betting that same amount at ComeOn for £18.01 in profit.
If you believe Conservatives will hold the majority after the election, you should back that outcome at Paddy Power to get the best price for your money.
A similar but different option is to bet on who will win the most seats at the next election. This one is even more in favour of Conservatives with odds that reflect that outcome as well. Bookmakers offering 1/12 that Conservatives will win the most seats while Paddy Power is offering 1/14 and ComeOn 1/15.
Other Election Betting Markets
All major betting sites are covering the UK general election to some degree, but Paddy Power seems to be the most comprehensive.
Note that you can also bet on the winning party of every single constituency. There are so many options in this category that it's not even worth reposting them all here, but just keep in mind that you can bet on the election at the constituency level at bookmakers. These markets could come in especially handy if you know your constituency well. I doubt the oddsmakers could have even come close to accurately pricing the odds for each and every of the 650 constituencies.
Latest Polling Data
Conservatives have held a healthy lead over Labour since various polling companies began collecting data last month. However, the Telegraph reports that Labour has been closing the ap swiftly over the past few days heading up to Thursday's election.
The Manchester terror bombing did not appear to have much of an impact on continuing trends, but the latest London attack seems to have affecting polling. Political parties suspended their campaigns on Monday after the attack, but polls are showing the gap between both major parties continuing to shrink.
Still, if one party is to see a bump from voters in light of the recent terror attacks, it will be the Conservatives. The Manchester bombing and London attack have both given the theme of security a larger role in the upcoming election. Now more than ever before these elections reflect more than just Brexit or austerity. With such a short time between the latest terror attack and election day, people will surely have security in mind among other factors as they cast their votes.
Below are snapshots of polling averages among the major parties ahead of the general election. These graphs are accurate as of Monday, 5 June and come courtesy of the Telegraph.
General polling average: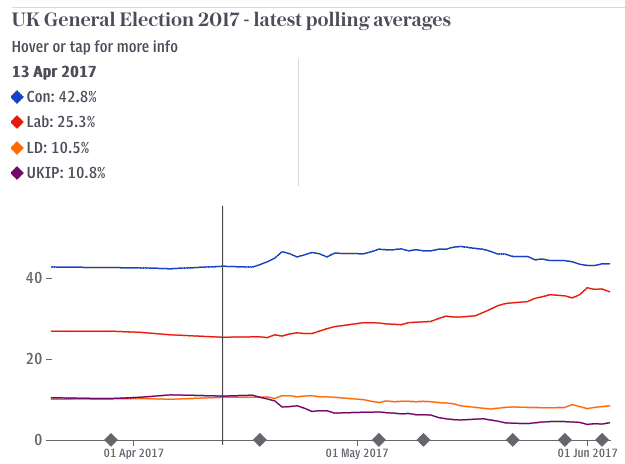 Conservative party lead over Labour: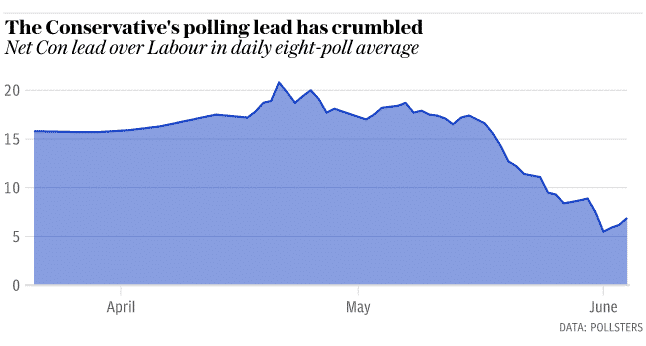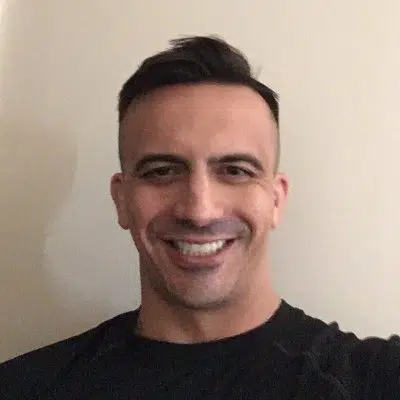 Wes Burns has more than a decade's worth of experience as a writer, researcher, and analyst in the legal online betting industry and is co-founder of OnlineBettingSites.com. Wes approaches his work from the viewpoint of players.