The United States has a long and complicated history with online betting, but the legal picture is slowly coming into focus with the end of the federal sports betting prohibition and numerous states opting to legalize various forms of online gaming.
Multiple states now have legal online sports betting, racing betting, fantasy sports, casino games and poker. Discussions at the state level are beginning to trend more toward how online betting should be legalized and away from if it should be legalized.
The state-by-state approach does lead to some confusion regarding what's legal and where, but we'll clear that all up shortly. To begin, let's start with a look at the major US betting sites that are legal across most of the country:
Best US Betting Sites
US Online Sports Betting Sites
Until recently, online sports betting was prohibited in the United States at the national level. The Professional and Amateur Sports Protection Act of 1992 (PASPA) outlawed sports betting across the entire country minus an exception for Nevada and for a few specific forms of sports games offered by several state lotteries at the time PASPA was enacted.
Under PASPA, Nevada had a monopoly over single game sports betting in the United States. Other states did not have the option to legalize sports betting even if they wanted to during the PASPA days.
Nevada's monopoly came to an end in May of 2018 when the Supreme Court of the United States ruled PASPA unconstitutional. This development gave states such as New Jersey, Pennsylvania, West Virginia and others the authority to legalize in-person and online sports betting.
The first US online sportsbooks have since gone live and are fully legal under both state and federal law.
States That Have Legalized Online Sports Betting
The following US states have legalized mobile sports betting apps and online sportsbooks.
Iowa
Nevada
New Jersey
New Hampshire
Oregon
Pennsylvania
Rhode Island
Tennessee
Virginia
Washington DC
West Virginia
States That Have Legalized In-Person Sports Betting
The following US states have legalized retail sportsbooks:
Arkansas
Colorado
Delaware
Illinois
Indiana
Iowa
Louisiana
Maryland
Michigan
Mississippi
Montana (self-serve kiosks)
Nevada
New Hampshire
New Jersey
New Mexico
New York
North Carolina
Oregon
Pennsylvania
Rhode Island
Virginia
Washington
Washington DC
West Virginia
Online Horse Racing Betting
Online horse racing betting has long enjoyed a privileged legal status in the United States with exemptions from the Wire Act, PASPA, and the UIGEA. Even during the darkest days of the sports betting prohibition, online horse racing betting carried on in the open at legal, licensed betting sites.
The first horse racing sites appeared in the USA during the mid-2000s and remain active to this day. Sites such as BetAmerica and TwinSpires have been active for years as trusted places for people to bet on horse and greyhound races online.
US gaming laws require all racing betting sites to have permission from the various racetracks on which they accept wagers, so everything is above board. Even better – all wagers placed online are pooled with wagers taken in-person at the track. This means you are paid at the same odds as everyone else, even if you place your wagers from hundreds of miles away.
The one thing that causes some confusion is which sites are legal in which states. Each state has its own racing betting laws – some states allow some online racebooks but not others. Some states prohibit online racing betting altogether.
For the most part, the United States is pro-racing. Most people reading this may bet on horses online at the major betting sites. If you try to sign up at a licensed betting site and are rejected, it is most likely due to living in a state where that site lacks a license.
States with Legal Online Horse Racing Betting
Some states actively regulate online horse racing betting, and some simply allow it amid a lack of legal clarity. In most states, local regulators either regulate or tolerate advance deposit wagering.
Alabama
Arizona
Arkansas
California
Colorado
Connecticut
Delaware
Florida
Idaho
Illinois
Indiana
Iowa
Kansas
Kentucky
Louisiana
Maine
Maryland
Massachusetts
Michigan
Minnesota
Missouri
Montana
Nebraska
Nevada (via mobile sportsbooks)
New Hampshire
New Jersey
New Mexico
New York
North Dakota
Ohio
Oklahoma
Oregon
Pennsylvania
Rhode Island
South Dakota
Tennessee
Vermont
Virginia
Washington
West Virginia
Wisconsin
Wyoming
States That Prohibit Advance Deposit Wagering
Only a handful of states explicitly outlaw online horse racing betting.
Alaska
Georgia
Hawaii
Mississippi
North Carolina
South Carolina
Texas
Utah
Online Poker in the USA
Online poker has had its ups and downs in the United States. At one point in the early 2000s, it seemed like poker was taking over the world with TV shows on ESPN, poker sites boasting tens of thousands of active players and major tournaments handing out million-dollar prizes online.
The passage of the Unlawful Internet Enforcement Act of 2006 (UIGEA) brought that all to a grinding halt as it pushed most of the major operators out of the United States. A few stalwart poker sites remained open to US players, but legal concerns and difficulty in processing payments led to a major contraction in the US market.
Now, online poker may be in the midst of a comeback with several states choosing to legalize and regulate online poker. Three states now have poker sites that are legal, licensed and safe:
Delaware
Michigan
Nevada
New Jersey
Pennsylvania
Players who experienced online poker during the golden years should tamper their expectations, however. With just four states now offering online poker, there are way fewer players online today. US poker sites have a bright future, but there is still plenty of room for improvement on the legislative side of things.
In the meantime, players in the aforementioned states may log on to play cash games and tournaments just like you would find in the real world. Texas Holdem and Omaha tend to dominate, but other games such as 7 Card Stud can also be found online (although without much action currently).
US Online Casinos
Online gambling has followed a similar path to online poker in the United States so far – both experienced a period of almost no regulation and both were hit hard by the UIGEA in 2006. And then, both received a break in 2011 when the Department of Justice issued an opinion stating that the Federal Wire Act only applies to online sports betting.
That decision paved the way for states to regulate and license online casinos. Since then, three states have passed laws to regulate casino sites:
Delaware
Michigan
New Jersey
Pennsylvania
West Virginia
There were high hopes that online gambling would spread faster than it has since the DOJ ruling in 2011, but things have moved a bit slower than expected. Delaware and New Jersey legalized online casinos in 2013 and then there was a good five-year stretch before Pennsylvania joined the fray. However, Pennsylvania's relatively recent entrance into regulated online gaming has revived hopes that not all interest is lost.
One of the nice things about online casinos aside from their convenience is the fact that they tend to have considerably higher payout rates than their land-based counterparts. In addition to that, the casino sites that have launched so far in the United States have taken to offering welcome bonuses to new customers – something you rarely see in the real world.
Gambling sites are better equipped to offer higher payout games and welcome bonuses due to significantly lower overhead costs. A brick-and-mortar casino must pay for the building, upkeep, staff, dealers and so on. An online casino can host an infinite number of players at very little cost and save a lot of money in doing so.
Other than that, the casino games you find on the internet operate in the same basic manner as those found at any Vegas establishment. All the same rules, payouts and bets are in play just like you'd find at your favorite local casino.
History of Online Betting in the United States
Online sports betting and gambling have been available to US citizens since the early 90s and the industry as a whole has undergone four distinct phases between then and now.
Legalization of Sports Betting in the USA
Sports betting got its own break in 2018 when the Supreme Court issued a ruling that declared PASPA unconstitutional. That ruling came about after a long-running court case which pitted the NCAA and major pro sports leagues against New Jersey in the Garden State's effort to legalize sports betting.
New Jersey kicked off the debate back in 2011 when voters approved a referendum to allow the state to legalize sports betting at authorized casinos, racetracks and betting sites. The NJ legislature then drafted and approved of a sports betting bill, which Governor Christie signed in 2012.
This prompted the NCAA and major professional sports leagues to sue New Jersey to stop the legislation from taking effect. The crux of the leagues' argument was the New Jersey's law was in violation of PASPA. New Jersey tried several approaches to authorize sports betting, but ultimately landed on arguing that PASPA itself was an unconstitutional law that trampled on states' rights.
To make a long story short, the case eventually went all the way to the Supreme Court of the United States and New Jersey was handed a victory when PASPA was ruled unconstitutional.
New Jersey's victory paved the way for states to legalize and regulate sports betting as they see fit. Numerous states have since taken the opportunity to legalize sports betting in the real world, online or both.
Online Gambling Laws in the United States
Online gambling has had a tumultuous history in the United States with players, operators and lawmakers all pushing and pulling the industry in a hundred different directions. Some government types seek outright prohibition while others seek absolute legalization.
To further confuse things, gaming laws vary from state to state. Federal gaming laws apply across the country (with exceptions of course) while state laws regulate gaming within each state. It all makes for a big, confusing mess. It's not all bad, though. Today I'm going to break it down and explain our country's gaming laws in a way that makes sense for everyday readers.
Unlawful Internet Gambling Enforcement Act (UIGEA)
A number of laws regulate gaming on the federal level, but the most significant of these is the Unlawful Internet Gambling Enforcement Act of 2006 (UIGEA). Certain members of Congress saw the size of the industry, noted the billions of dollars flowing overseas and decided to attempt a prohibition of online poker, sports betting and casino games.
Anti-gambling lawmakers knew they had no chance in passing any sort of legislation that would actually criminalize the act of playing online. So, they came up with the UIGEA to target the financial services industry and cut off the money supply to offshore gaming sites.
The UIGEA was immensely unpopular from its inception, but clever legal maneuvering allowed supporters to attach the UIGEA to a piece of unrelated "must pass" legislation called the SAFE Port Act dealing with port security. The UIGEA was added to the SAFE Port Act as a rider at 9:29 PM the day before Congress adjourned for the 2006 elections. Even worse, to vote against the UIGEA would have required a vote against safeguarding our nation's ports.
The UIGEA was passed into law the following day and finally went into effect on January 19th, 2009. Even before the law took effect, it had an immediate impact on the industry in the United States. A number of big-name online betting sites immediately left the US market, stopped accepting players from the US and focused their efforts elsewhere.
Other operators decided that the risk was worth it and continued to operate in the US despite the increased legal risk. Those that stayed knew they played a dangerous game. They also faced increased difficulty in processing deposits and issuing payouts. Depositing became more complicated and average payout speeds slowed.
The UIGEA put a dent on illegal online gambling, but the practice continues to this day and remains a major industry. The failure of the UIGEA to stop illegal gambling has been used (successfully in some states) to justify legalizing, regulating and taxing online gambling and sports betting in the USA.
If it's going to happen anyways, the argument goes, we might as well tax it and enact safeguards protecting consumers, problem gamblers and the integrity of sports.
What The UIGEA Accomplished
There are many misconceptions about what the UIGEA actually says. Shoddy news reporting led many to believe online gambling was criminalized with the passage of the UIGEA. This is untrue.
What the UIGEA actually did was prohibit banks and other financial institutions from doing business with illegal, foreign gaming sites. Credit card processors were instructed to decline transactions to known gaming sites, banks were prohibited from processing bank transfers to gambling sites and e-wallets such as Neteller were told to comply or face the risk of prosecution.
Companies such as Neteller and Skrill were forced to leave the US market as they were considered "third party payment processors." This severely limited the options regular people had for funding their gambling accounts.
However, the operators that chose to remain open to US customers found ways around the restrictions. They were able to process some deposits via credit cards, debit cards and direct bank transfers.
In the end, the only real effect the UIGEA had was to scare some companies out of the US market and make it slightly more difficult for players to make deposits. Online gambling remains a multibillion-dollar business in the United States to this day. Where there is a demand, people will always find a way to get their fix.
One unintended side effect of the UIGEA that has materialized more recently is increased difficulty for players to deposit at legal betting sites licensed right here in the United States. After New Jersey passed its online gaming laws, many customers reported declined credit card deposits.
Some progress has been made on that front, but even today some banks continue to block deposits to legal betting sites out of an abundance of caution. If you do have problems depositing at a licensed gaming site, customer support can usually help you find an alternative deposit method.
Where The UIGEA Failed
The UIGEA did not criminalize the act of placing bets online. Even after the passage of the UIGEA, people continued to gamble online by the millions from within the United States. Not a single person ever faced federal prosecution for placing bets online.
Noteable Exemptions
Several noteworthy exemptions were included in the text of the UIGEA. Specifically, online horse racing betting, fantasy sports and games of skill were exempted from the provisions of the UIGEA. This is why horse racing sites such as BetAmerica and fantasy sports sites such as DraftKings may operate and advertise in the open today.
Federal Wire Act
The Federal Wire Act of 1961 was responsible for the lack of sports betting in the United States outside of Nevada for decades. In short, the Wire Act criminalized the transmission of or assistance in sports wagering by any form of "wire communication."
The Federal Wire Act was for years interpreted to apply to all forms of online betting, which resulted in a federal policy that no form of online gambling or poker may ever be legalized.
This changed in 2011 when the US Department of Justice issued an opinion that the Federal Wire Act only applies to sports betting and not to other forms of wagering. This relaxed the grip of the feds and gave individual states the right to legalize online casino games and poker if they so choose.
Professional and Amateur Sports Protection Act (PASPA)
The Professional and Amateur Sports Protection Act (PASPA) became law in 1992 and effectively banned sports betting in every state except Nevada. Additionally, parlay-style sports betting games offered by the Delaware, Montana and Oregon lotteries were exempted from the law. However, as far as true, single-game sports wagering was concerned, Nevada had an absolute monopoly in the US.
New Jersey mounted a legal challenge to PASPA beginning in 2011 when voters there approved a law to legalize sports betting. This started a multi-year legal battle that eventually resulted in the Supreme Court striking down PASPA.
Now, individual states have the authority to legalize and regulate sports betting as they see fit.
State Gambling Laws
Every state in the US also has its own take on gambling. Some states completely outlaw all forms of gambling while others allow everything from online sports betting to online lotteries. The trend in recent years has been for individual states to expand what is legal online. Numerous states now have online betting, casino games, poker, lotteries and horse racing betting.
Nevada, New Jersey and Delaware were the first three states to pursue legalization after the afore-mentioned 2011 DOJ ruling. Nevada eventually legalized online poker while New Jersey and Delaware legalized online poker and casinos. In all three states, the state government is responsible for overseeing the industry and issuing licenses to operators. Pennsylvania, West Virginia and more states have likewise followed suit.
Legal US Betting Site Reviews
We actively rate and review all licensed and regulated betting sites that accept US customers. See our current list below, we are working to expand the list as more operators enter the space.
US Betting FAQ
Here's a quick list of common questions and answers to all. If you're new to online betting in the USA, this is a great place to get yourself up to date on the current situation.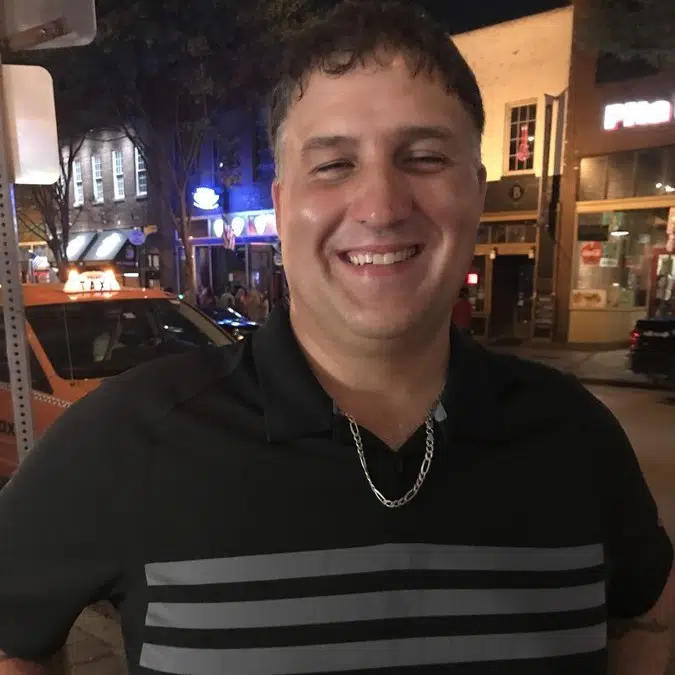 Mike Murphy is the founder of OnlineBettingSites.com and has over 10 years of experience in the legal online betting industry. A regular attendee of industry trade shows and conferences, Mike is a strong proponent of regulated markets and responsible gambling policies.