As an increasing number of countries choose to legalize and regulate online sports betting, wagering options for fans are greater now than ever before. Today, punters in most parts of the world can choose from dozens of sports betting sites that are legal, licensed and safe.
Our role in all of this is to help readers navigate the sports betting landscape by providing honest sportsbook reviews and recommending bookmakers for punters of all persuasions. This includes country-by-country recommendations, lists of the best betting sites for specific sports and much more.
Best Sports Betting Sites
This page serves as your guide to finding sports betting websites by the criteria that matter most to you. Below are recommendations categorized by sport, mobile app experience, welcome bonus and so on. Use the table of contents above to jump straight to recommendations that suit your particular needs.
Sport Specific Betting Sites
The following pages recommend online betting sites by sport. Fans of any particular sport can visit the corresponding page below for bookmaker recommendations tailored to that sport. The listings on each of the following pages take into account the average number of markets offered for that sport, types of wagers on the menu, live streaming video options, odds offered and sport-specific offers and bonuses.
Online Sportsbook and Mobile App Reviews
You've already seen our top picks for the best online sportsbooks. We stand by these picks but also understand that many punters have specific wants and needs. To that end, we have a large collection of online bookmaker reviews that are unbiased and straightforward in nature.
We take a deliberate approach in structuring our betting site reviews to discuss specific aspects that impact the customer experience. These include going over each site's long-term reputation, its licensing status, its customer support options, the generosity of its betting odds, deposit methods, payout speeds, bonuses, and other wagering options.
Sports Betting Bonuses and Offers
Most sports betting sites advertise a welcome offer inviting you to sign up and play. Sports betting bonuses are usually a good deal and provide added value that you wouldn't otherwise see at a traditional brick-and-mortar bookmaker.
Bonuses are not the only promotions you'll see. Online bookmakers are always coming up with new promotions and betting offers to reward their customers. Some of the most common types of promotional offers you're likely to see include:
First Deposit Match Bonuses: The first deposit match bonus is designed to entice new customers to make their first deposit. The amount of your deposit determines how much bonus money you get. For example, a 100% match bonus means you will receive £1 in bonus funds for every £1 you deposit.
Free Bets: Free bet tokens can be used to place a real money wager on any sporting event you choose with no risk to you. If your free bet wins, the winnings are yours to keep. If your free bet loses, nothing is deducted from your real money balance.
Cash Back / Risk-Free Wagers: These are similar to free bets, except you place the bet with your own money first. If your bet loses, the bookmaker refunds an equal amount to your account. If your bet wins, the winnings are credited to your account normally.
Reduced Juice: Reduced juice rewards lower the amount of commission the bookmaker takes on all bets of a certain type. For example, the common 10/11 line that is applied to wagers with no clear favorite is reduced to 20/21 under a reduced juice program. The end result is you pay less commission on your wagers. This promotion is usually confusing for newbies and is, therefore very rare.
You can read all about these types of promotions and see a list of the best betting bonuses here:
Loyalty Schemes and Rewards Programs
Regular sports bettors should definitely take advantage of any loyalty schemes or promotions offered by online sports betting sites. Rewards programs at online sportsbooks are designed to reward loyal customers for continuing to play and can be a great way to boost your bankroll.
Rewards can vary from free plays, bonus offers, or even tickets to major sporting events.
Generally speaking, the more you wager online, the more you benefit from sports betting rewards programs. Spend a little time looking at the VIP loyalty schemes of the different online sports betting sites to find out where you can best be rewarded for your business.
Daily Fantasy Sports Betting Sites
Today, fantasy sites host contests with million-dollar prize pools and a chance for players to compete for serious sums of money.
The best fantasy sports sites are marked by high traffic levels, big prize pools and fast payouts. A handful of brands dominate the daily fantasy industry, but some sites are better than others for fans of specific sports. See our DFS section for daily fantasy information and recommendations by sport.
Sports Betting Exchanges
Betting exchange sites provide a unique and potentially lucrative twist on the traditional sports betting model. Exchanges act more like the stock market than a regular bookmaker in that exchanges match customers who want to back opposite sides of any particular wager. Rather than betting against the bookmaker, you bet against other customers who take the opposite view.
For example, you can back a selection to lose and then be matched with another customer who is backing that selection to win. Customers are able to set their own betting odds and lay a bet that other users can decide to take or not.
The end result is a free market solution for online sports betting. In certain cases, online betting exchanges offer better value for sports bets than traditional bookmakers.
In-Play Betting Sites
In-play betting offers yet another twist on traditional sports betting. In this case, you are able to place bets after an event has already started. As a football match progresses, for example, you can place additional wagers on the outcome of the event at updated betting odds. Or, you can even bet on short-term events such as who will score the next goal or what the outcome of the next penalty kick will be.
Thus, you can watch a match in real-time and place bets as events unfold before your eyes. The oddsmakers in the background follow the match as well and offer a constantly-updated list of bets based on what's happening right now.
Is Online Sports Betting Legal?
The legal status of sports betting sites depends on where you live and how you interpret the law.
Legislation around the world lags behind technology.
In many countries, sports betting laws are open to interpretation and largely unenforced. Each year, more countries license and regulate online sports betting websites and mobile sportsbook apps.
Our country-by-country discussion of gambling laws around the world offers in-depth analyses of legal sports betting options and regulations in most countries.
Is it Safe to Bet on Sports Online?
It is safe to bet on sports online as long as you limit your wagers to reputable and safe bookies.
Safety is always my primary concern when looking at sports betting websites. I talked about researching each site's reputation earlier on this page, but some of the other things I like to consider include customer support, speed of withdrawals, player complaints posted in gambling forums and social media, and the overall sense we get when placing wagers as customers ourselves.
Gaming licenses are useful but don't always tell the whole story. Licenses from major gambling jurisdictions such as the UK hold a great deal of weight because they are backed by functional governments that are serious about regulating the industry.
We also look at online bookmakers financial stability. This information isn't generally released to the public, but you can get a good idea of how a sportsbooks finances are doing by monitoring social media accounts for complaints and unresolved issues.
Consistency of payouts is just as important.
If a once-reliable operator suddenly has a batch of slow payouts, it can be a sign of payment processing problems, liquidity issues, or just a temporary hiccup.
The main thing for you to know when looking for safe betting sites is that it's best to signup at sports betting sites that have positive reputations. Our top picks (listed near the top of this page) meet all the most important requirements that I have when determining which sports betting sites are safe places to wager at.
Basic Tips and Strategy
There is much to learn before you can become a successful sports gambler. The most profitable handicappers spend a lot of time researching picks, looking for trends, and searching for value.
Identifying value is imperative to making money over the long term. Sometimes there is no "correct" bet to make on a particular sporting event and a savvy sports bettor knows when to keep out of the action.
By putting some effort into learning about the industry, it becomes much easier to get a decent return on your money. It pays to be diverse – consistently backing odds on favorites is unlikely to pay in the long run, as it might only take one or two upset losses to wipe out your profits.
Mixing up your bets with a combination of favorites and over-priced underdogs, and placing these options at the right time is a better approach.
Visit the following pages for a more in-depth discussion of some of the most important concepts in online sports betting.
To be serious about winning, you need to manage your bankroll properly.
It can be frustrating losing several sports bets in a row, but increasing your stakes to chase your losses is not the way forward.
Stick to your stakes and size your plays according to the confidence you have in a pick – not based on previous results. As you do well and your bankroll grows, then you can consider increasing the size of your units.
The general rule of thumb for sports betting is to risk no more than 5% of your bankroll on any single bet. This is a pretty safe way to go because it helps minimize the damage done by bad streaks.
No matter how confident you are in any single bet, the 5% rule should be in effect.
If you think about it, the 5% rule makes perfect sense. Even the best handicappers are happy to achieve a 55% to 60% win rate. That means you can expect to lose 40% to 45% of your wagers even if you are really good at what you do.
At those win rates, anything can happen in the short term.
Over the long term, skilled handicappers can expect to see a general winning trend. But over the short term, everyone sees swings in both directions. By sizing your bets properly, you minimize the chances of going broke due to variance.
Even the best sports bettor in the world will lose their bankroll if routinely risking 20% or more of a bankroll on every wager. Smart bankroll management is one of the absolute fundamental keys to successful sports betting.
Sports Betting Guide: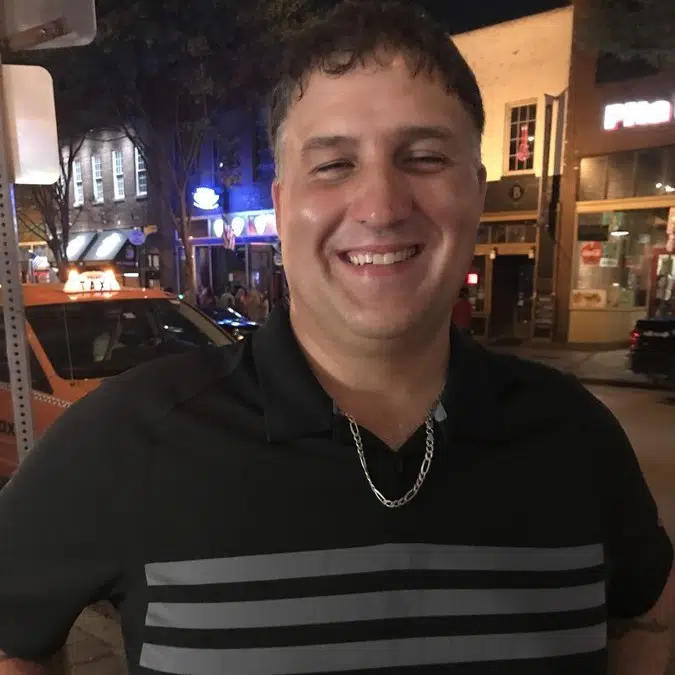 Mike Murphy is the founder of OnlineBettingSites.com and has over 10 years of experience in the legal online betting industry. A regular attendee of industry trade shows and conferences, Mike is a strong proponent of regulated markets and responsible gambling policies.