iDebit is a deposit method that allows you to fund your online betting account via direct bank transfer. No credit or debit card is necessary; all you need is an account at a supported bank and you can use iDebit to send money to the betting site for your choice. Betting sites that accept iDebit are a fast and low-cost option available to bettors in 22 countries around the world.
Best iDebit Betting Sites
You can make an iDebit deposit by logging in to your betting site and choosing "iDebit" inside the cashier's area. Enter an amount to deposit and then choose your bank from the list. You'll be directed to a secure page hosted by your bank where you'll be asked to log in to your bank's online banking feature. This confirms your ownership of the account and tells the bank to send your money to your betting account.
As you complete the transaction, you'll be asked to register an account with iDebit as well. Your iDebit account can then be used to view your transaction history and make deposits even faster in the future. Most importantly, your account will be funded instantly because your bank communicates directly iDebit accepting betting sites to process the transaction.
The nice thing about this payment method is that your banking information is never shared with the betting site in question. When you log in to your bank's online banking account, it's done at your own bank's website. Instead of the betting site dipping into your bank account to extract the funds, the bank itself pushes the money to the betting site. That's the crucial difference between iDebit and other deposit methods.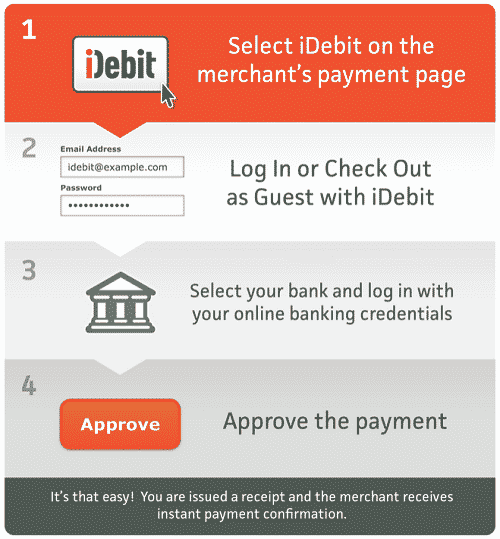 Withdraw With iDebit
Yes. iDebit can be used to withdraw your winnings from most betting sites. When you're ready to withdraw, visit your cashier and choose the payout option. If your betting site supports iDebit withdrawals, you'll see it in the list of payout methods.
Next, select iDebit and choose an amount to withdraw. The casino will send the money to your iDebit account. From there, you can have iDebit transfer the funds to your bank account. Direct bank transfers are completed within 5 business days max while cheques and money orders are mailed within 1-2 business days.
iDebit Accepted Countries and Banks
iDebit is available to customers in 23 countries including European nations plus South Africa, Hong Kong, Japan, Canada and New Zealand. The following chart shows every country where online betting using iDebit is available and you can see a full list of banks within each country that support iDebit on this page.
| | | | |
| --- | --- | --- | --- |
| Australia | Austria | Belgium | Canada |
| Estonia | Finland | France | Germany |
| Great Britain | Hong Kong | Hungary | Italy |
| Japan | Latvia | Lithuania | Netherlands |
| New Zealand | Poland | Portugal | Slovakia |
| South Africa | Spain | Sweden | |
The biggest drawback of using iDebit as a betting deposit method is that it only works with specific banks in these specific countries. If you don't have an account at a supported bank in one of these countries, you will have to use a different deposit method.
Those of you who do have accounts at supported makes will also need to make sure you're signed up for online banking. Do you know how to visit your bank's website to check your balance and recent transactions? If so, you already have online banking. If you don't know what I'm talking about, you'll need to call your bank and ask them to set it up for you.
Your online banking account username and password are required to complete all payments to iDebit betting sites. Note that you're not asked to give this information to iDebit or your betting site; you will do this on a page hosted by your bank. The only time you use your banking information is to log in at your bank's website to confirm your deposit via iDebit.
Are iDebit Betting Sites Safe?
iDebit employs a variety of security measures to keep your money and information safe. Your financial information is never shared with the casino when you deposit or cash out. Any information you share with iDebit is stored on restricted-access servers in a data center protected by both electronic safeguards and 24/7 security guards.
Furthermore, iDebit does not even require you to sign up for a new account. All payments to online betting sites may be made as a guest using iDebit's services without ever signing up for an iDebit account. If you do wish to sign up for an iDebit account, you have that option as well. Doing so allows you to view your transaction history, request higher transaction limits and more.
The requirement to log in to your bank's online banking service before making a transaction ensures that it really is you requesting the deposit. This provides an additional layer of protection to prevent other people from making deposits in your name. Finally, any information you share with iDebit is transmitted under 128-bit encryption.
iDebit Gambling Fees
iDebit is one of the most inexpensive deposit methods as it charges no fees for making an account, making payments using your iDebit balance or from withdrawing from your betting site to your iDebit account. The fees that iDebit does charge all flat fees – no expensive percentage fees like some other deposit methods.
Here's an overview of iDebit's fee structure:
Create an account: Free
Make a payment from online banking: 1.50 CAD/USD or 1.00 EUR/GBP/AUD
Make a payment from your iDebit balance: Free
Withdraw from iDebit to your bank: 2.00 CAD/USD/EUR/GBP/AUD
Withdraw from your betting site to your iDebit account: Free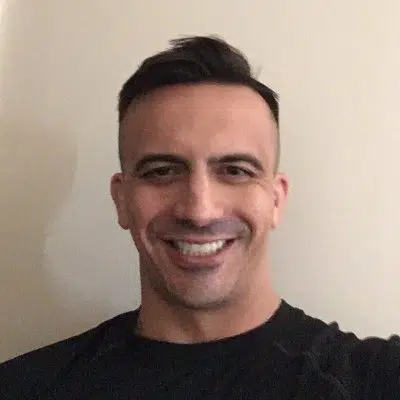 Wes Burns has more than a decade's worth of experience as a writer, researcher, and analyst in the legal online betting industry and is co-founder of OnlineBettingSites.com. Wes approaches his work from the viewpoint of players.