Litecoin betting sites work in the same basic manner as Bitcoin betting sites with the exception of the currency used. In fact, there is quite a bit of crossover. Many online bookmakers that accept Litecoin also accept Bitcoin.
Best Litecoin Betting
For those not in the know, Litecoin is a digital currency that you could say works in the same basic manner as Bitcoin. The biggest difference between the two from an outsider's perspective is the price of Litecoin is lower than the price of Bitcoin. At the time of this writing, you would be able to buy roughly 10 Litecoins with the same amount of money it would take to buy 1 Bitcoin.
We won't dig too deep into the technical differences between the two cryptocurrencies as that is beyond the scope of this article. Two additional, more general differences between the two are Litecoin is not yet accepted by as many merchants and Litecoin can process transactions faster.
The long and short of it is that if you already know how to bet online with Bitcoin, you won't have any problems doing the same with Litecoin. In fact, I suspect most Litecoin users already have some experience with Bitcoin. Whereas the mainstream media is discussing Bitcoin with rapidly increasing frequency, Litecoin is still rarely mentioned by mainstream news sources.
Ranking the Best Litecoin Betting Sites
There are also a number of specialized cryptocurrency betting sites such as Betcoin.ag and BitcoinPenguin that accept Litecoins, but the legality and safety of those sites remain major concerns. We strongly urge readers to stick with sites that are legal, licensed and regulated where you live.
One of the potential issues with specialized Litecoin betting sites is many of them are completely unregulated and have no licensing whatsoever. Because they do not work within the traditional banking system, they can easily operate in countries across the world without a license and without regulators having the ability to do anything to disrupt payments or even identify users.
Is Litecoin a Safe Alternative to Bitcoin?
Litecoin has so far proven to be at least as safe as Bitcoin. The biggest risk of gambling with Litecoin or any other cryptocurrency is the volatility in its price relative to major world currencies. The value of Litecoin has undergone numerous, dramatic swings over the years and it will likely continue to be a volatile asset for quite some time.
Your biggest risk, therefore, is losing money due to a change in Litecoin value. If the price of Litecoin tanks immediately after funding your online betting account, your bankroll will be smaller through no fault of your own.
On the flipside, the value of Litecoin could just as easily rise after you've converted your money into Litecoins and made a deposit. If you deposit £100 worth of Litecoins and the price suddenly jumps 10%, your bankroll is now 10% bigger. This is why they sometimes say betting online with Litecoin is like "gambling while you gamble."
One other important thing to keep in mind is that Litecoin transactions cannot be reversed and there is no authority you can appeal to if you feel you've been scammed of your Litecoins. This means you must take absolute care to ensure you only do business with proven and reputable Litecoin betting sites.
Getting Started
As one of the largest cryptocurrencies by market cap, Litecoin has more than enough support online to make it a cinch to get started even if you have no previous experience. The best Litecoin betting sites have also done a good job of making it easy for newbies to get up and running with minimal fuss.
First of all, you need two things to get started:
A Litecoin wallet
Litecoins to spend
Get a Litecoin Wallet
The first thing to do is get yourself a Litecoin wallet. This is where you will store your Litecoins, send Litecoin payments to betting sites and where you will receive your winnings after you cash out.
There are multiple types of wallets you can get, some that actually use hardware to store your coins offline and others that sit on your desktop and work in a manner similar to PayPal. Hardware wallets are the most secure, but a basic desktop wallet will be fine just to get started for now.
Do your research and learn how the various types of wallets work and why it is important that you select a safe, legitimate wallet.
Buy Litecoins
Once you have a wallet, it's time to buy some Litecoins. There are numerous methods for buying Litecoin online, but the easiest for most users will be to buy them through the Coinbase exchange.
Litecoin is not quite as widespread as Bitcoin so there are not as many exchanges to choose from that allow you to buy Litecoin with USD, GBP and other currencies. Many exchanges only sell Litecoin for Bitcoin. So for now, we'll stick with Coinbase as the easiest exchange.
Visit Coinbase.com to sign up for an account. The first thing you should do after you have an account is visit your "settings" page and then "security" and enable two-factor authorization.
Doing so will make it so that any time you log in to your Coinbase account, a text message will be sent to your phone number with a temporary password. This temporary password is required every time you log in and it makes it much more difficult for anyone else to gain access to your account.
After you have a Coinbase account with two-factor authorization, the next step is to set up a payment method. You can link your bank account, PayPal account or a credit/debit card to your Coinbase account. Do this by logging in to your Coinbase account, choosing "settings" and then "payment methods." Instructions on the screen will walk you through the process.
Now, you have a Coinbase account, two-factor authorization and a payment method. It's time to buy some Litecoins. Log in to your account and select "buy/sell" and then choose "Litecoin." Below that, you can choose an amount to purchase.
If Litecoins are expensive when you attempt to buy them (the price has been going up for years), don't worry. You can choose a dollar/euro/GBP amount and Coinbase will let you buy less than a whole Litecoin at a time as the screenshot below shows: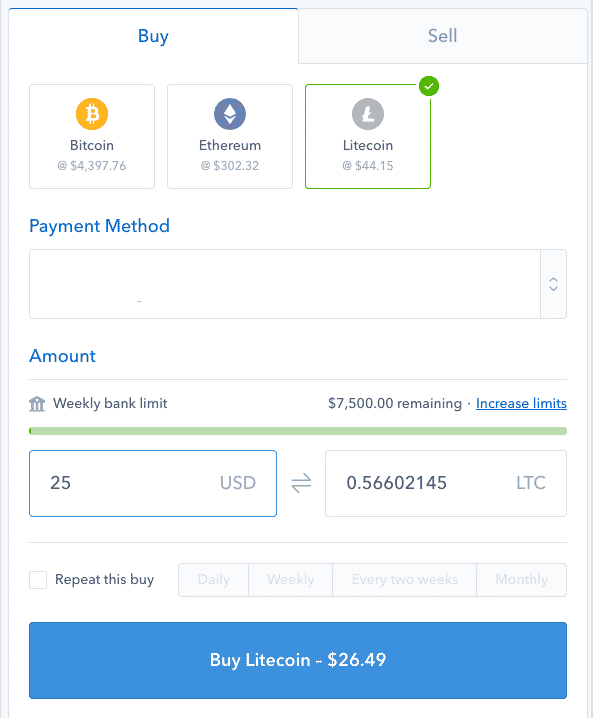 Click the "buy" button and the system will go to work. Soon, you'll have a few Litecoins in your Coinbase account. Coinbase can serve as a wallet, but most people prefer to use a separate dedicated wallet. That's why I had you set up a wallet before buying Litecoins.
Transfer Litecoins to Your Wallet
Once you have a Litecoin balance, you can transfer it to your wallet's address. Do this by logging in to your Coinbase account and clicking on the "send" link near the top of the website. Input the address of your dedicated Litecoin wallet and click on "send funds."
Fund Your Betting Account with Litecoin
The Litecoins will next be transferred to the wallet you originally chose. Now it's time to fund your betting account.
Visit your favorite betting site and log in there. If you don't already have an account, now would be the time to create your betting account. Once you do that and log in, visit the deposits page and choose Litecoin as your deposit method.
Just type in the amount you want to deposit in your currency of choice and hit the "next" button.
The betting site will now create a unique Litecoin address and tell you exactly how many Litecoins to send to that address. Your job now is to go back to your Litecoin wallet and initiate a transfer to that address. Copy and paste the address your betting site gave you and send the exact number of Litecoins suggested by the betting site.
The betting site will monitor their own Litecoin wallet and then credit your betting account with the funds in whichever currency you chose.
Litecoin transactions are processed quickly so you won't have to wait long to start betting. In most cases, you'll be ready to bet online with Litecoins within minutes.
That's all there is to it. I understand this may look like quite an involved process, but that's just how it is if you're new to cryptocurrencies. Once you've gone through all the steps to buy Litecoin and set up your wallet, future deposits and withdrawals will be a piece of cake.
Speaking of which, withdrawals are processed by logging in to your betting account and requested a Litecoin payout. This screen will have you enter your wallet address. The betting site will then send Litecoins to your wallet. From there, you can keep your Litecoins or sell them for currency at Coinbase.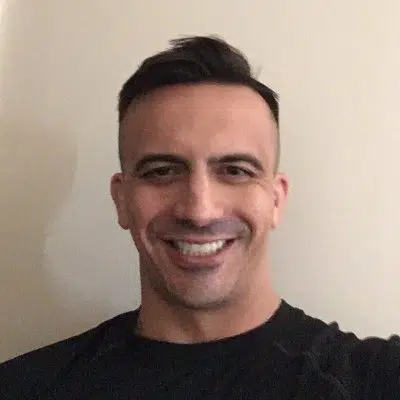 Wes Burns has more than a decade's worth of experience as a writer, researcher, and analyst in the legal online betting industry and is co-founder of OnlineBettingSites.com. Wes approaches his work from the viewpoint of players.