Know Your Customer (KYC) regulations and identity verification procedures are the cause of considerable consternation for new gamblers. Even if you have made multiple purchases online in the past, the odds are you've never been asked to submit proof of your identity or scan a copy of a recent utility bill.
Being asked to scan a copy of your driver's license presents a sudden and unexpected departure from the norm for most online consumers, and that is bound to raise a few eyebrows when it comes to anything involving money and the internet. So if you're here because a betting site asked to see a copy of your ID, passport or any other document, you have come to the right place.
Today's post will explain what identity verification is, how the KYC process works at online betting sites and why it is necessary in the first place. We will also respond to a few frequently asked questions at the bottom of this post.
Identity Verification Explained
Identity verification is the method by which betting websites verify that you really are who you say you are and that you are old enough to bet online. The goal is to verify your identity in order to comply with various laws, protect players, and protect operators from fraudulent activity.
Gambling sites request proof of your identity and then cross reference that with third-party databases such as electoral rolls, credit reporting agencies and so on. Once the site verifies your identity, you will never again be bothered by that site to verify who you are.
The Process
The KYC process itself is fairly straightforward. All betting sites will ask you to scan a copy of a valid government ID and proof of residence. If your ID shows your address, that's all you need. Otherwise, you can prove your residence by scanning a copy of a recent utility bill that shows your name and address. If you don't have a scanner, you can also just use your mobile to take a picture.
The part some punters have trouble with in this process is finding a recent utility bill. With paperless statements and online bill-pay being so common these days, many bettors have this issue. No problem. Most sites also accept a copy of a recent bank statement as proof of address.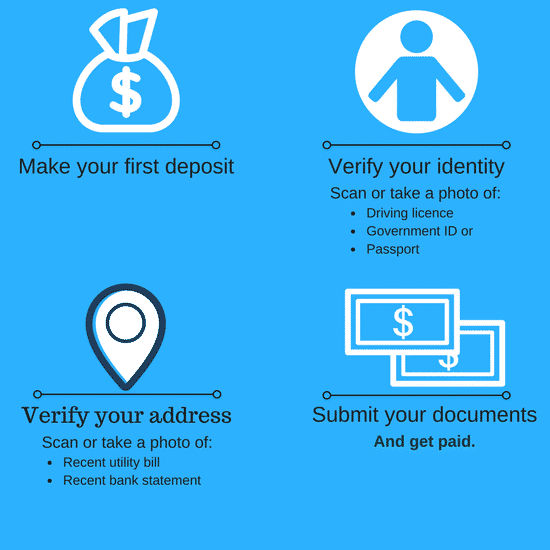 The Reason
In most jurisdictions, gambling site operators are required by law to verify the age and identity of all customers as a part of KYC regulations. These laws serve multiple purposes:
Prevent access to minors
Prevent money laundering and fraud
Comply with self-exclusion requests
Frequently Asked Questions Related to KYC Policies
Below are a few questions that I have seen posted online to various gambling-related discussion boards and my responses.
"Do legitimate betting sites really want a copy of my license and proof of residence?"
Yes. This is a completely normal course of doing business online in the 21st century. In fact, it would be abnormal and concerning if a site did not want to verify your identity prior to your first withdrawal.
Judging by the number of times variations of this question have been posted to public discussion forums, many gamblers become immediately skeptical when asked by a casino to scan a copy of their license, passport, utility bill and/or other documents. I remember being wary the first time I was asked to scan a copy of my driving license, so I can relate to your concern.
This is just one of the many reasons it pays to stick with reputable and well-known betting sites. The biggest betting sites in the world are licensed in multiple countries, have withstood the test of time and are home to literally millions of customers.
These sites have not only proven themselves, but they have the experience and the means to keep your private information secure. On top of all that, the biggest sites have the most to lose so they have all the motivation they need to protect your information. The same cannot be said for small, unknown betting sites.
"Are there any betting sites without identity verification?"
Not any at which you would want to play. Identity verification is an integral part of internal security for gambling sites of all types. The law in every legitimate licensing jurisdiction requires betting sites to have KYC procedures in place.
Licensed betting sites must take the law seriously or they can quickly find themselves in heaps of trouble. In 2016, Irish betting site Paddy Power was fined nearly £310,000 for KYC failures involving just three customers.
If you do manage to find a betting site that does not have KYC policies in place, that site is either totally unlicensed or is operating contrary to its most basic licensing conditions. In either case, this is bad news for the safety of your funds. You will most likely have zero recourse of that site decides to disappear with your money.
We can also look at KYC policies from the glass-half-full perspective: Identity verification benefits the players as it puts a major dent in identify theft and reduces operating costs for betting sites. Lower operating costs result in better promotions and more competitive odds compared to brick-and-mortar establishments.
The one exception to all this is certain bitcoin-only betting sites. There are a number of bitcoin sites out there that only deal in bitcoins and require zero identity verification whatsoever. Some of these sites actually have great reputations online, but you should know that they are mostly unregulated and there are no guarantees that you will be treated fairly or receive your money when you win. Proceed with caution and use your common sense if you decide to go this route.
"Why do betting sites allow you to deposit first and then only request identification documents when you want to withdraw? Wouldn't it be more fair to required these documents first so the players aren't surprised later?"
This is a valid complaint and the reason for this is simple economics. If online betting sites required players to scan and submit paperwork before they could even deposit, it would turn off a large portion of their customers right out of the gate.
The reasoning may seem a bit self-interested, but this order of doing this is supported by law in every licensing jurisdiction. Even lawmakers recognize the reality of doing business online and how badly business would be hurt if players were required to send documentation prior to depositing. Plus, consumers have a much greater incentive to comply when they are owed money.
In any case, the simple fact of the matter is that this is how it works and it's something we have to either accept or not. I don't intend to sound flippant here, but the law is unlikely to change any time soon. In all my experiences, the minor hassle of submitting identity verification documents has been greatly outweighed by the convenience of gambling online.
"How long does it take to verify my identity?"
It varies. Large, high-quality betting sites should have your identity verified within a day or two, but possibly longer if you live somewhere that doesn't have a large online gaming market. Small and medium-sized sites can take significantly longer, which is understandably aggravating.
You can increase the odds that your identity is verified quickly by sticking with reputable bookmakers and making sure your scans clearly show the requested information before you send that e-mail.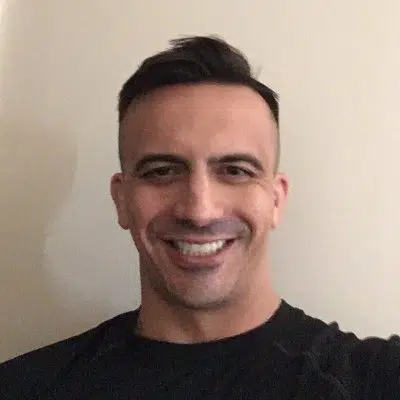 Wes Burns has more than a decade's worth of experience as a writer, researcher, and analyst in the legal online betting industry and is co-founder of OnlineBettingSites.com. Wes approaches his work from the viewpoint of players.