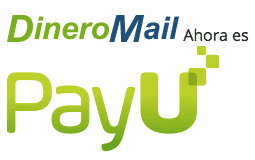 DineroMail is a secure deposit option available to gamblers Argentina, Brazil, Chile, Mexico and a dozen other countries. It was originally formed as an independent company but now operates under the PayU banner and processes payments for customers in 16 countries across Latin America, Europe, the Middle East and Africa.
Some betting sites still list DineroMail as a separate deposit method, but PayU and DineroMail work hand in hand. You're likely to find references to either company when you go to fund your account. In either case, getting started is a simple process of choosing "DineroMail" or "PayU" as your deposit option after you sign up for an account at the betting site of your choice.
The best betting sites that still accept DineroMail deposits include the following:
If you select DineroMail as your deposit option, you will be redirected to the PayU website where you can choose your payment method. PayU/DineroMail accepts credit cards, bank transfers, cash deposits in person and more. Just choose the option that works best for you and your betting account will be credited with the funds.
There are three things that make PayU and DineroMail betting sites simple for players. First, the fact that it doesn't require an account makes it a convenient option for quick deposits. Second, cash payments are accepted for those of you with security concerns (or if you don't have a bank account). Finally, you do have the option to sign up for an account if you would like to take advantage of increased convenience by funding your account online and looking up past transactions.
What's the Difference Between DineroMail and PayU?
Both companies are essentially the same now. DineroMail was a small, Latin America-focused payment option for a long time until it was purchased by PayU in 2011. You'll still find references to DineroMail all over the web to this day, but the company is slowly being absorbed into the bigger PayU business.
All corporate changes aside, both companies essentially work in the same manner. You can still top up your betting account in person at local gas stations and such, but now have access to a greater number of deposit methods in various currencies. The DineroMail and PayU merger has been a success by all standards.
There are dozens of ways to actually complete the payment. But first, you'll need to log in to your gaming account and visit the cashier area to select DineroMail/PayU from the list of payment options. Then, you'll be given instructions to complete the payment.
A number of options will be provided to you based upon your country of residence. You can always complete the payment online with any credit or debit card, bank transfer, e-wallets and more. If you would rather pay in cash, you can also choose in-person cash deposits. Choose this option and you'll be directed to a list of locations in your area that accept cash payments. These include gas stations such as 7Eleven, OXXO and more.
Note: Neteller Accepts DineroMail and PayU
If your favorite betting site does not accept DineroMail or PayU, there's a good chance you can still deposit with this option with a little help from Neteller. Just head over to www.neteller.com to sign up for a free e-wallet account. From there, you can fund your Neteller account with DineroMail/PayU and then transfer the funds from Neteller to the betting site.
For anyone not familiar with Neteller, it is an extremely popular e-wallet that is accepted by all the world's major gaming sites. It costs nothing to sign up and you can then use it to make deposits, receive payments and cash out your winnings. You can read more about Neteller here.
Accepted Countries
DineroMail and PayU are available to gamblers residing in the following countries:
| | | | |
| --- | --- | --- | --- |
| Argentina | Brazil | Chile | Colombia |
| Hungary | India | Mexico | Nigeria |
| Panama | Peru | Poland | Czech Republic |
| Romania | Russia | South Africa | Turkey |