Canelo Alvarez vs Amir Khan Betting Lines and Odds

Saul "Canelo" Alvarez will defend his WBC middleweight title against Amir Khan on 7 May at the T-Mobile Arena in Las Vegas. Golden Boy Promotions announced the 155-pound catch weight matchup this past February and wisely scheduled the event for Cinco de Mayo weekend – just perfect for Canelo's sizable Mexican contingent of fans.
Canelo (46-1-1, 32 KOs) has been on a tear since turning pro at just 15 years of age. He quickly racked up an impressive 36-0 record before making his HBO debut in 2011. Since then, Alvarez has lost only one time. That one blemish on his record came at the hands of Floyd Mayweather after a 12-round majority decision.
Amir Khan (31-3, 19 KOs) is a two-time world champion with notable recent wins over Devon Alexander and Chris Algieri in addition to a 2010 victory over Marcos Maidana. Khan has fought some of the best in the world and emerged victories, but his bout against Canelo will be the biggest and most challenging thus far.
---
Best Boxing Bookmakers:
---
Matchup Preview
What we'll see on 7 May is the prototypical power puncher vs. speed/accuracy fighter. Canelo has the advantage in natural size and punching power, but he will be giving up speed and accuracy to 29-year old Amir Khan. Likewise, Amir Khan is going to be giving up a size and power in return for his renowned quickness.
Khan's decision to take the fight at 155 pounds raises the stakes even higher. Every misstep for the boxer who's main strength is speed will be punished more harshly at this higher weight limit. Canelo hits hard, and Khan needs to stay a step ahead to stay out of trouble.
Not only that, but Khan needs to retain his speed even as he bulks up for the higher weight class. Pictures circulating the internet have shown him putting on size, so that lends the question of whether or not he can keep his speed advantage. Moving up eight pounds may not sound like a big deal, but little edges make all the difference at the highest levels of boxing.
The Khan camp will also need to pay close attention to his conditioning as he bulks up. Khan isn't likely to win this one via KO. He needs to be prepared to go a full 12 rounds and do so convincingly against a bigger, stronger boxer. There's a danger of bulking up too quickly and losing some conditioning in the process.
Surely Amir Khan's trainers already know this and will keep the focus on speed and technique. He's not going to win this fight by getting big and brawling in the middle with Canelo. That would only play to Canelo's natural strengths.
Amir's best chance to score the upset victory is going to be to take a page out of Mayweather's book; use speed and movement to score points. Cover him with sharp, withering strikes and keep moving. Khan can get the win with a smart strategy, not with brute force.
On the Canelo side, it's all about getting close to Khan and landing those hard shots. Saul Alvarez can hopefully learn something from one and only loss to Floyd Mayweather in 2013 and that close call against Lara in 2014. Both camps are for sure taking note and making adjustments in the game plan with information gleaned from those outings.
Canelo has a lot more to lose in this fight in my opinion. After setting the fight at high weight against a smaller opponent, a loss to Khan would have a serious impact on his negotiating power moving forward. Canelo could still be looking forward to a fight against Triple G (who is himself slated to fight Dominic Wade later this month).
On the other hand, Khan has everything to gain and little to lose. A win over Canelo Alvarez would be one of boxing's great upsets. Khan is smaller, already has a few losses on the record and will be fighting an opponent who has all the momentum in his favour. A loss to Alvarez would not be devastating. It would be more like "hey, at least he had the guts to fight a bigger guy at a higher weight class than normal."
Tale of the Tape: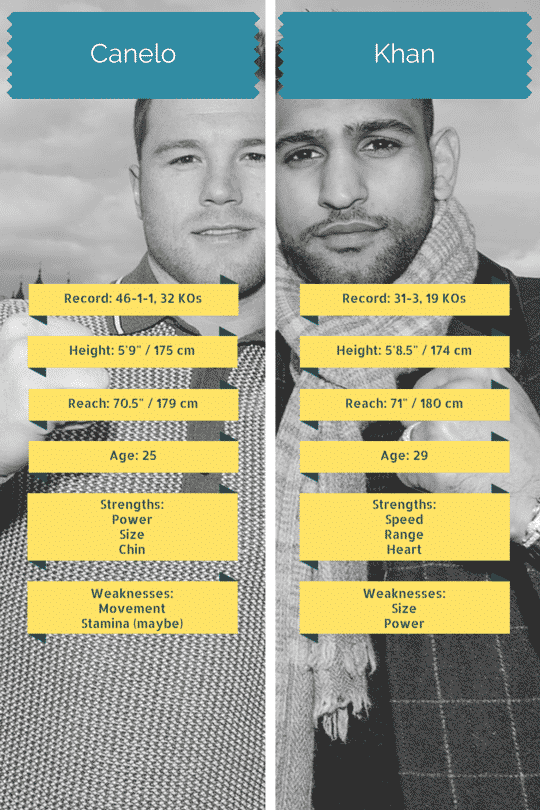 Canelo vs Khan Betting Odds
Betting sites that cover boxing published the Canelo / Khan odds weeks ago with Saul Alvarez priced as the comfortable favourite. You can back either fighter to win the bout straight up or look to other options such as whether or not the match will go the distance and more.
Related: Cotto vs Alvarez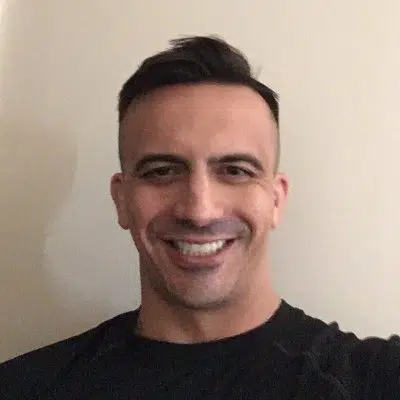 Wes Burns has more than a decade's worth of experience as a writer, researcher, and analyst in the legal online betting industry and is co-founder of OnlineBettingSites.com. Wes approaches his work from the viewpoint of players.