Chris Brown vs. Soulja Boy Betting: Odds and Pick

US Billboard Hot 100 artists Chris Brown and Soulja Boy are reportedly in the early stages of scheduling a celebrity boxing match to settle an online beef caused by someone liking someone else's ex-girlfriend's picture on Instagram. Finally, the fight boxing fans around the world have been dying to see…
---
Bet on this Boxing Match Today at:
---
Well, at least we'll get some entertainment value out of this whole ordeal. Sometimes all you can do when life gives you lemons is put them in a ring and make them fight. And if you're savvy/lucky, you might even make off like a bandit by predicting who will win the match because Paddy Power is taking odds on the winner of Chris Brown vs. Soulja Boy in a boxing match.
The oddsmakers at Paddy Power have installed Chris Brown as the early favorite with odds of 4/6 while Soulja Boy is going in as a 11/10 underdog. Details are still lacking, but the latest word is they're considering hosting the fight in Dubai.
News outlets are also reporting that Chris Brown and Soulja Boy have both hired high profile boxers to prepare them for the match. Soulja Boy has reportedly taken on Floyd Mayweather, Jr to train him for the fight while Chris Brown is supposedly being trained by none other than Iron Mike Tyson.
Betting on the Chris Brown vs. Soulja Boy Boxing Match
Online betting sites occasionally take wagers on events even if it is uncertain whether or not that event will take place. How it works is you can log in today and book a bet on this fight just like normal. If the fight goes off as expected, your wager will be paid off or not just as like it would be for any other bet. If the fight does not take place before the end of 2017, they'll refund the money to your account.
It may be advantageous or disadvantageous to book your bet so far in advance. On the one hand, you'll be locking in your money well before more news comes out and you won't be able to change your mind short of placing an even bigger bet on the other person. If you bet on Chris Brown and he breaks his wrist and can't train for three months, for example, you're just out of luck.
On the other hand, this can work out in your favor if you, say, bet on Soulja Boy and then later news comes out that Chris Brown is injured. In that case, the odds on Soulja Boy would shorten, but you would have already locked in your bet at higher odds.
Either way, these possibilities are best ignored unless you have some kind of inside information or have a concrete reason to believe one of these guys is more likely than the other to suffer bad news. If, for example, you heard from a friend that Chris Brown has been trying to learn how to skateboard or that Soulja Boy has taken up bull riding, then you might want to take that into consideration. Otherwise, you'll just have to accept that random chance is just par for the course in a bet like this one.
Latest Chris Brown vs. Soulja Boy betting odds from Paddy Power:
Chris Brown: 4/6
Soulja Boy: 11/10
Click here to book your bet on the fight at PaddyPower.com today.
Note: You will not find bets on this fight listed in the "boxing" category at Paddy Power. Instead, click on "novelty" and then "current affairs" on the left menu of the main Paddy Power Sports page and you'll see the fight listed there.
Predicting the Winner
Alright, I'm going to try my best here but don't hold me to this one. This isn't exactly your run-of-the-mill boxing match where you can look up fight records, watch past fights on YouTube and get a sense for each fighter's style. Neither one of these guys has any actual boxing experience, so this one is going to come down to athleticism, size and determination along with what little training they can squeeze in between now and fight night.
Chris Brown is definitely the larger of the two at around 6'1 with a clear weight advantage. He's also pretty athletic and can play some basketball. Finally, Chris seems to have a bit of a mean streak in him that might serve him well considering this is a boxing match between two completely inexperienced people.
On the other hand, we have Soulja Boy. He has no obvious advantages in the size or training departments and it is anyone's guess how much grit and determination he may have. Soulja Boy has an excellent trainer in Floyd Mayweather and that could take him a long way in building a defensive game against the stronger, longer Chris Brown.
As far as the pick goes, I think Chris Brown should win this fight easily.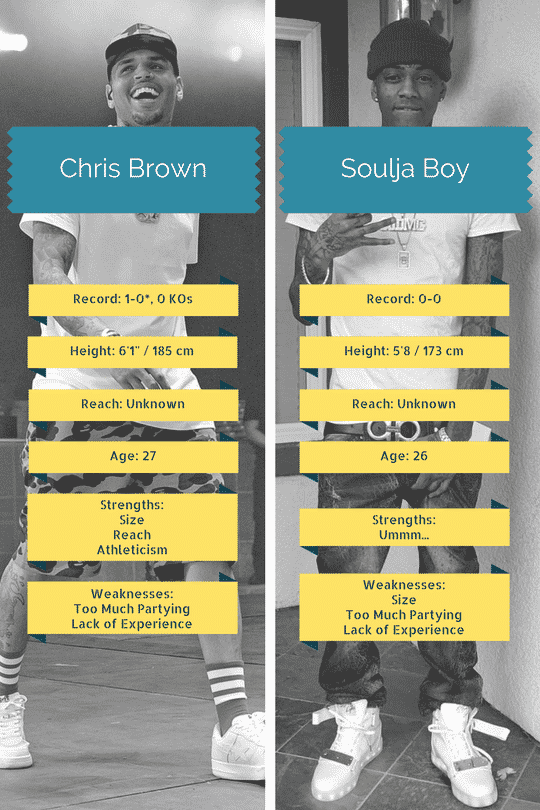 *= We do not take domestic violence lightly around these parts. Even so, Chris Brown's record of domestic violence does seriously indicate to us that he has a violent side and like it or not, that kind of nasty mindset may actually end up working in his favor in a fight between two untrained individuals.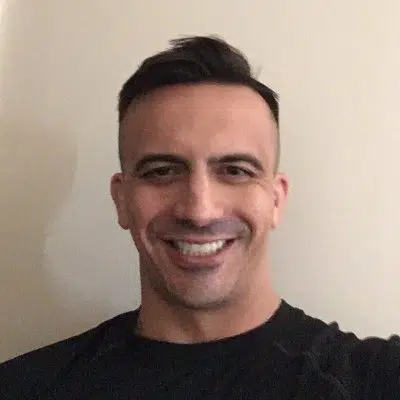 Wes Burns has more than a decade's worth of experience as a writer, researcher, and analyst in the legal online betting industry and is co-founder of OnlineBettingSites.com. Wes approaches his work from the viewpoint of players.