DraftKings has come a long way in a relatively short period of time. The site was started in 2012 and quickly rose to prominence thanks to a sound business model under the guidance of three former VistaPrint executives. To put its success in perspective, DraftKings.com went from being an unknown startup to guaranteeing more than $1 billion in payouts in just three years.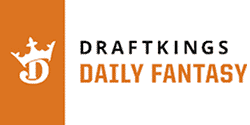 DraftKings
DraftKings and competitor FanDuel dominate the daily fantasy sports industry. Both are large and trusted sites, but DraftKings offers the advantages of more sports and better software. DraftKings is also home to the famous Millionaire Maker contests that mint new millionaires on a weekly basis.
Pros
Reputable site based out of Boston, MA
Accepts customers from the UK, Canada and USA
Home to the Millionaire Maker contest series
Cons
Inerface can be overwhelming
Deposit bonus is on the weaker side
DraftKings Info
Betting Site: DraftKings
Website: www.draftkings.com
Established: 2012
Country: United States
Support: Phone, e-mail and live chat
Minimum Deposit: $5
In 2018, DraftKings debut online sports betting with the launch of the official DraftKings Sportsbook app. DraftKings Sportsbook launched first in New Jersey and confirmed it would be offering sports betting in additional states as legislation permits.
Needless to say, the quick rise of this fantasy site has been nothing short of phenomenal. Growth is always a positive indicator, but it is by no means a guarantee of quality. So today, I'm here with my personal DraftKings review to help you determine if this is the right site for your fantasy needs. We'll begin with a DraftKings sports betting review and then discuss the fantasy offerings below that.
DraftKings Sportsbook Review
DraftKings Sportsbook is a mobile-friend betting site with official apps available for iOS and Android users. You can sign up for a sports betting account through the app, but if you have a desktop computer handy, you may find it easier to register at the DraftKings website before getting the app.
Once you have the DraftKings app and are logged in, you'll be able to choose from a wide range of pre-game and in-play betting options. A navigation menu located along the bottom of the app can be used to see popular bets on the home tab, in-play betting, a link to your active wagers and a full list of sports that are offered.
On that note, the variety of sports on offer at DraftKings includes professional and college leagues for the following sports:
| | | | |
| --- | --- | --- | --- |
| Australian Rules | Baseball | Basketball | Boxing |
| Cricket | Cycling | Darts | Football |
| Golf | Hockey | MMA | Motorsports |
| Oscars | Rugby Union | Soccer | Tennis |
Bets placed through the app are added to a digital betting slip which you can view by tapping "my bets." It is through the betting slip that you can adjust wager sizes, build parlays, manage round robins and confirm your wagers before submitting them. If everything looks good, hit "place bet" and any winnings will be paid to your account immediately following the game.
In-game betting plays a major role at DraftKings and already accounts for a significant portion of the company's total betting handle. Fans who enjoy placing bets during games will likely find DraftKings Sportsbook a nice fit for their style.
The in-play markets at DraftKings run every day and also extend across most major sports. Football, baseball, basketball, tennis and soccer are offered in the in-play format during each sport's season. During any given in-play event, it is not uncommon to find as many as 50 different markets covering all aspects of the game ranging from who will win (with odds updated in real time) to what the next scoring play will be.
A live stats interface also provides bettors with additional tools to manage their wagers. From within the in-play area, you can view recent betting trends, how these two teams have fared against one another in the past and more.
Final verdict: Since launching in 2018, DraftKings Sportsbook has emerged as the market leader among legal betting sites. This is no accident. DraftKings Sportsbook is a well-designed betting app that is licensed, legal and comprehensive in its coverage of US and international sports.
DraftKings Sports Betting Screenshots
DraftKings Sports Betting Bonus
The welcome offer at DraftKings Sportsbook offers new customers an instant free bet worth up to $500. All you have to do is sign up for an account, place a wager and it'll be match instantly with an additional free bet of the same size.
For example, signing up and placing your first wager of $100 will give you an additional $100 free bet that can be used to place more sports wagers. The one caveat worth knowing is the free bet itself may not be withdrawn; it functions more like site credit. Of course, anything you win with the free bet may be withdrawn at will.
You can download the app and get you free bet at: www.draftkings.com
DraftKings Fantasy Review
And now we move to the fantasy portion of today's DraftKings Review. I'll say up front that I am a fan of DraftKings as a fantasy site, but will do my best to keep this review strictly to the facts. As the country's biggest and most well-funded fantasy site, DraftKings does not suffer from any serious, glaring problems. That being said, there is certainly room for improvement in certain areas.
Is DraftKings Safe?
This is the most important question to ask considering the fact that DraftKings will be responsible for keeping your money secure and providing fair games. So far, the answer is an easy "yes." DraftKings has been in operation since 2012 and remains in good standing with numerous state regulators that oversee gaming, fantasy contests and sports betting. It would be surprising in the extreme to see DraftKings go rogue at this stage.
If you browse any of the major daily fantasy or sports betting discussion forums, you'll see DraftKings is immensely popular among regular customers. This makes sense given its size and media presence. In all my time spent browsing various discussion forums, I have yet to see a serious complaint about DraftKings refusing to pay a winner. Furthermore, my personal experiences with DraftKings has always been positive.
Think about it like this: DraftKings is based in the United States, regularly advertises on ESPN and has agreements in place with numerous professional sports teams in the US. The company is even the official sponsor of the NHL and UFC. It is my estimation that the odds of DraftKings suddenly closing down and running off with your money are extremely low.
DraftKings Bonus
Signing up for a real money account at DraftKings will get you free entry into a $3 contest. This offer is extended to all new users and can be used to win real money which you can then withdraw or play with as you choose. This is not the biggest welcome offer in the world, but DraftKings is still very much a worthwhile fantasy site with the largest prize pools in all of daily fantasy.
When you sign up for your account, you may be asked for your DraftKings promo code at some point. You can leave this portion blank as it is just used for advertising purposes. All customers receive the same welcome bonus from DraftKings regardless of whether they enter a promo code or leave it blank.
DraftKings Fantasy Review
DraftKings is my personal favorite fantasy site for a variety of reasons, but I'm going to do my best to keep personal opinion out of this review. We'll begin with a look at the site's security standards and then follow that up with a description of the user experience, deposit methods and anything else you need to know before you play for real money.
If you already have experience with some other fantasy site, the contest lobby at DraftKings will take some getting used to as it throws a lot of information at you. Once you get the hang of it, however, you'll find the multitude of options handy for finding exactly the type of contest you want.
The main contest lobby includes a host of filters that can be used to show specific sports and contest types. For example, you can select "NFL" to see only NFL games and then further narrow that down to show only heads-up NFL leagues. An advanced filters option can be used to get even more specific so you can sort contest by start time, number of entrants and entry fee.
Selecting a contest brings you to the drafting area where you pick players for your lineup. This area offers more information than what you get at DraftKings with information such as the opposition each player will be facing, a list of all games that the contest will cover and even a basic weather forecast for each game.
You can select any player to get a basic overview of that player's recent games, stats and other news. Depending on the sport, stats are shown for the entire season, last 10 games, last game and a side-by-side comparison of stats between the selected player and his upcoming competition. For example, you can select a pitcher and then see how his stats compare to the opposing team's batting average, run stats, hits, on base percentage and more.
Two other useful features are late swaps (you can switch your players out if they withdraw from an upcoming game even if the first game in the contest has already started) and global swaps (where you can swap out one player for another across all your active lineups).
The DraftKings mobile app also deserves a mention. It is available on the App Store for iPhone/iPad users and as a download at the DraftKings website for Android users. After several rounds of improvements, the mobile app here is easily my favorite thanks to its slick interface and unique features. Not only can you join, draft and watch your contests play out in real time, but you can even challenge other people nearby with a heads-up matchmaker that detects who near you is also running the DraftKings app.
Sports Offered
Baseball (MLB)
Golf (PGA)
NASCAR
Soccer (MLS)
Mixed Martial Arts (UFC)
Football (NFL and CFB)
Basketball (NBA and EuroLeague)
Hockey (NHL)
Basketball (NBA and CBB)
Tennis (ATP and WTA)
Screenshots
Contest Types
All contests at DraftKings are of the daily fantasy variety, with most lasting for just a single day of games. The big exception here is the NFL in which most contests cover several days' worth of games. Buyins across all contest types range from $0.25 at the low end to $26,200 at the high end if you want to play in a $20,000 winner-take-all contest against a single opponent.
Guaranteed prize pool events likewise vary in size. The famous Millionaire Maker contests for each sport offer payouts of at least $1,000,000 to the first place finisher along with prizes for those who perform well. The payouts at DraftKings are a bit "flatter" than those at other major DFS sites. What this means is the payouts at DK aren't as top-heavy. More people are paid, with less money going to the top few finishers. Some people see this as an advantage, others prefer more money going to the top few players.
Going beyond just the prize pools and buyin fees, contests at DraftKings come in the following formats:
Guaranteed: Large contests with a prize pool that is guaranteed no matter how many entrants actually join.
Qualifier: Compete in qualifiers to win free entry to more expensive tournaments. Useful if you're on a tight budget but want to play for the big money in some larger contest.
Head-to-Head: A winner-take-all contest against a single opponent.
50/50: Half the field gets paid, half the field goes home empty handed. All you have to do is place in the top 50% to double your money.
League: A tournament style contest that consists of anywhere from 3 to 285 entrants. Unless specifically stated as guaranteed, league contests are cancelled if they don't fill.
Multiplier: Win anywhere from 3 to 10 times your buyin depending on the number of entrants and places paid. For example, a 3x multiplier pays three times your entry fee if you end up in the top third of the field.
Step: Step tournaments are a series of 4 contests in which the first three steps award tickets to the next level up. Step 1 costs $2 to enter and from there you can win your way up to step 4 to compete for a $488 prize pool. You can buy in directly at any level.
Beginner: You can play against other beginners for your first 50 contests in each sport. Once you reach the 50-contest limit, you're no longer able to compete in these contests.
Deposit Options
| | | |
| --- | --- | --- |
| Deposit Method | Minimum | Max (Note: Can be increased by verifying your ID/address) |
| Debit or Credit Card | $5.00 | $2,000 |
| PayPal | $5.00 | $2,000 |
| Withdrawal Method | Minimum Withdrawal | |
| Check | $20 | No max |
| Paypal | $20 | No max |
| Credit or Debit Card | $20 | Amount originally deposited; rest via check or PayPal |
Availability
DraftKings has been busy expanding into new markets since the company's launch. DraftKings is now available in the United States, Canada, the United Kingdom, Germany, Ireland, Malta and Austria.
In the United States, players from Alabama, Arizona, Hawaii, Idaho, Iowa, Louisiana, Montana, Nevada, New York and Washington are not allowed to play for real money at DraftKings due to local gaming laws.