Accumulator bets (also known as parlays) have captured the imagination of countless punters over the years with promises of huge payouts for just a small outlay. No other wager in sports betting is capable of paying such outrageous sums without asking for much up front. That is the allure of the accumulator; a small bet can indeed return a life-changing amount of money.
For just one example, refer to the punter at Coral who won £823,000 off a £19 horse racing accumulator. There are many such examples, but one thing they all tend to have in common is a big payout coming off the back of a small wager.
Best Betting Sites for Accumulators
How Accumulator Betting Works
What makes accumulator bets unique is they roll up multiple sports bets into one. An accumulator has you make multiple picks as if you were making multiple, separate bets. Each of these individual picks is called a "leg." Thus, an accumulator in which you picked the winners of four matches would be called a four-leg accumulator.
The catch with accumulator betting is that you must get every leg correct. If just one of your legs fails to come through as predicted, you lose the whole accumulator. However, you stand to win a significant sum of money if you get every leg correct. This is what makes accumulators so profitable yet so difficult to win.
Accumulators can come in all shapes and sizes. You can place double or trebles consisting of two or three legs, four-fold accumulators consisting of four legs and even massive accumulators with 7 or 8 legs. You can combine all different sorts of bets as well. If you want, you can pick the winner of a football match in one leg, the final score of a tennis match in the second leg and the point total of an NFL game in the third leg. The only limit is your imagination.
The number of legs you include in your accumulator is up to you, but the more legs you add, the more you stand to win and the more difficult it becomes to win. Remember, accumulators only pay if all of your predictions are correct.
The payout odds of accumulators vary based on the number of legs involved and the odds being offered on each individual wager. What this means is an accumulator consisting of four even-money bets will offer a much smaller payout than one consisting of six longshot wagers.
How to Place Accumulators Bet Online
Most betting sites now give you the ability to build your own accumulators from scratch. All you have to do is make several sections and then move over to your betting slip and look for the accumulator or combo option. Your bookmaker will then calculate the odds for you and display what this accumulator is worth based on the number of legs and the odds of each involved wager.
Let's work through this with a real-world example to show how it all works. Once you try it once for yourself, you'll find that it is quite easy to build accumulators at will.
In the following example, you can see here that I have made several selections just like normal. Here I have chosen the Minnesota Timberwolves at 23/20, Phoenix Suns at 22/5 and San Antonio Spurs at 21/4.
Now, we move over to the betting slip and choose the "treble" option to turn these three individual bets into one accumulator. Here it shows all three selections along with the total payout odds if we add each of these selections to the accumulator.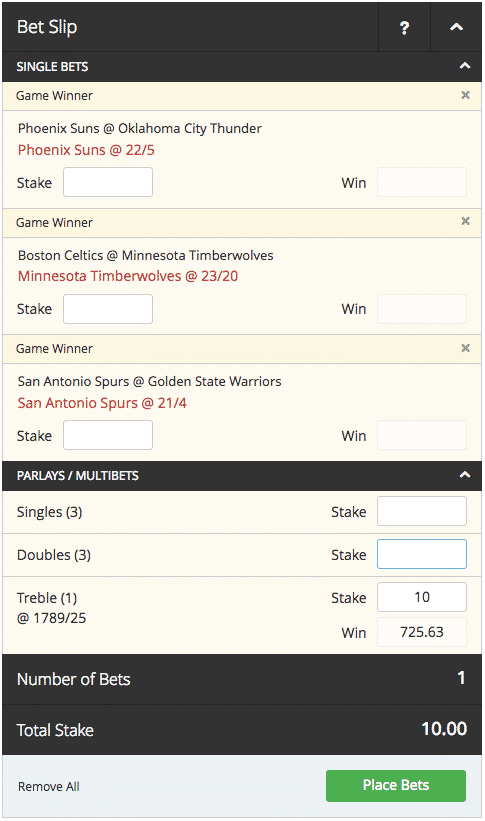 All we need to do now is choose an amount to wager. The summary at the bottom of the betting slip shows that we are receiving odds of 1789/25 for this wager. The final odds were generated automatically and happened to work out to an awkward number, but you can see with a quick glance that your £10 bet stands to win £725.63 if correct.
Pros and Cons of Acca Bets
We touched on this earlier, but the most obvious advantage of accumulator betting is the ability to produce extreme payouts. There is no limit to how much you can win with an accumulator if you're willing to accept the increased likelihood of losing as you add more and more legs. It's nice being able to shoot for very high payouts even if you don't have a big bankroll.
One other thing to keep in mind is that you can usually achieve the same return by placing your bets individually and then manually rolling over the winnings from one bet to the next. Doing it this way would return just as much as an accumulator bet, but you would have the option to walk away at any time.
Let's look at that accumulator betting example again: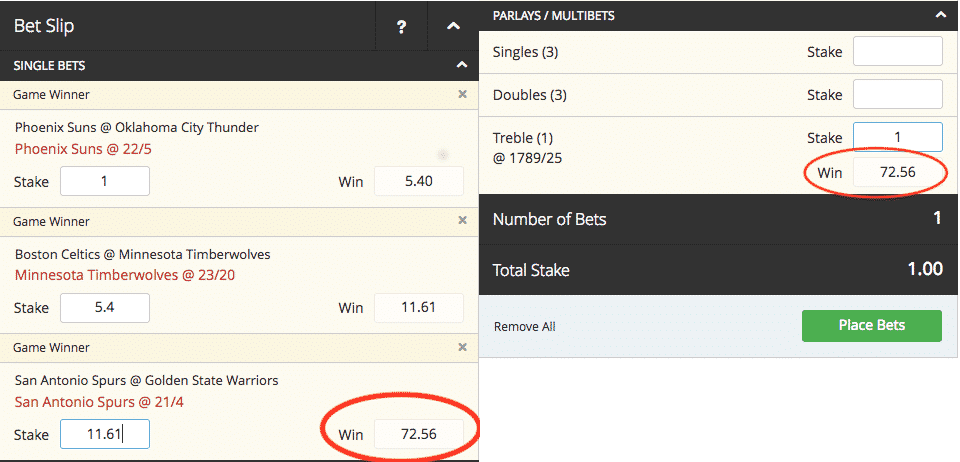 The two betting slips pictured above show the total return obtained with a £1 bet if you were to bet on each outcome alone versus rolling all three selections into one accumulator wager.
The slip on the left shows three singles bets. If you bet £1 on the first option at 22/5 and win, your return would be £5.40. If you then placed your winnings on the next bet at 23/20 and win, your return would be £11.61. If you then rolled that whole £11.61 over to the last bet at 21/4, you would end up with a final win of £72.56.
The betting slip on the right shows what happens if you combine all three bets into a single accumulator and bet £1. If all three legs win, you end up with a final win of £72.56. In the end, this comparison shows that you end up winning £72.56 whether you book each bet individually or combine them into an accumulator.
This example shows one of the key advantages of each option. Betting on each match individually gives you the opportunity to back out at any time and collect your earnings. The downside is this requires a bit more effort and it only works if you have enough time between matches to collect your earnings and place them on the next bet. This method does not work if two of your matches happen at the same time.
Accumulators are not restricted to matches that are happening at different times. You can combine three wagers on matches that are all happening at the exact same time in different parts of the world with an accumulator. In this way, accumulator betting gives you more flexibility.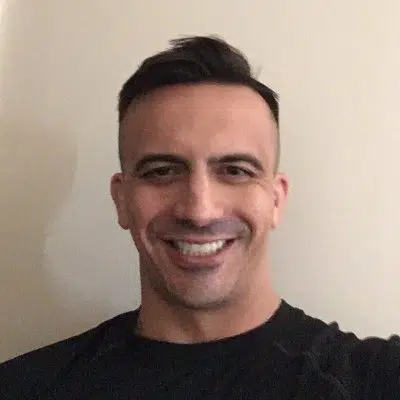 Wes Burns has more than a decade's worth of experience as a writer, researcher, and analyst in the legal online betting industry and is co-founder of OnlineBettingSites.com. Wes approaches his work from the viewpoint of players.