Fantasy sports leagues put you in the owner's role of your very own professional sports team. You draft a roster of players from around the league and then earn points as your players accumulate stats on game day. The better your players do their jobs, the more points you earn.
Best Fantasy Sports Sites and DFS Apps
Let's use American football as an example since the NFL is the most popular fantasy game by a long shot. In a fantasy NFL league, you would draft a team of about 9 players. Your league might use a snake draft format in which each contestant takes turns drafting players, or it might take the form of a salary cap in which you have a limited budget that you can use to draft players.
Once the drafting process is over, you and all the other fantasy managers in your league now have complete teams. Your team will now begin accumulating points as your players earn stats on the field. You get points as your players throw touchdowns, run for yards, force fumbles and so on. At the end of the season, the fantasy team with the most points wins whatever prize is on offer.
Fantasy sports leagues are nothing new. They've been around in some form or another for decades. What is new is the concept of "daily fantasy." The difference is that traditional leagues last all season long. You pick your team at the beginning of the season and then keep that team until the last game is finished. Daily fantasy leagues last for just a single day or week of competition.
Today's real money fantasy sports betting sites specialize in short-term leagues. The concept works well for the internet because it condenses traditional leagues into a day or week. If you star player is injured or you pick a bunch of duds, it's no big deal. You can draft an entirely new team and try again tomorrow. Best of all, you get paid the same day.
Online fantasy sites host daily leagues for all the major sports of the world. Sign up at any of the best fantasy sites and you'll be able to draft teams for professional football, soccer, baseball, basketball, golf, MMA, cricket, auto racing and sometimes even rugby. The possibilities are endless. Wherever you have people competing in a sport, there's a fantasy league for that sport somewhere.
DFS Deposit Bonuses
Fantasy sports sites have taken a page from the online gambling playbook by offering deposit bonuses to new customers. Sign up for an account at any of the major fantasy sites and you'll get a matching deposit bonus just like you'd get at a normal betting site.
Bonuses at some fantasy websites work like the bonuses at traditional betting sites. The size of your bonus is decided by the amount you deposit. After you complete your first deposit, the bonus cash is classified as "pending" and then released to your real money account as you participate in paid leagues.
The average "earn rate" of fantasy bonuses is around 5%. This means that about 5% of every entry fee paid to join a contest goes towards clearing your bonus. If you enter a $100 contest, for example, $5 of your pending bonus would be moved to your real money account.
Other fantasy sites offer less valuable welcome bonuses simply because they have so much to offer that big bonuses aren't necessary to attract new players. The current trend among the big DFS sites is to offer new customers free contest entries.
How Fantasy Sports Betting Works
The basic concept of fantasy sports betting is pretty simple. You pick and choose players for your team and then earn points based on their performances. Score more points than your opponents and you win a cash prize.
Most daily fantasy leagues today operate under the salary cap format. You get a fixed virtual salary and use that money to draft players for your team. The fantasy site sets a price for each player based on his recent and expected performance. The star players of the league invariably cost more while the lesser-known players cost less. Your objective is to draft the best possible team without going over your salary.
You and the other contestants pay a little money to join the league. You draft your players, watch the games and start racking up points. Whoever ends up with the most points wins the league and gets paid.
Is Real Money Fantasy Betting Legal?
Yes. The United States is the ancestral home of fantasy betting and federal gaming laws specifically mention fantasy sports sites as legal. The best fantasy sport sites are hosted on US soil in compliance with all state and federal laws. Even Yahoo runs its own fantasy sports league with real money entry fees and prizes.
Individual state laws vary but most sites restrict players from five US states and one Canadian province. The states/provinces where real money fantasy betting appears to be PROHIBITED include the following:
Arizona
Iowa
Louisiana
Montana
Nevada
Washington
Quebec
The legality of fantasy sports betting sites is more of a question outside North America. It appears to be legal in the UK and most other gambling-friendly nations, but very few jurisdictions even mention fantasy sports at all. In most locations, the laws have some serious catching-up to do.
Fantasy sports is clearly legal in the United States with so many fantasy sites headquartered in-country and most sites even accepting PayPal as a deposit and withdrawal method. Other forms of online gambling occupy a legal grey area in the USA and have suffered payment processing issues for years. This is most definitely not the case with online fantasy. Making a deposit and getting paid is no problem for customers in North America.
Daily Fantasy Sports Guide
Choosing a fantasy betting site is just the first step in a long (and hopefully profitable) journey. There's a lot to talk about in regard to fantasy betting so we have compiled a few getting started guides to help you join the world of online fantasy with minimal hassle.
Fantasy Football Betting
Fantasy football betting sites offer the next best thing to buying your own franchise. In fact, you can get started for as little as $1.00 per league or go big and buy-in direct to $1,000+ buyin contests. You'll see just how challenging it is to gauge players' abilities and draft a well-rounded team with a limited budget. If you're good, you'll also see just how lucrative it can be.
Best Football DFS Sites
There are a whole bunch of little things that make one daily fantasy football site better than the next, but there are two factors that take precedence above all others.
First of all, is each NFL DFS site's reputation.
Reputation is dictated largely by how long a site has been in business, who owns it, what kind of financial backing it has and how many active customers it has. These things all feed off one another and altogether they show how financially stable an operator is and how likely it is to pay winners.
Remember, daily fantasy sports is legal in the United States. Fantasy football sites are based in the US and subject to US laws.
The other thing that I look for is traffic. NFL fantasy sites with more active customers have more contests to choose from, a greater variety in contest formats and bigger prize pools.
Some of the bigger DFS sites host contests with thousands of players and millions of dollars up for grabs. Smaller sites just can't compete in that regard.
How Daily Fantasy Football Works
The biggest difference between traditional fantasy football leagues of and daily fantasy contests is that most DFS leagues are compressed to a single day or week of games. You don't keep the same lineup all season long when you play in daily fantasy leagues; you're free to draft new lineups every weekend.
The contests at fantasy football sites typically cover all games played from Thursday through Monday or the games played on Sunday only. You're free to draft any player from any team scheduled to play that weekend.
One of the other major differences between traditional leagues and what you find online is in how drafting is handled. The vast majority of online fantasy football leagues are hosted in the salary cap format. This means you're given a fantasy salary to spend on your draft picks.
Your job as the manager is to spend your salary to get the best team for your money.
Drafting your team is both the hard part and the fun part. You will never have enough money to get everyone you want. The point here is to force owners to make tough decisions. Those who are the best at allocating their limited resources tend to be the winners.
Rosters vary from site to site, but you'll typically be asked to choose a quarterback, a couple running backs, 2-3 wide receivers, a tight-end, a kicker and one entire team's defense.
After you submit your lineup, it's time to relax and watch some football while your fantasy team starts earning points.
Points are earned as your players compete on the field, in real time. You'll earn points as your quarterback throws touchdown passes, rushing yards, interceptions, etc. The better your players perform, the more points they earn.
Here's another cool part: everything you just experienced only lasted for one weekend of NFL football. If your team did poorly, there's always next weekend. And if you decide next weekend that you want to try even harder, you can build two, three or twenty different lineups if you want. The biggest fantasy football sites host hundreds of contests every single weekend. You can play in as many as you want.
Types of NFL DFS Contests
Fantasy NFL leagues are hosted in a variety of formats. These various formats almost always utilize a salary cap, although you may occasionally see traditional snake drafts in which the players take turns drafting players.
Heads-Up Contest: A heads-up contest is played between you and one other fantasy owner. You each put up a bet and the person who accumulates the most points wins the whole pot.
Tournament: Tournaments can host anywhere from 3 to several thousand players. Each person drafts one lineup and then the top finishers are paid. First place earns the largest prize while the other high finishers receive smaller payouts.
Multi-Entry Tournament: Multi-entry tournaments allow you to pay the buyin fee as many times as you want. Each entry allows you to submit a unique lineup.
GPP: GPP stands for "guaranteed prize pool." Any tournament listed as GPP will run regardless of how many people enter the tournament. Even if not enough people enter to meet the prize pool, the full prize pool is still paid. Whenever a fantasy football site is forced to add money to the prize pool to meet the guarantee, the contest is said to have an "overlay."
50/50 League: Half the people win double their buyin and half the people win nothing. All you have to do is score more points than 50% of the competition and you'll win a cash prize.
Fantasy Basketball Betting
Daily fantasy basketball leagues are extremely popular. The fast-paced nature of the game combined with the sheer number of games played every season make basketball a natural fit for real money fantasy.
While some daily fantasy sites now offer NCAA basketball leagues, the vast majority of daily fantasy basketball contests revolve around National Basketball Association.
You'll find it best to stick with NBA daily fantasy sites that have high levels of traffic.
The more active customers, the more likely you'll be to find contests you like with worthwhile prize pools. Those are by far the tow of the best daily fantasy sites today.
How Daily Fantasy NBA Works
Once you have a team, you'll start earning NBA fantasy points based on the performances of your players on the court. You'll get points for baskets made, three points, rebounds, assists and so on. The better your players perform in the real world, the more points you earn for your fantasy team. If your team accumulates more points than the other teams, you win the contest.
The exact roster setup and scoring rules will vary a little from one basketball DFS site to the next. Here's a quick overview of what the roster and scoring rules look like at DraftKings:
Fantasy Baseball Betting
Baseball daily fantasy leagues could be considered another form of betting, but it isn't offered at traditional sportsbooks. In a daily fantasy baseball league, you draft a team of baseball players from around the league and earn points based on their real life performances.
Big money has been flowing into daily fantasy sports lately, with some of the largest contests awarding million dollar prizes to fantasy team owners. If this sounds interesting, you'll need to check out a daily fantasy baseball site.
Fantasy Golf Betting
Golf may not be the first sport that comes to most peoples' minds when they hear the phrase "daily fantasy sports," but it is most definitely an established sport at some of the world's largest DFS sites.
The best fantasy golf sites give you a virtual salary to build a team of golfers expected to compete in some upcoming tournament and then you earn real world payouts when your team performs well on the links.
One of the interesting aspects of fantasy golf is that it turns a traditionally solo sport into a team effort. Unlike traditional golf betting, you do not place bets on individual golfers and hope they perform well. Instead, you use a virtual salary to build your dream team of golfers and you rise or fall based on their performance as a group.
if you have no experience with fantasy sports, fear not. Fantasy golf is a pretty straightforward affair in which you are given a salary and your choice of every golfer expected to compete in the next major event. You pick your team and then earn points as your picks achieve accomplishments such as finishing a hole in par, making a birdie, scoring well in the tournament and even going on streaks (such as 3 birdies in a row).
Prizes in fantasy golf contests are typically paid out in tournament fashion. That is, the person who achieves the most points in total wins the first place prize and receives the biggest payout. The people who finish in 2nd, 3rd, 4th and so on receive smaller prizes. The average fantasy contest ends up issuing real money payouts to the top 20% or so of all entrants.
How to Play Fantasy Golf
Once you have a fantasy golf site in mind, you will need to visit the website and sign up for an account.
The next step is to choose a contest from the games lobby. At DraftKings, you will find this by logging in and choosing "PGA" in the menu across the top of the lobby. The main golf lobby will show you a full list of all upcoming contests along with their entry fees, total prizes, number of entries and the start date/time.
Now all you have to do is choose one of those contests and then you can begin drafting a team of six golfers.
The draft screen shows you a current list of all available golfers and their prices on the left side with a snapshot of your current picks on the right. You can click on any golfer's name to see a recap of that player's recent newsworthy notes, recent performances and season-long stats.
If you like what you see, you can add that player to your lineup and your information screen will be updated to show who is on your team and how much salary you have left to spend on the rest of your team. See the following screenshots for a preview of what this process looks like in action: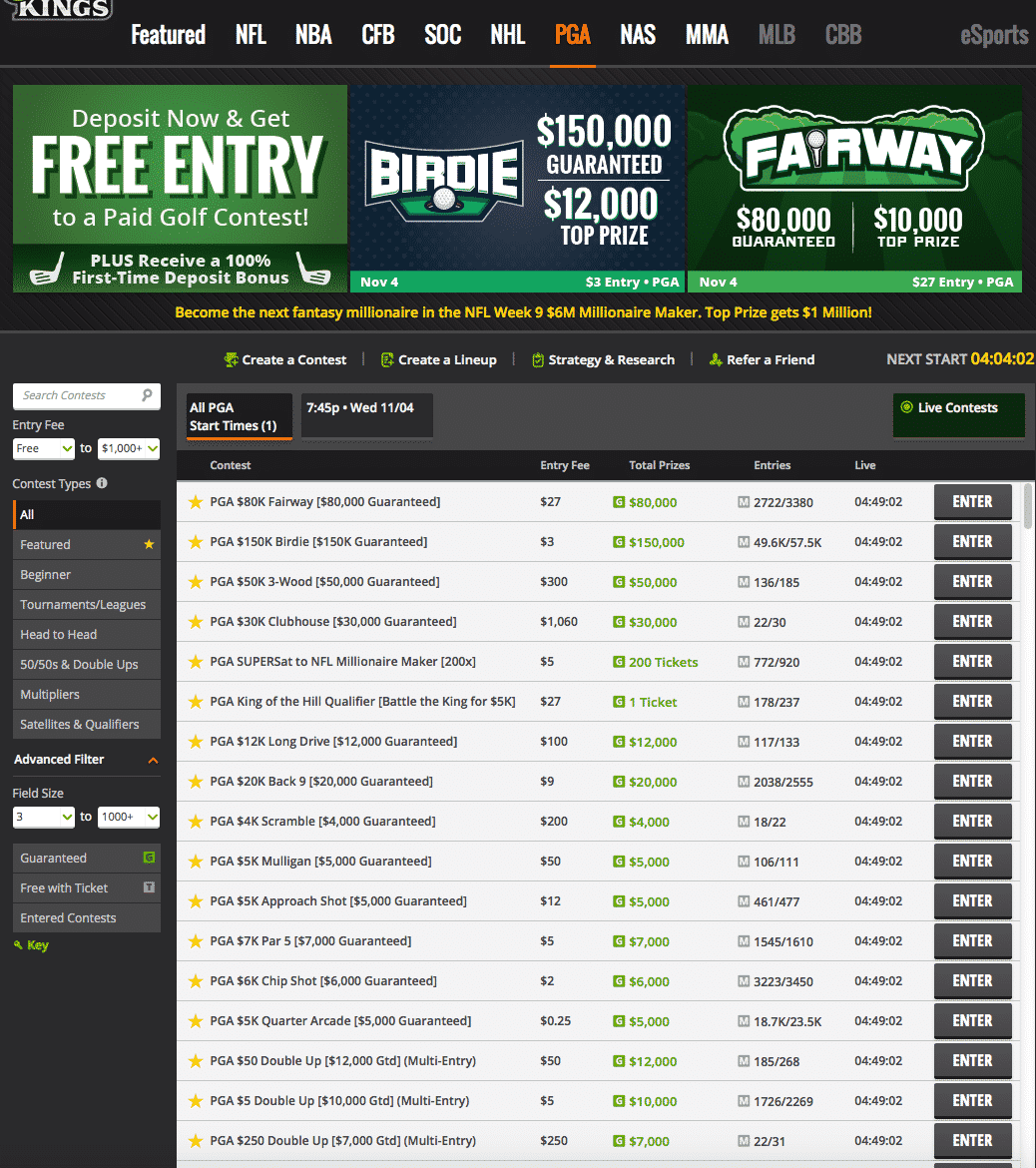 The main thing to understand in regard to fantasy golf is that you have a limited budget to spend on drafting your golfers. Likewise, every golfer comes with a price that the fantasy site determines based on its own analysis of each golfer's potential.
Generally, the golfers who are performing well and winning championships cost the most while golfers who aren't performing as well cost the least.
Fantasy golf strategy revolves around making the best use of your budget.
The rules of the game are designed so that you have to make hard choices. For example, you will never have enough money to draft a team comprised entirely of the top ranked golfers in the world. You're going to have to mix it up between top prospects, mid-level players and all the rest.
This is also what makes fantasy golf so much fun. An unlimited budget would result in almost everyone drafting the same core group of top golfers in every contest. With budget considerations in mind, this is impossible. Enter any random fantasy golf contest and you'll find thousands of variations in submitted lineups.
Fantasy Cricket Betting
There are a few well-trafficked daily fantasy cricket sites that serve a rapidly-growing global audience. There's at least one major real money daily fantasy cricket site and a whole host of free-to-play websites with leagues that cover multiple events.
There is a massive worldwide fan base to tap into for fantasy cricket and if you know where you to play, you'll find plenty of action.
How Daily Fantasy Cricket Works
The general idea of fantasy cricket is to draft a team of athletes for your own personal fantasy team. As your players score runs, take wickets, make catches and so on in the real world, your fantasy team is awarded points.
In a typical fantasy league, you and all the other contestants begin by drafting players. The rules vary from league to league, but typically you'll need to choose four batsmen, four bowlers, two all-rounders and a wicket-keeper for a team of 11.
The length of the league is determined in advance and will extend across a set number of matches. The league ends at the conclusion of the last match.
At that point, the point total for each Cricket fantasy team is tallied up and winners are paid.
Fantasy Rugby Betting
Rugby is a great sport for fantasy contests. It has all the necessary ingredients for an engaging fantasy product: lots of players, international appeal, frequent matches, lots of stats and plenty of scoring metrics. The only unfortunate thing is that the demand for online fantasy rugby has a ways to go before any of the major daily fantasy sites add it to their lineups.
There are two issues at play here. First, all the biggest fantasy sites are based out of the United States and are still focusing on building the domestic market. Rugby just doesn't put up the same numbers as the likes of the NFL, NBA, PGA and so on. Furthermore, the nations where rugby does have a big following aren't very big on fantasy sports in the first place. Interest in fantasy is growing in non-US markets, but there's still a lot of room for improvement on that front.
On a more positive note, it's still possible to get your fantasy fix on the internet. I've managed to scrounge together a list of fantasy rugby sites that host longer-term leagues for all the major rugby competitions.
Best Rugby Fantasy Sites
Fantasy rugby is definitely growing and we're seeing lots of players sign up and play in longer-term leagues. Some of the largest fantasy rugby sites actually have almost a million active members. However, we're still waiting to see any of the big daily fantasy sites support rugby leagues.
In the meantime, there are numerous free-to-play rugby sites with contests that cover several months' worth of play. These sites are all free to play but do offer some decent prizes. You won't get rich playing fantasy rugby, but you could potentially take home a few thousand dollars or some nice electronics – not bad for a bunch of free leagues.
SuperBru Rugby
SuperBru is a London-based company started by a group of South African friends who share a love of sports. This rugby fantasy site hosts three types of leagues that vary in complexity. Valuable prizes are awarded to SuperBru winners, but most prizes are available only for South African members.
The most basic format has you pick winning teams and score margins for major rugby tournaments. Moving up from there is the "fantasy lite" game in which you pick 4-5 players who you expect to perform best in a tournament. And for the most in-depth experience, they have the full fantasy experience in which you select a squad and starting line-up for each round in a tournament.
Website: www.superbru.com/sport/rugby
FantasyRugbyDraft.com
FantasyRugbyDraft.com is a free-to-play salary cap game with live drafts in which you get 90 seconds to make each draft pick. There are no prizes to be won here other than bragging rights, but this is a well-done fantasy site nonetheless. Drafts can be made online or offline in the case of private leagues among friends.
Website: www.fantasyrugbydraft.com
How Rugby DFS Works
Each fantasy rugby site does it a bit differently, but you shouldn't have any trouble getting started once you understand the general goal. In any fantasy rugby league, the objective is to draft a team of players who are capable of achieving stats. Your fantasy site gives you a virtual salary which you use to draft players from around the world.
Team building is where you knowledge and skill really shine. The salary limitations make it impossible to just draft a team full of the world's best players. You have to balance players' skills with costs to develop a team that stays within the salary cap. There will always be serious trade-offs, and that's what makes it challenging.
Once you have a team, the hard stuff is over. Now you can sit back and watch the matches from the comfort of home. Your fantasy team will earn points in the virtual world as your players earn stats on the pitch.
For example, each player may earn points for tries, assists, turnovers won, penalties kicked and so on. Each site uses a unique scoring system but the basic idea is that you rack up points when your players perform well in the real world. The contestant whose team earns the most points wins the league.
Each of the fantasy rugby sites listed on this page takes a different approach to the game. Some sites allow you to participate in trades while others keep you locked for the duration of the contest. Some sites offer real prizes; others offer only bragging rights. Make sure you always read through the contest and scoring rules so you can build the most effective team under the ruleset.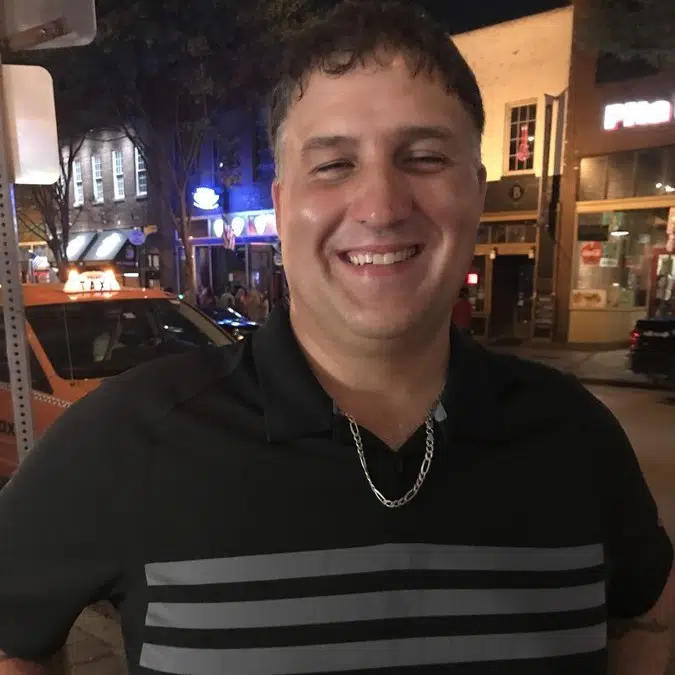 Mike Murphy is the founder of OnlineBettingSites.com and has over 10 years of experience in the legal online betting industry. A regular attendee of industry trade shows and conferences, Mike is a strong proponent of regulated markets and responsible gambling policies.