UFC 200 Betting Preview and Odds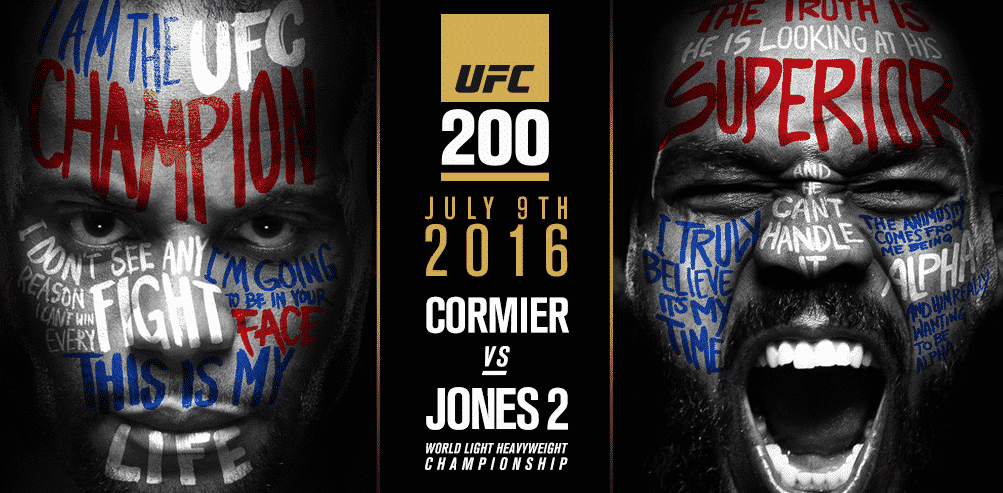 There are some cards where you have to work just a little bit harder than usual to get yourself excited. They might have a few decent matchups or a couple of interesting fighters and you can think "Ok, this is watchable." Then, every once in a great while, you get a card like UFC 200.
UFC 200 is one of the best fight cards in a long time… and maybe even the best ever. This thing is absolutely stacked with all kinds of talent, big comeback stories, rematches and more. If you're going to watch one card this year, you better go ahead and plan your night around UFC 200 on Saturday, 9 July 2016. Book a jet to Las Vegas if you can. Order the PPV if that's how they do things where you live or set your TV reminder to turn to BT Sport on that date.
---
Bet on UFC 200 Online Today at:
---
June 9th will gift us with a host of matchups that include a matchup between Anderson Silva and Daniel Cormier, the return of Brock Lesnar as he faces Mark Hunt, Miesha Tate vs. Amanda Nunes, Jose Aldo vs. Frankie Edgar, Cain Velasquez vs. Travis Browne, Cat Zingano vs. Julianna Pena, Johnny Hendricks vs. Kelvin Gastelum and more. In total, 9 current or former UFC champions will be fighting in UFC 200.
And don't overlook the Diego Sanchez vs. Joe Lauzon match. Between the two of them are 13 career Fight of the Night (FOTN) bonuses. Sanchez is tied for 1st in the UFC with seven FOTN bonuses while Lauzon is tied for 2nd with six. These guys will put on a show.
Full UFC 200 Fight Card
Daniel Cormier vs. Anderson Silva
Brock Lesnar vs. Mark Hunt
Miesha Tate vs. Amanda Nunes
Jose Aldo vs. Frankie Edgar
Cain Velasquez vs. Travis Browne
Cat Zingano vs. Julianna Pena
Johny Hendricks vs. Kelvin Gastelum
TJ Dillashaw vs. Raphael Assuncao
Sage Northcutt vs. Enrique Marin
Gegard Mousasi vs. Derek Brunson
Diego Sanchez vs. Joe Lauzon
Jim Miller vs. Takanori Gomi
UFC 200 Update: Daniel Cormier vs. Anderson Silva
The UFC 200 Main Event has been scrapped on the back of news that Jon Jones has failed a USADA drug test. It is unclear at this point what he tested positive for, but a UFC press release states that it stems from an "out of competition sample collected on June 16th." UFC 200 will have to proceed without Jon Jones.
For a while there, things were looking rather grim for Daniel Cormier without an opponent just days before fight night. No fight, no paycheck and no redemption; all that preparation and anticipation for naught. You can see DC's reaction the moment he was informed by Dana White here.
Now for the good news: Anderson Silva has stepped up to replace Jon Jones for the light heavyweight bout at UFC 200. Although the Jones/DC fight is irreplaceable, Anderson Silva does make for an interesting matchup versus DC.
Anderson Silva (33-7) is considered by many to be the greatest of all time in MMA. His record includes a 17-fight win streak stretching from 2006 to 2013. At the peak of his career, Anderson Silva amassed sixteen straight wins in the UFC and the best title streak in UFC history with 10 successful title defenses.
During that time, he didn't just beat the best fighters in the division; he embarrassed them. It's hard to count the number of times Silva would go into a fight, clown around with his hands down, dodge strikes like someone out of the Matrix and then fold his opponents with laser-guided punches and kicks.
Silva's winning days came to an end after a pair of fights against Chris Weidman in 2013. Silva got knocked out in the first fight and then broke his shin in the rematch later that year. After a lengthy recovery, Silva made his comeback against Nick Diaz in January of 2015. Silva won that fight, but the victory was overturned after it was later discovered that Silva had failed several drug tests before and after the fight.
Silva served a one-year ban for the failed drug test and returned to fight Michael Bisping in February of this year. Although Silva looked drastically improved over recent outings, he ultimately lost to Bisping in a five-round decision.
That brings us up to the current day. Anderson Silva is an extremely skilled and experienced fighter, but he hasn't been at his best of late. Furthermore, he's going to be giving up some weight against the much larger Daniel Cormier. Anderson Silva has spent the vast majority of his career at the 185-pound division. And if that wasn't bad enough, he has two days to prepare for the current 205-pound champion.
What makes this particularly interesting is the disparity in striking skills between the two. Daniel Cormier is a wrestler first and a striker second. Anderson Silva is just the opposite. His trademark counterstriking game is legendary. If he can get inside DC's head (and DC does seem susceptible to trash talk), he does have a chance to achieve the upset victory.
With all that said, the bookmakers are giving Anderson Silva major underdog status. UFC betting sites currently have Daniel Cormier priced at 2/9 and Anderson Silva priced at 7/2. This is the first time in over a decade that Silva has entered a fight as the betting underdog.
Daniel Cormier (17-1) is a very dangerous matchup for Anderson Silva. For one, he's a much bigger man. Second, DC is an Olympic-level wrestler who has tossed around much larger men like rag dolls. DC fights in a bigger weight division and would probably be the best light heavyweight of all time if he hadn't lost to Jon Jones in 2015.
I don't believe the last-minute change of opponents will make much of a difference for Daniel Cormier. He was devastated after losing to Jones and most likely trained harder for Sunday's fight than he ever has in his life. DC was dying for his shot at redemption and had a full fight camp to prepare himself.
Sure, this is a different opponent with a different style, but it's not like DC was planning to fight someone who is the complete opposite of Anderson Silva. Both opponents are lengthy, skilled in takedown defense, creative in the standup department and great at trash talking. DC has been preparing for all those things for at least a year.
Personally, I'm not liking Anderson Silva's odds at just 7/2. His insane counterstriking could come into play here and give us yet another crazy upset for 2016, but I'm not sold at those odds. If you want to back Silva, a better option may be to check each sportsbook for odds on the round/method of victory and back Silva to win in one of the first couple rounds. This fight will probably get worse and worse for Silva the longer it goes. You'll get paid more by picking the round and there's more value there.
Anderson Silva Highlights
Daniel Cormier Highlights
Brock Lesnar vs. Mark Hunt
WWE icon and athletic freak Brock Lesnar makes his return to the UFC in a heavyweight match against the one and only Mark Hunt. Frankly, I'm beyond surprised that they're throwing Lesnar in against someone as good as Hunt for his return debut. Mark Hunt is a big, scary dude with victories over some of the greatest in the sport.
But, this is Brock Lesnar we're talking about…
If you were around back in the 2008-2011 era, you saw Brock Lesnar cross over from professional wrestling and win the UFC heavyweight title out of nowhere. It was crazy watching him at the time because he was just this monstrous guy with little MMA background as far as anyone could tell. While Brock's MMA skills were rough at the time, he did have a legitimate wrestling background and used that plus his freak athleticism to take the heavyweight belt by sheer force of will.
Lesnar was way too fast for someone so big. He actually got away with charging head first, looking down and just mauling his opponents like a savage. Take that plus his comical resemblance to Ivan Drago and add a little bit of craziness and the guy can really sell a fight.
Sadly, Lesnar's MMA career was cut short after a couple of devastating and disappointing losses. It was said that he couldn't take a hit, that he was mentally weak and so on. It was later revealed the Lesnar had been suffering from diverticulitis and mononucleosis for at least a year. The condition nearly killed him and two surgeries resulted in doctors taking out 12 inches of his colon.
"At the top of my career, I wasn't at the top of my game," Lesnar said. "I felt like I was cheated out of my career in the UFC. In my mind and in my heart, I never lost to a foe. I never lost to an opponent. I lost to diverticulitis. That was my opponent that beat me. A lot of other people might have other thoughts about that.

"I'm sitting here today and I feel 1,000 percent."
I never thought we would see him make a return to the Octagon, but here he is. If you're a Lesnar fan, make sure to catch this fight. The deal between the WWE and UFC is that this is just a "one off" fight.
He faces a very serious challenge in Mark Hunt at UFC 200. Hunt has had a resurgence of late and a well-deserved reputation as a heavy hitter. The walk-off KO has become his signature move these days. In 12 career wins, Hunt has ended 10 fights early (9 KOs/TKOs and 1 submisison). Hunt has notable wins over Frank Mir, Antonio Silva, Roy Nelson, Stefan Struve, Cheick Kongo and Ben Rothwell.
What makes this matchup even more intriguing is that we get a classic striker vs. grappler matchup of the first order. Mark Hunt simply does not grapple. He knocks people out cold and then walks off, knowing his job here is done. Brock Lesnar does not like to be punched in the face at all. It doesn't get any more grappler-vs-striker than this one.
Mark Hunt certainly seems fired up for this fight. The normally relaxed Super Samoan had some choice words regarding the upcoming match. Here are just a few key quotes from MarkHunt.tv:
"I'm just going to prepare as best as I can. My mind is built for this sh*t, throw me into the maelstrom of battle and 9 out of 10 times I walk away".

"I deal with a wrestler like I deal with every other fighter. I punch them in the mouth".

"I ain't no part time fighter. He thinks this is a game where he can come back and forth. I will send this pretender back so he can play house with the other part timers. This realm is for the real fighters, not these damn pretenders."
Normally, this is where I would tell you to put a grand on Hunt and collect that money from all the casuals / WWE fans who are bound to come over and sway the odds towards Lesnar. Hunt has a lifetime of striking experience while Lesnar sure seems to hate being hit. Plus, the heavyweight division has changed a lot since the Lesnar days. The overall level of talent in the division is worlds higher than it was in 2008-2011.
The thing is, if the UFC has taught me anything over the last year, it is that I know nothing about mixed martial arts. We've had so many upsets over these past months that it's hard to keep track. Ronda Rousey fell to Holly Holm, Holly Holm fell to Miesha Tate, Conor McGregor fell to Nate Diaz, Fabricio Werdum fell to Stipe Miocic, Hector Lombard fell to 45-year-old Dan Henderson and Luke Rockhold fell to two-week-notice Michael Bisping!
The lesson the Just Bleed gods are trying to teach us is that no one is invincible. I mean, we already know that, but this last year in MMA has really hammered the point home. What Mark Hunt has in his favor is a lifetime of fighting experience. He has fought wrestlers before and can work the takedown defense pretty well. His greatest strength (hitting people in the face) also happens to be Brock's one weak point (getting hit in the face).
What Lesnar has going in his favor is his wrestling pedigree as a two-time All-American wrestler and heavyweight NCAA champion. The guy can legitimately wrestle and his time in the cage proved that point beyond all doubt. His 55% takedown accuracy in his career places him as the third-best of all time in that metric to this day. Meanwhile, Mark Hunt stands as the 4th best heavyweight of all time in takedown defense. But as history shows, Lesnar stands a good chance to win this fight if he can get Hunt on the ground and keep him there.
Brock also said in an interview recently that he is taking this fight "one thousand percent" seriously. He says he is completely and totally all-in and mentioned a legitimate fight camp to prepare for this fight. Remember, Lesnar is a former heavyweight champion. He's not just some random WWE entertainer with zero real fighting experience. The big question mark is how his 4+ year layoff from mixed martial arts will affect his performance on fight night.
Brock Lesnar Highlights
Mark Hunt Highlights
Old News: Daniel Cormier vs. Jon Jones
---
Now that Jon Jones is out of UFC 200, this next section is outdated. I am leaving it up because it still offers a discussion of Daniel Cormier, what he's been up to lately and provides some context for UFC 200 as a whole.
---
The Main Event of this very stacked card will feature Daniel Cormier and Jon Jones in a rematch bout for the light-heavyweight title. This is an interesting fight because although D.C. is the current champion, his last loss came at the hands of Jon Jones in 2015. At that time, D.C. was the challenger and Jon Jones was the champion. In fact, Jones was one of the most dominant fighters in the history of the sport.
After successfully defending his title against D.C., Jones went through a spate of legal issues that he brought entirely on himself. A failed drug test and hit-and-run accident later that year resulted in the UFC stripping Jones of the title and suspending him indefinitely.
So while Cormier is the current titleholder, Jones never really lost the title in a fight. In fact, Jones thoroughly dominated D.C. in their last fight which you can see here. With the light-heavyweight title now vacant, UFC brass arranged a title fight between Anthony Johnson and Daniel Cormier. Cormier won that fight with a third round rear naked choke and became the new light-heavyweight champion.
There has been plenty of trash talk between then and now as expected. Jones and D.C. have no love for one another whatsoever. Jones calls D.C.'s title fake, D.C. calls Jones a druggie, rinse and repeat. Now, after all this time, we finally get to see them square up once again for the title.
D.C. has defended the title one time since defeating Johnson. In October of 2015, Alexander Gustafsson challenged D.C. for the title and the two put on a great fight for five rounds. Gustafsson ultimately came up short in the decision, just like he did against Jon Jones in 2013. Poor Gustafsson; he's such a great fighter, is a nice guy and came really close to winning both matches. In a different era, he'd have a belt.
Back to Jones. Jon Jones made his return to the UFC earlier this year in a match against up-and-comer Ovince St. Preux. Jones won the fight, but he clearly didn't look like his old self. Jones seemed more tentative than in the past and struggled to end the fight. He never really got in trouble, but it looked like he had a hard time pulling the trigger and being his usual aggressive self.
After the fight, Jones said he was disappointed in his performance but glad he got a fight in before his next title match. Up next: Daniel Cormier. Jones's tentativeness in his last fight makes it more difficult to predict the outcome of the rematch with Cormier. Jones looks technically sound and seems to have taken an even more serious approach to fitness, but is his mental game all there after everything he's been through over the last couple years?
Looking back to the first D.C./Jones fight, it was surprising at how Jones managed to dominate every aspect of the fight. I gave D.C. a major edge in wrestling and possibly an edge in dirty boxing, but Jones won everywhere the fight went. Jones scored takedowns on the guy who is one of the most accomplished wrestlers in the UFC, Jones had the advantage in the standup, in the clinch and everywhere else. It was quite a lopsided affair after all was said and done.
The big questions going into this fight are:
Has Jones fully shaken off all ring rust?
Has D.C. made significant improvements in his game plan for Jones?
I'm going to go with Jones winning this fight until something else happens. Predictions are next to worthless in this Year of the Upset, but Jones was the better fighter last time and there is no knowable information to suggest otherwise. We can only make decisions based on what we know, so I'm going to bet on Jon Jones being the light heavyweight champion after UFC 200.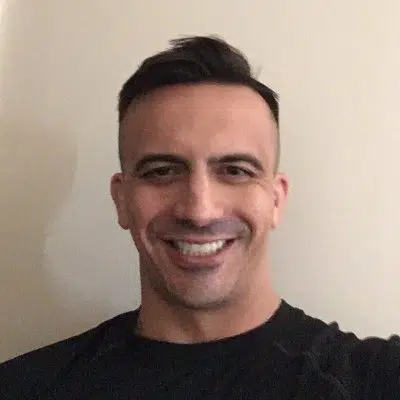 Wes Burns has more than a decade's worth of experience as a writer, researcher, and analyst in the legal online betting industry and is co-founder of OnlineBettingSites.com. Wes approaches his work from the viewpoint of players.