UFC 218 Betting: Holloway vs. Aldo Rematch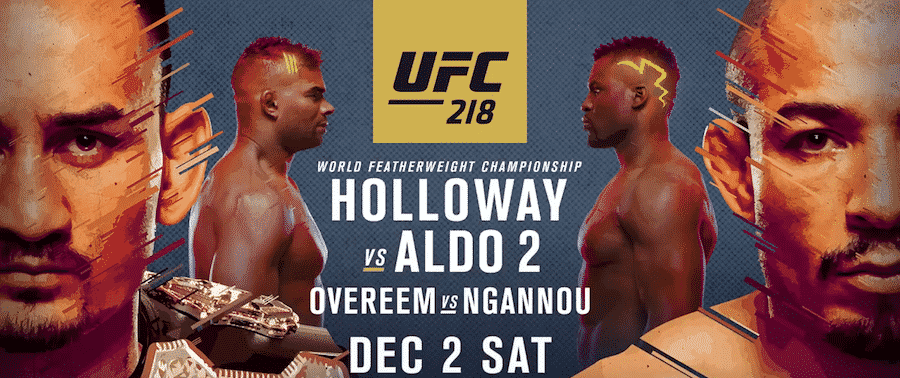 Former featherweight champion Jose Aldo (26-3) and current champion Max Holloway (18-3) will run it again this weekend as they clash for the second time this year. Max Holloway was originally scheduled to face Frankie Edgar, but an injury forced Edgar out and has given Jose Aldo an unexpected opportunity to take a second crack at regaining the featherweight title in a match against the man who beat him back in June.
Where to Bet on UFC 218 Online
UFC 218 gets underway this Saturday at 10 PM ET / 3 AM GMT at Little Caesars Arena in Detroit, Michigan. This is shaping up to be a quality fight card with Holloway and Aldo serving as an intriguing main event and other fights that should provide plenty of action.
Full UFC 218 Fight Card
Main Card
Max Holloway vs. Jose Aldo (featherweight)
Alistair Overeem vs. Francis Ngannou (heavyweight)
Henry Cejudo vs. Sergio Pettis (flyweight)
Eddie Alvarez vs. Justin Gaethje (lightweight)
Tecia Torres vs. Michelle Waterson (strawweight)
Prelims
Charles Oliveira vs. Paul Felder (lightweight)
Alex Oliveira vs. Yancy Medeiros (welterweight)
David Teymur vs. Drakkar Klose (lightweight)
Felice Herrig vs. Cortney Casey (strawweight)
Early Prelims
Sabah Homasi vs. Abdul Razak Alhassan (welterweight)
Jeremy Kimball vs. Dominick Reyes (light-heavyweight)
Justin Willis vs. Allen Crowder (heavyweight)
Amanda Cooper vs. Angela Magana (strawweight)
UFC 218 Betting Odds
You can bet on UFC 218 online at dozens of bookmakers, so one thing I always suggest is to shop around for the best odds. Doing so will ensure you get paid more for your winning picks and risk less on your picks that don't pan out so well. The following table compares the UFC 218 odds across three reputable MMA betting sites.
ComeOn
William Hill
888Sport
Max Holloway

Jose Aldo

20/67

23/10

3/10

5/2

33/100

43/20

Alistair Overeem

Francis Ngannou

33/20

5/11

8/5

1/2

33/20

11/25

Henry Cejudo

Sergio Pettis

5/13

39/20

N/A

N/A

7/20

2/1

Eddie Alvarez

Justin Gaethje

29/20

10/19

8/5

1/2

7/5

13/25

Tecia Torres

Michelle Waterson

4/7

27/20

8/13

13/10

11/20

13/10

www.comeon.com
www.williamhill.com
www.888sport.com
Don't Miss the Stacked Undercard
Alistair Overeem (43-15) and Francis Ngannou (10-1) will give us a heavyweight fight with big division implications between two men who have been on a tear of late. Alistair Overeem is a legend in kickboxing and MMA with nearly 60 MMA fights to his name.
Overeem is still going strong on the back of a 2-fight win streak over very tough opponents Mark Hunt and Fabricio Werdum. His opponent, Francis Ngannou comes in on a 9-fight win streak and has finished every single one of his wins. The only time this man has even seen a decision was in his single loss back in 2013.
Henry Cejudo (11-2) and Sergio Pettis (16-2) is likely to give us a preview of Mighty Mouse's next challenger for the flyweight title. Henry Cejudo's power and wrestling will make for an interesting matchup against Sergio Pettis' flashy and unorthodox style. Whoever wins this one will have a good case for challenging Demetrious Johnson.
Eddie Alvarez (28-5) and Justin Gaethje (18-0) also looks promising. Eddie Alvarez always puts on a show and has become a crowd favorite over the years because he fights with extreme heart. He'll be putting his very solid record on the line against an extremely promising Justin Gaethje, who has is undefeated over 18 professional fights with finishes in 16 of those fights.
Gaethje is just wrapping up as a coach of The Ultimate Fighter 26 and has fought once in the UFC to date. In his UFC debut against Michael Johnson in July, Gaethje got the win and became the first person to stop Johnson with strikes. Now, he faces opposing TUF 26 coach Eddie Alvarez in a fight that pits two absolute warriors against one another.
Tecia Torres (9-1) and Michelle Waterson (14-5) will round out the main card with a women's strawweight match between two women with a background in karate. Both have wanted this fight for some time. Tecia Torres is currently riding a 2-fight win streak while Michelle Waterson was well on her way to earning a title fight before falling to Rose Namajunas back in April.
Max Holloway vs. Jose Aldo Preview and Pick
Jose Aldo (26-3) has only lost twice over the past twelve years, but both of those losses occurred within his past three fights. Prior to meeting Conor McGregor at UFC 194 in December of 2015, Jose Aldo was one of the most dominant active champions in the UFC with seven straight successful title defenses dating back to 2011 and 18 straight professional wins dating back to 2006.
For a very long stretch, Jose Aldo had an almost superhuman mystique about him as such a long-established champion. In fact, Jose Aldo was the only featherweight champion in UFC history as recently as 2015. Aldo became the default champion of the then-new featherweight class in 2010 when World Extreme Cagefighting merged with the UFC.
Aldo had his first title defense fight in 2011 and then embarked on his long run as the featherweight king. That all came to a screeching halt in December 2015 when Irish sensation Conor McGregor knocked out Jose Aldo in 13 seconds at UFC 194.
In the 2015 fight, Jose Aldo rushed Conor McGregor almost immediately and fell right into McGregor's counter left hook. The long-reigning champion was knocked out cold and Aldo was revealed to be human after all. It was the fastest finish in a title fight in UFC history.
Jose Aldo came back seven months later to fight Frankie Edgar and get back to his winning ways with a decision there. With Aldo back to winning, his loss to McGregor could have been written off as an anomaly – just one of those things in the fight game where mistakes can be extremely costly at the highest levels.
But then, Jose Aldo experienced his second loss in three fights when he fought Max Holloway for the featherweight title in June. This loss was even more definitive in establishing Jose Aldo as a mere mortal. It was a great, back-and-forth fight, but eventually Max Holloway figured out his range and timing and ran away with the fight to win it via TKO in the third.
The outcome of the first Jose Aldo vs. Max Holloway fight could not be chalked up to a mere freak occurrence or a one-off thing. Jose Aldo can be beaten, after all. And that catches us up to the modern day.
Now, Jose Aldo and Max Holloway meet for the rematch. If Jose Aldo is to win this weekend, he needs to return as an improved version of his past self. Showing up as the same fighter will do him no good as he was clearly outclassed at UFC 212.
Taking the title back from Max Holloway (18-3) will be a tall order. Holloway enters UFC 218 on an eleven-fight win streak dating back to 2014. His last loss came at the hands of Conor McGregor in 2013 via decision. Since then, Holloway has beat a long line of featherweight standouts, including impressive stoppages of Anthony Pettis and Jose Aldo in his last two.
UFC betting sites and recent history both give Holloway the advantage here, with the former pricing Holloway as a strong favorite to win the rematch. Holloway also benefits from having more time to prepare as he was already in fight camp when Edgar withdrew. Jose Aldo will be fighting on three weeks' notice.
Everything seems to favour Max Holloway heading into this fight, but Aldo should not be underestimated. Jose Aldo did have his moments in their first fight. In fact, Aldo had more than just that – he pretty convincingly won the first two rounds before slowing in the third.
Two things appeared to work against Aldo in their first fight: cardio and leg kicks. Jose Aldo threw very few leg kicks and slowed way down in the third round in their first meeting. The cardio issue slowed Aldo way down after a strong start to the fight while leg kicks have long been an Aldo staple that have helped him keep opponents off balance and uncomfortable at all times.
Whether those issues were due to Holloway throwing Jose Aldo off his game plan or something else is up for debate, but Aldo's coaches later stated that a leg injury suffered prior to UFC 212 prevented Aldo from running or even throwing leg kicks throughout his entire training camp.
If the issue was indeed due to injury and if Aldo is fully healed, the return of his leg kicks will be a huge benefit to him at UFC 218. The cardio issue is still up in the air at this point. Jose Aldo tends to get into drawn out wars if he doesn't get the win early. He has been like that for a long time. Plus, with just three weeks' notice, we won't know how conditioned Aldo will be ahead of this fight.
There is also the psychological aspect to consider. Conor McGregor seemed to get into Aldo's head in the run-up to their fight back at UFC 194 and Aldo came out sloppily aggressive much to his demise. He doesn't have any of that serious drama with Max Holloway this time, but he will have the sting of that loss (which was Aldo's last fight) fresh in mind. I don't know if or how this will affect Aldo's mindset, but it is something to think about.
Overall, I do believe Jose Aldo is a legitimate underdog in this fight. He is just 31 years old, but he has had a long career complete with tough fights and grueling training. Max Holloway is the younger, fresher and more proven commodity at this point.
However, I also believe the odds underestimate Jose Aldo. He showed a clear advantage in the standup game over the first two rounds in their first fight. William Hill's price of 5/2 is too attractive to pass. Jose Aldo does have an uphill battle ahead of him at UFC 218, but those odds are long enough to make him worth a wager.
Related UFC Events: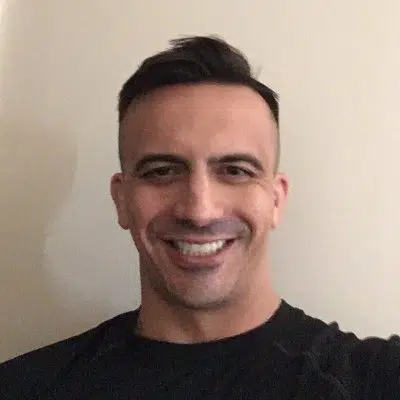 Wes Burns has more than a decade's worth of experience as a writer, researcher, and analyst in the legal online betting industry and is co-founder of OnlineBettingSites.com. Wes approaches his work from the viewpoint of players.