Update: Premier Punt has CLOSED.
Premier Punt is a unique daily fantasy sports site based out of Aberdeen, Scotland and established in 2013. What makes Premier Punt different than most DFS sites is the company holds a license from the UK Gambling Commission which allows it to hold fantasy sports contests alongside traditional, straight-up sports bets.
Alternative Reccomendation: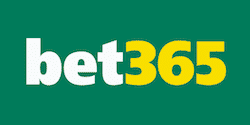 Bet £10, Get £30 in Free Bets
Min deposit requirement. Free Bets are paid as Bet Credits and are available for use upon settlement of bets to value of qualifying deposit. Min odds, bet and payment method exclusions apply. Returns exclude Bet Credits stake. Time limits and T&Cs apply. Registration required.
Fantasy contests at Premier Punt operate in the same basic manner as contests hosted by other sites – you draft a team, watch the games and earn fantasy points based on your players' real-world performances. Where Premier Punt diverges from the average fantasy site is that whenever you enter a contest, Premier Punt also presents you with a number of optional side bets custom tailored to your recent activity.
If you enter a contest involving a match between Bournemouth and Brighton, for example, you will be given options to also place traditional sports bets on which of those teams will win, who will score the first goal and so on. These optional side bets do not impact the actual contest in any way; they simply give you a chance to make a related bet and win a little money on the side.
The idea of combining fantasy sports with traditional sports betting seems obvious, but Premier Punt appears to be the first mainstream DFS site to offer that unique ability. Not only is it interesting as a player, but it just makes sense. As you do your research and pick your lineup, it is only natural that you will also pick up on information that you might find useful for placing regular sports bets.
It also seems like a smart idea from a business perspective. The DFS industry is not nearly as developed outside the United States and there have long been concerns that fantasy sports will struggle to compete against established bookmakers. Rather than throwing all of its eggs in the fantasy sports basket, Premier Punt involves itself in both. This two-pronged approach gives Premier Punt a competitive edge over traditional bookmakers and fantasy sites alike.
Premier Punt Fantasy Contests
Premier Punt is focused on football for now with contests available for:
The Premier League
Champions League
English Championship
You can choose among contests that last for a single match, a full day's worth of matches or an entire week's worth of matches. Daily and weekly games involve every team playing that day or week. Your job as the manager is to draft a team of 11 players from all teams competing that day or week. You can pick any player you wish as long as you stay within your virtual salary of £100 million and choose no more than 3 players from any one club.
Contests involving a single match work a bit differently. In these contests, you choose six players from the two teams but there are no salary conditions. You can simply pick whoever you want without any limitations except you must pick at least 1 player from each team and may pick no more than 1 star player (star players are denoted with a gold star).
You can see a list of upcoming contests by logging in to your Premier Punt account and then selecting play from the top menu. This brings you to the main lobby which shows a list of upcoming contests along with the matches covered by each contest, number of entrants, buyin fee and pot size.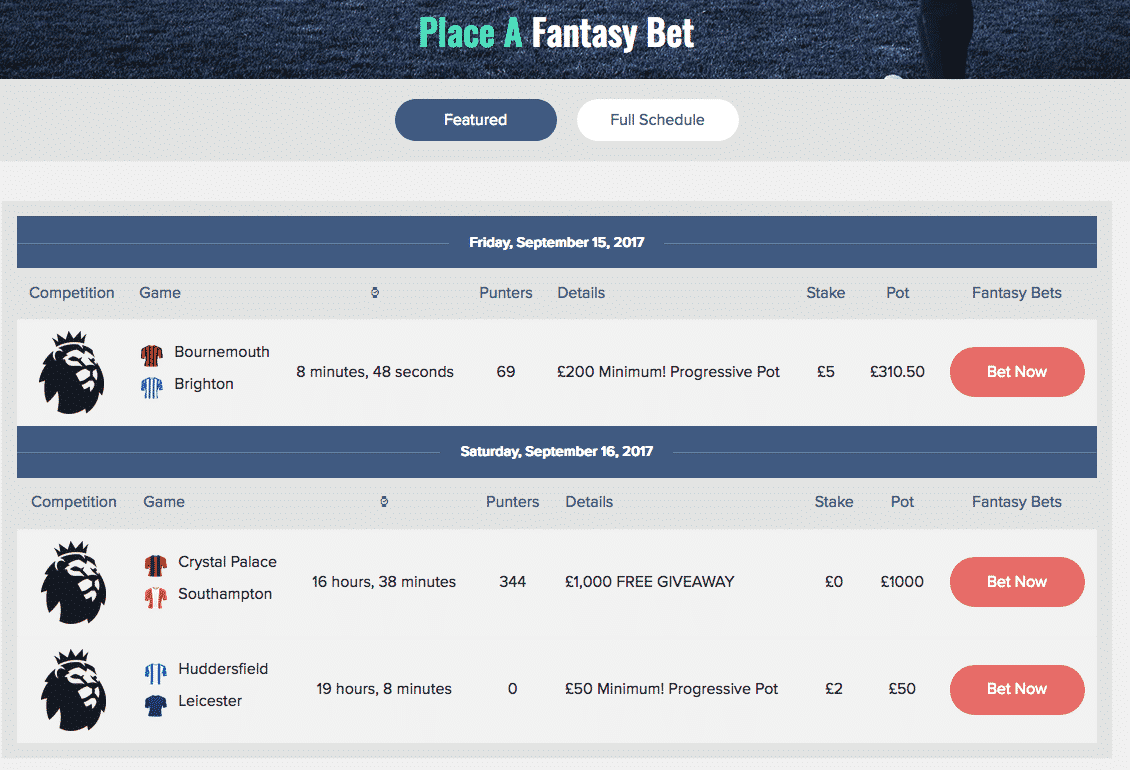 The stake column shows how much you'll be wagering to enter the contest while the pot column shows how much money is up for grabs in that contest. Premier Punt hosts freeroll competitions as well as paid competitions with buyins that start as low as £2 on up to £100.
Note that you can also move between featured and full schedule views within the main lobby. The featured view shows fantasy contests you can join immediately with a single click while the full schedule view shows a bigger list of upcoming football matches.
When you're in the full schedule view, you can click the select a bet button next to any fixture to see the various contests and their associated buyins/prize pools for that fixture. The example below from the full schedule screen shows that I selected Crystal Palace v Southampton to reveal five different contests involving that game.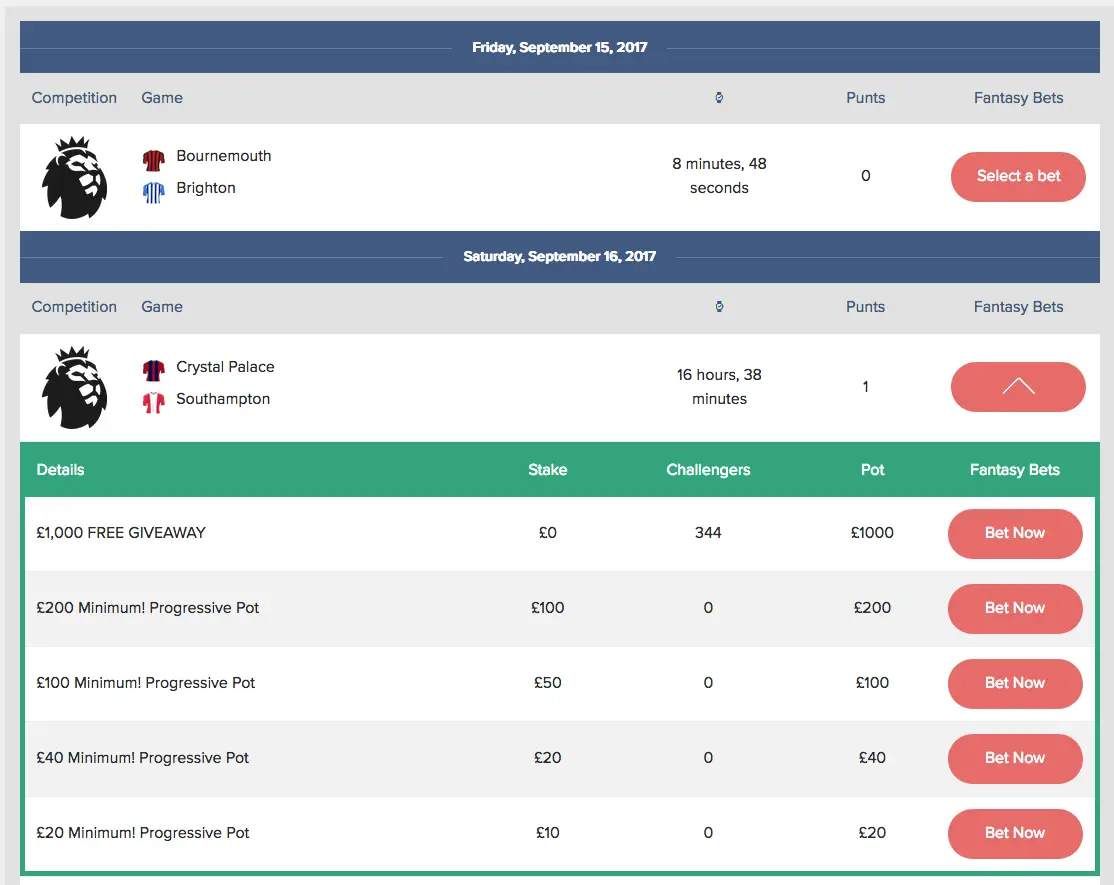 Drafting Your Team
After you select a contest to join, your next job is to actually build your team. Here is where you select six or eleven players active that day or week to form your fantasy team. Your goal at this point is to pick players for your team that will perform well in the real world. As your picks score goals and assists, save penalties, and so on, your fantasy team racks up points.
Single match games involve no salary so just pick any six players you want. Contests involving more than one match assign you a £100 million salary that you can spend on eleven players. Each player comes with an associated cost based on that player's desirability and recent form.
The drafting area is fairly simplistic in nature. At the top of the screen, you can switch between teams to see all active players for each team. In the middle of the screen, you see each player along with his probability as a starter, last 3 scores and an option to add that player to your fantasy team.
As you pick players for your fantasy team, you'll see their names and jerseys listed across the top of the drafting area.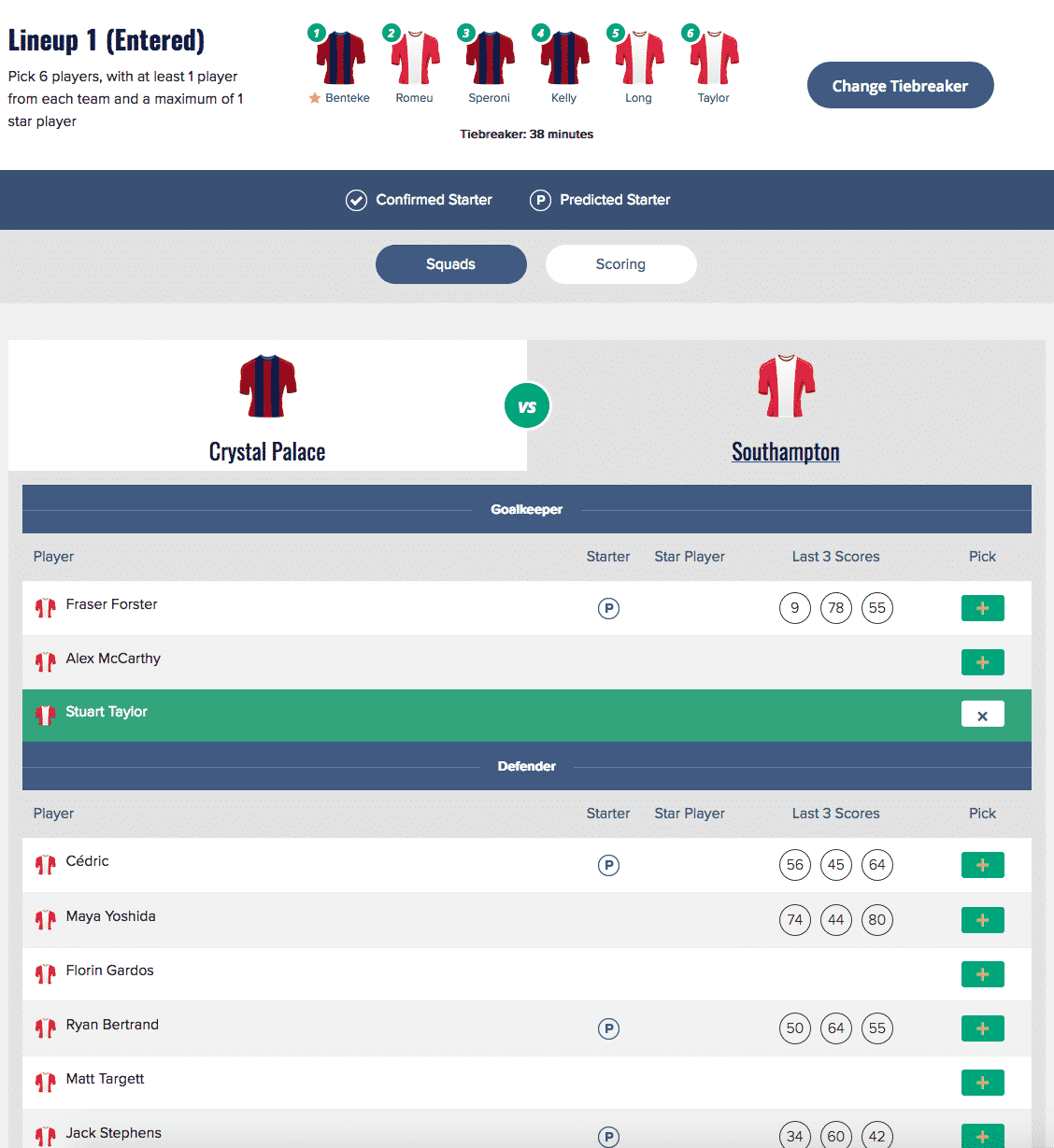 The drafting interface is clean and easy to work with, but one crucial feature that's missing is player bios. Other fantasy sites allow you to view a quick recap of each player's recent games along with stats, news headlines and more. At Premier Punt, you have to do your own research independently to get news and updates on individual players. Hopefully this is something that will be added as Premier Punt matures.
Premier Punt has one other unique feature that I haven't seen elsewhere: the tiebreaker. When you're done drafting your fantasy lineup, Premier Punt asks you to answer a tiebreaker question such as the minute in which the first goal will be scored. If you and one or more opponents end up with the same number of fantasy points, whoever came closest to correctly answering the tiebreaker question wins.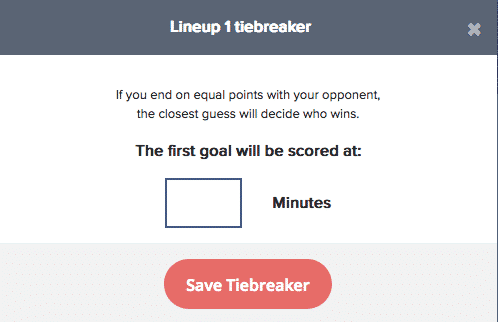 Premier Punt Scoring Rules
Premier Punt applies two different scoring systems, one for salaried daily or weekly contests and one for no-salary-cap single match contests. As your draft picks perform on the pitch, they earn points for your fantasy team according to the following scoring rules.
Player stats are tracked by Opta, which provides a live feed to Premier Punt. This means your players' performances are tracked and updated on your scoring screen in real time during each contest.
The scoring rules for daily and weekly games are as follows:
The scoring rules for single-match games are as follows:
Premier Punt Sports Betting
Where Premier Punt stands out from other sites we have reviewed is its offering of real money sports bets. This is not just a daily fantasy site, it is also an online bookmaker. The Premier Punt sportsbook is likely to grow in time and possibly even become a more independent segment of the website, but for now all sports bets are offered in conjunction with DFS contests.
After you draft a team and submit your lineup into a contest, Premier Punt displays a list of optional side bets tailored to your recent entries. I haven't yet found a way to just view a list of all available wagers. Instead, each time a handful of wagers are offered based on the teams I have drafted from and the players involved in my lineups.
For example, after entering a lineup for a contest involving Crystal Palace and Southampton, Premier Punt saw that I had a Crystal Palace-heavy lineup. The wagers on option reflected that as I was given options to bet on Crystal Palace to win both halves. I also had Christian Benteke selected as my star player and was presented with two additional wagers tailored to him: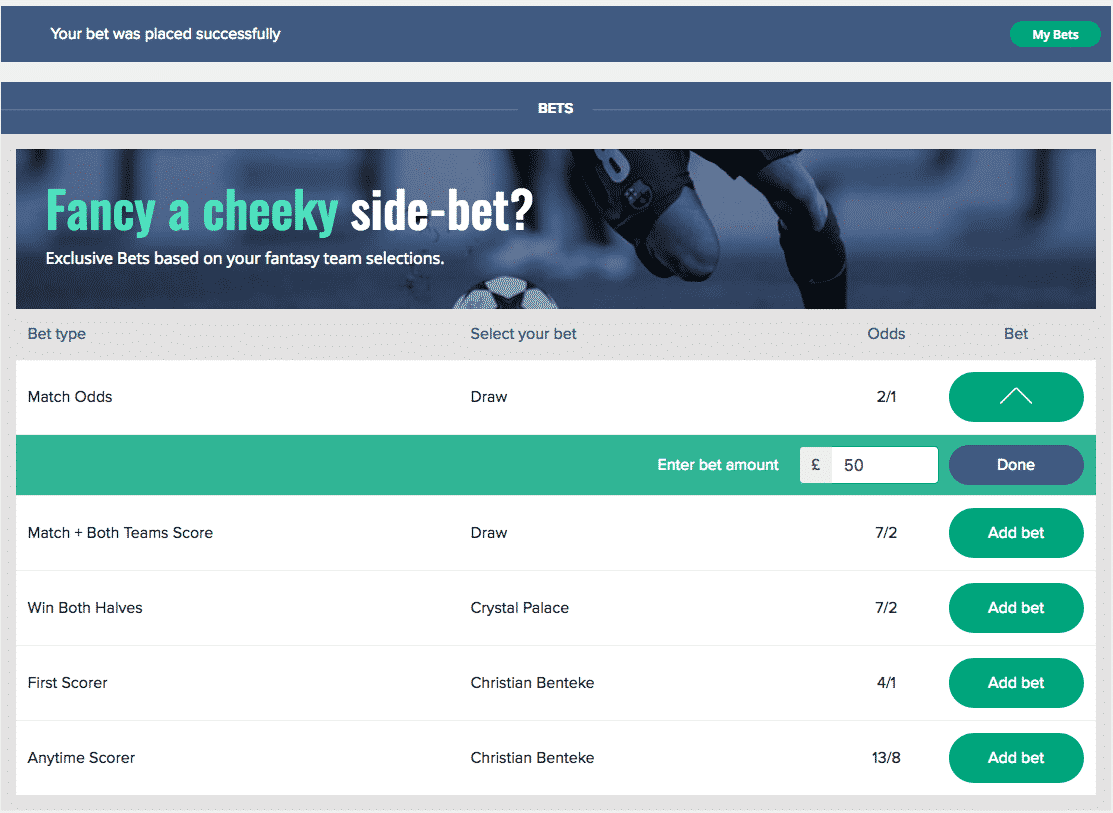 If you wish to take any of these wagers, just select add bet and then input your desired bet amount. Your bet will be accepted at the displayed odds and you'll be paid at the conclusion of the game if your bet is a winner.
The outcomes of your wagers have nothing to do with what happens in your fantasy contests. You can lose your fantasy contest and still win your side bets or vice versa. The side bets are always options and simply serve as a way to boost your winnings.
The Premier Punt CEO once explained that he realizes they face heavy competition from traditional bookmakers in the UK and Europe. He said that although Premier Punt remains a fantasy site at heart, he understands fantasy sites can easily end up just funneling players off to other betting sites.
So rather than bleed customers off to other bookmakers, Premier Punt decided they could include regular betting options alongside their fantasy sports contests. Thus, this site offers the best of both worlds.
Premier Punt has also submitted a patent application for its business model in the United States. Should the country eventually legalize sports betting, Premier Punt will be in prime position to enter the market as the first sports betting / daily fantasy combination website.
Premier Punt Deposits and Withdrawals
You can fund your Premier Punt account via credit and debit card only for now with a minimum deposit of £10. I have not yet run into a maximum deposit amount, but the website does allow you to set your own daily limit of £5 to £200. You can easily cancel the limit from inside your account area, however, so I'm not sure how useful the limits are. Still, it's good to see they're at least thinking about these things.
Withdrawals can be processed back through your credit card, debit card or sent straight to your bank account. The minimum withdrawal is £10.
Final Thoughts: Is Premier Punt Legit?
Overall, Premier Punt is a promising product. Their combination of fantasy sports with online sports betting is a unique offering and should give the company long-term sustainability. It is quite a pleasant experience to enter a fantasy contest and then find related sports bets all available with my one account.
There are still some areas in which Premier Punt has room for improvement such as including player bios in the drafting area and expanding into additional sports, but the website is off to a solid start so far. Now we will see how they compete against the entrenched major UK and European bookmakers moving forward.
Alternatives To Premier Punt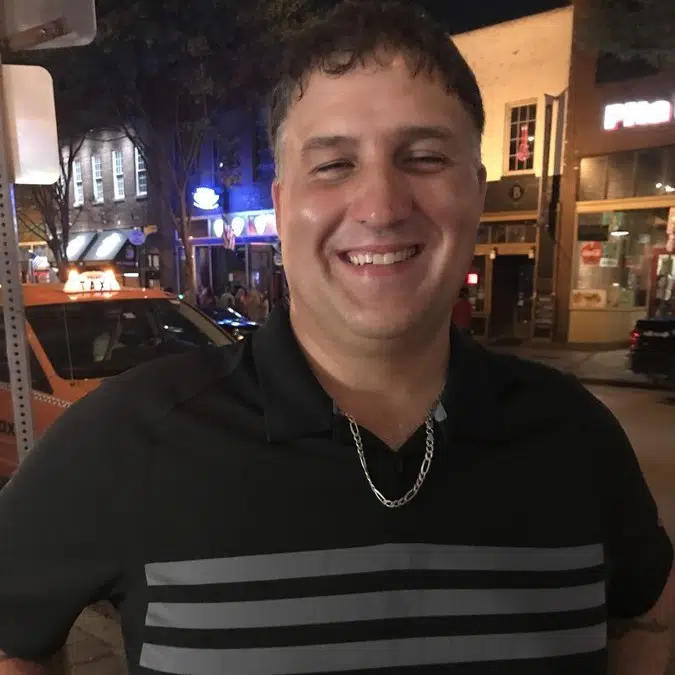 Mike Murphy is the founder of OnlineBettingSites.com and has over 10 years of experience in the legal online betting industry. A regular attendee of industry trade shows and conferences, Mike is a strong proponent of regulated markets and responsible gambling policies.