The advent of the internet made online betting available to anyone on the planet with a connection. When bettors deposit at online betting sites and follow the terms and conditions, they rightfully expect to be paid on winning wagers.
Sadly, it doesn't always work out that way.
While most betting sites are honest and trustworthy, some are not. Every industry has its rotten apples and online gambling sites are no different. There are just enough bad actors out there that it's worth exercising a little caution when choosing where to bet online.
It all comes down to trust. In this industry, reputation is everything. Once an operator loses its reputation for security, it's gone forever.
The good news is it's fairly easy to avoid online betting scams. Stick to popular and well-established betting sites, read our reviews, and you'll have a safe experience. A few basic precautions will take you a long way.
Reputable Betting Sites
Looking for safe betting sites? Any listed here fit the bill. We've worked with these recommended betting sites for years and experienced gamblers agree: these are the safest betting sites in the industry.
One of our guiding principles with this website is to earn our readers' trust. We do that by making responsible, dependable, and safe recommendations.
12 Possible Scam Warning Signs
The internet is littered with the corpses of people who fell prey to one rip-off or another. This is terrible for the players and legitimate bookmakers alike. The rogue operations out there clog up the internet and get in the way of customers looking for legitimate betting sites. If I could press a button and automatically lock every scammer in the world in a dingy prison cell, I would happily do so. Unfortunately, that button does not exist so instead I offer a list of warning signs that indicate online betting fraud may be going on.
It's important to stress that warning signs are not the same thing as proof. Even perfectly legitimate betting sites can display one or more warning signs for various reasons. For example, just because you personally don't recognize the name of a particular bookmaker does not necessarily mean it was established yesterday morning; it's possible you simply haven't heard of it yet.
Some warning signs obviously hold more weight than others. It's not such a bad thing if a site is brand new. After all, even William Hill had to start somewhere. You just need to take note and add that piece of information to the overall picture. It's a whole different ballgame, however, if a site is telling blatant lies about its licensing status or ownership details.
1. Strange or nonsensical name
BetIslands, SportsbookAction24, JackDaddysSportsbook and VIPBetZone are all real names of rogue sportsbooks that operated at one time or another. What do they all have in common? Terrible names and an obvious disinterest in building a long term brand name. In many cases, these websites are operated by people with poor English. In others, the owners simply don't care because they burn through dozens of domains as they open one book, close it down and move to the next.
I'll admit this warning sign is a bit subjective, but you should know by now that some betting site named JackDaddysSportsbook should probably be approached with some caution. A great name doesn't guarantee safety and a poor name doesn't guarantee it is a scam, but you should definitely be alert if the name seems strange. Use your common sense.
2. Low quality design
A website that looks like it was designed by an 8th grader in 1995 is concerning for several reasons. It indicates any one or more of the following:
The owners are not up to date on technology (how can they ensure your safety?)
The owners don't care (because they churn though websites)
The owners lack funds (how will they pay you?)
That old saying about judging books by their covers is so overused. If a betting website looks terrible, it is probably best avoided. There are exceptions, but those exceptions are increasingly rare in this day and age. On the flip side, a great website is not a guarantee of safety.
3. Random e-mails or phone calls from strangers
When has responding to an e-mail from a random stranger ever resulted in you stumbling into a long-lost inheritance or free 10-day cruise? If you receive an e-mail from some random sportsbook asking you to deposit (while also promising tons of bonus money), the best course of action is to delete that e-mail immediately.
Legitimate bookmakers do not need to buy random e-mail lists and spam millions of people. Not only is spamming illegal in most first-world countries, but it is unprofessional and a turn-off to most customers. A worthwhile betting site builds a reputation and advertises through legitimate channels.
Certain sports betting sites have a habit of cold-calling former customers, inactive customers, or just outright strangers and trying to convince them to deposit now and take advantage of a limited-time bonus. This is a bad sign because it is amateurish and illegal in certain jurisdictions.
Thankfully, I've only had to deal with one unsolicited phone call so far in my career. It was from a book that I had signed up to a few weeks previously just to check it out. It was around 8 at night when some guy named "Tony" with a New York accent called and told me about some awesome bonus offer. I told him I wasn't interested and he actually got angry with me. Can you even imagine a high-class sportsbook doing business like that?
The cold call is designed to pressure you into making a deposit immediately without considering the potential consequences. It doesn't matter if you don't have the money or want to do some more research before you play for real money; they want you to deposit right now. Don't fall for it. Nobody ever made a good business decision by succumbing to a high-pressure phone call.
4. Too-good-to-be-true bonus offers
Overly generous bonus offers are attractive and tempting for new players, but do not be fooled. Bookmaking is a tough business and legitimate shops cannot afford to throw money around left and right. A bookmaker that consistently offers huge bonuses and rebates shows that it puts more emphasis on attracting new customers than it does on running a long-term business. That is a bad sign.
The occasional big bonus is one thing. Sometimes books run short-term promos or other books focus on recreational punters by offering big money upfront and then offering less attractive odds on their wagers. I wouldn't call this a guaranteed sign of bad news, but I would definitely say that you need to proceed with caution if you find a book that offers significantly larger bonuses than what you're used to seeing.
So with that in mind, your scam radar should begin pinging whenever you run across a bonus offer that looks too good to be true. This points to one of several possible problems at that betting site:
The operators have miscalculated the true cost of the bonus and will soon find themselves in financial trouble. The site may refuse to honour the bonus or it could close shop entirely and leave depositing players out in the cold.
The site is purposely overstating the bonus up front while loading it with all sorts of terms and conditions on the backend that make the bonus much less worthwhile in the end
The site is a complete scam from top to bottom and is offering an unrealistic welcome bonus for no other reason than to attract deposits before cutting and running
If you find a welcome offer that is abnormally generous, it's time to get online and do a little research. Is this an established and reputable bookmaker? If so, you need to check the terms and conditions. Large bonuses tend to have high wagering requirements that will cause you to lose back most of the money before it is eligible for withdrawal.
If you are new to online gambling, you may not even have a useful reference point against which you can compare bonus offers to determine what is realistic and what is not. When it comes to sports betting, most bonuses are small and fairly unimpressive. A free £20 bet or 100% up to £100 offer is about as good as it gets for the most part.
You can also check the terms and conditions to see what is required of you to claim your bonus. In many cases, you will find that you'll be required to place real money bets equivalent to 5 times your original bonus + deposit amount before you can withdraw the bonus cash or any winnings. A 5x rollover is pretty standard for sports betting bonuses, but bonuses become progressively more difficult to clear as the requirements go up to 10x, 20x and beyond.
In the past, I have seen betting sites that place a limit on the size of any single bet you can place while clearing the bonus. Placing a single bet over that maximum would have voided the entire bonus. Other sites have been known to attach "win caps" that place an artificial limit to how much you can win with the bonus.
5. Predatory terms and conditions
Terms and conditions are a part of life in today's litigious society, but the terms and conditions page is also used by dodgy bookmakers as a nice little hiding place for unique ways to prey on their customers.
Always, always give the Ts and Cs a quick read before you sign up to a new betting site. If it's one of the major operators that we list here at OBS, you should be fine. Otherwise, you never know what you might find. You may be quite surprised in some cases.
Some sites like to hide hard withdrawal limits deep in their terms page. What this does is make it impossible for you to win any significant amount of money. Sure, their slots might actually have an average return-to-player of 96.4% in theory, but a max withdrawal limit drops that down to almost nothing.
Some sports betting sites like to straddle the line between outright thievery and merely questionable business practices. The latter group makes use of vague terms and conditions that it can interpret in any way it wants to avoid paying out the biggest winners. I cannot tell you how many times I've heard from disgruntled ex-customers who went on hot streaks only to have the book come up with some random reason not to pay what's due.
"Bonus abuse" is a key phrase to look for in any bookmaker's terms and conditions page. In many cases, a predatory betting site will say something about reserving the right to cancel a player's account and confiscate all funds without explanation if bonus abuse is suspected. Of course, they provide no definition of "bonus abuse" and can therefore use that term as a handy cop-out to avoid paying winners.
Betting sites that attach ridiculous terms to their bonus offers are engaging in deceptive advertising and should not be trusted. It would better serve you to accept a small, straightforward bonus than to try to clear a huge bonus and feel like you're walking through a minefield the entire time. Besides, why would you trust a betting site that acts in this manner?
6. Lots of complaints online
One of the most sure-fire ways to identify a scam betting site is to run a quick Google search on that site's name. If the results consist of page after page of complaints, there may be a problem. It is one thing for mainstream betting sites to receive complaints (you can't please all the people all the time), but it is another thing if there are a constant and overwhelming number of dissatisfied customers.
Don't be afraid to dig past the first page of results as well. Disreputable books have been known to create fake reviews on websites they own and certain affiliates are more than happy to promote anyone willing to pay up. Online discussion forums are also great places to find unbiased reviews from real customers.
7. Incorrect contact and ownership information
Incorrect or missing contact information is basically a dead giveaway that you're dealing with unsavory characters. Every legitimate bookmaker I have ever bet with, reviewed, or promoted could be contacted via phone, e-mail, and live chat. Any betting site that refuses to publish real contact information should be avoided.
A lack of transparency regarding ownership indicates one of two things. One, the site targets markets where it isn't licensed and must maintain secrecy to keep the owners out of jail. Two, the owners know they have a poor reputation and do not want to scare off potential victims.
Similarly, frequent changes in ownership are never a good sign. Once or twice in a betting site's lifetime is understandable, but if a site is constantly trying to remake itself, there may be a problem. In fact, the betting site may not actually be changing ownership at all.
This warning sign is most pronounced among certain offshore sportsbooks that target regulated markets such as the United States. Scam betting sites are invariably headquartered in third-world countries in which there is little oversight and business records are practically nonexistent.
It has happened before where a bookmaker started earning a well-deserved poor reputation and then later claimed to have been bought out by "new ownership" who couldn't promise to pay back any of the players stiffed previously, but would definitely "do everything we can" to act in good faith moving forward.
This kind of thing is difficult to prove, but there have been numerous instances in the past where evidence discovered by online sleuths pointed to a change in ownership being completely fabricated.
8. Fake licensing information
This warning sign is the biggest red flag of all that you're looking at a rogue sportsbook. Sometimes bookmakers claim to be licensed in some legitimate jurisdiction when in fact they hold no license whatsoever.
There are a couple of ways to find out if a license is legit. For one, some licensing bodies publish a list of all licensees right on their own website. The UK Gambling Commission is a great example. They have a licensee search function here that you can use to verify whether or not any specific betting website holds a valid license.
Other regulatory bodies you can check include:
Let's work through a quick case study to show how these links can save you from a lot of trouble. A gambling site called 12WinCasino.net appeared in 2017 and if you scrolled to the bottom of the page, you could see that it had the Malta Gaming Authority and the Gambling Commission logos indicating the casino was licensed by both regulatory bodies.

Let's try the UK Gambling Commission first…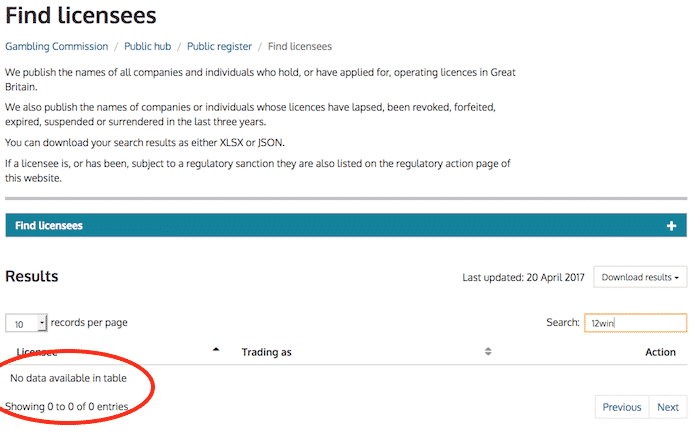 No luck. You'll get the same results if you check the Malta website as well. In fact, the MGA has a warning on this particular casino here. This goes to show that even today, there are casinos trying to pull the same online gambling scams we've been seeing since the 90s.
As a side note, 12WinCasino.net was full of red flags: a nonsensical name, poor grammar all over the website, fake licensing logos and zero information on their "about us" page.
9. Mimics some other well-known bookmaker
If you notice that a betting website looks eerily similar to some other bookmaker, there are two possibilities. The less sinister of these is that both books are owned by the same company. A little research can clear that up quickly if that is indeed the case.
The other possibility is that it is a rogue sportsbook that is purposely mimicking some other brand for the sole purpose of piggy-backing off its reputation. Yes, this really does happen. I have seen it myself. No legitimate website would purposely try to confuse its customers into thinking it is actually some other well-known brand.
This is such a widespread problem in the Asian market that Dafabet has set up an official website dedicated entirely to educating players on spotting the differences between a real betting site and an imposter. They even offer rewards ranging from $100 to $20,000 in gaming credits for information on Dafabet imposters.
The most obvious sign that something is wrong is if the website domain does not match the brand name. If you're trying to visit ComeOn.com but the domain is anything other than exactly this: www.comeon.com, there's a chance you're at a fake website.
There are actually certain instances in which legitimate bookmakers establish mirrors on different domains in order to get around internet censorship efforts implemented by certain governments. In that case, you may indeed find a legitimate bookmaker operating on a strange domain.
Naturally, this creates a chaotic environment which is just perfect for imposters. If you ever find yourself being directed to a domain that does not look right, you should verify the domain manually by typing in the original domain manually and sending an e-mail or finding the original site's official Twitter account and asking them.
Note: Twitter is also a playground for scammers. One popular Twitter scam is to set up an official-looking account and then respond privately to people who have reached out to public companies for support. Go to your browser, manually type in the betting site address and look for their official Twitter account there. Furthermore, do not ever give out any private information over Twitter even if it is via DM.
Other signs that a website may be an imposter:
The domain is not secured (i.e. the address begins with http instead of the more-secure https)
The images look like they are poorly aligned or of low quality
The website in general doesn't quite look "right"
The website contains numerous broken links
You notice obvious misspellings
The name of the website appears to be an attempt to piggy-back off the name of an unconnected high profile website in an attempt to confuse visitors
The lock icon is missing in the address bar (see below)
10. The Name of the Betting site is Completely Unfamiliar to You
This is a "soft" warning sign in that it isn't necessarily an indictment against any particular betting site. It could just be that you simply don't know the name even though it is run by an established and respected operator. Run a couple searches for the name of the site and see if it has been around for a while or if it is indeed a brand new startup.
If the site is indeed brand new, my advice would be to hold off a while and let other, more adventurous gamblers act as the guinea pigs. There are too many established and high quality companies out there that there is no need to take your chances with someone new to the game.
New betting sites need to prove themselves before they are worth depositing to. The only way they can do that is with time and happy customers. The most vulnerable time of a bookmaker's life is during the initial startup stages during which the operators, oddsmakers and owners are gaining experience and learning how to manage financial risk. Even if a new site has good intentions, things can still go poorly for the end user if the site runs into financial problems.
11. Headquartered in a Country with no Effective Regulatory Body
Betting sites headquartered in Panama, Costa Rica and other countries without effective regulatory bodies should be approached with a huge deal of caution if not avoided outright. A lack of oversight leaves the bookmaker free to do almost anything it wants with no penalties. They can steal from their players, refuse to pay winning bets, rig the games and more with virtually zero repercussions.
There are a handful of trusted betting sites that operate out of these countries, but only sites that target illegal markets. Even in that case, you should remember that you are at those sites' mercy. If you live in a country where online betting is prohibited, you will have no recourse if your site decides to take your money and close shop.
12. Withdrawals are Taking Longer and Longer
One of the most reliable signs that something bad is about to happen is an online bookmaker that is taking longer and longer to pay its winners. In most cases, it is a sign of serious financial troubles. Often, sites that are delaying withdrawals have somehow found themselves short on cash and are relying on new customer deposits in order to pay what they owe to other customers.
We have seen this time after time in the industry. First, the site begins taking longer than usual to pay winners. Wait times grow longer and people begin to complain. Sometimes, the site even sends a representative to major discussion forums who assures everyone that everything is fine, payments will be back on track soon, "we just had a problem with one of our payment processors, but your balance is safe," they say.
Then one day, the site simply vanishes with no further word. The representatives who assured the public that everything was fine are nowhere to be found. Customer support e-mails go unanswered and withdrawals stop altogether. The unlucky people who happened to join near the end of that site's life are simply out of luck and usually lose their account balances.
Why Do Rogue Betting Sites Steal From Players?
Rogue sports betting sites are rarely started by people with the sole intention of stealing from players. What often happens is a sportsbook experiences financial difficulties and starts misusing player funds. For example, it's common for poorly-run betting sites to start using new player deposits to pay off old debts. It turns into a type of Ponzi scheme where the book needs a constant flow of new customers just so it can pay off the old customers.
Occasionally, people do start betting sites with every intention to steal from others. The people who run these sites have no intention of ever running a legitimate operation. It doesn't take much know-how for some scammer from a third-world nation (that happens to have lax business laws) to set up a quick website that looks legitimate.
Still, whether bettors are dealing with a gang of thieves or broke businessmen, the outcome is the same. The players get the short end of the stick.
Scam Betting Sites Do Not Honor Bets
Rogue betting sites write their own rules and some have been known to change their own terms and conditions retroactively after a wager is placed. They may promote certain wagers that are different from market value to increase betting action at the book. Of course, they have no intention of honoring the wagers if they should win.
If these wagers win, the book will argue that there was a line error, which in the vast majority of cases isn't true. It's just another scam to fleece players of their money. This is called "freerolling" because the bookmaker acts only disputes the wager if the player wins.
Scam betting websites will void wagers for a number of reasons and in many cases will provide no evidence to support their claims. Players who win a lot of money will sometimes be accused of being part of a betting syndicate and the book will void winnings on the grounds that they are professional bettors. Scam operations will find any reason to invalidate winnings.
What's even worse is some sites selectively target customers. The casual gambler who places bets that are obviously bad will be treated well. If he gets lucky and wins a little money, the site will even honor his cashout request and maybe even give him a bonus. That player will speak well of the betting site while it turns around and fleeces people with bigger balances or who look like they know what they're doing.
Disreputable Operators Practice Rogue Affiliate Promotion
Affiliate marketing is one of the main methods used by legitimate and illegitimate betting sites to build up business. When a customer is referred to a sportsbook by an affiliate website, the bookmaker pays the affiliate a fee.
Many blacklisted betting sites still pay their affiliates, while simultaneously stiffing their players. In fact, some of the biggest scam sportsbooks actually have the most lucrative affiliate programs. These fake betting sites can afford to pay affiliates generously because they aren't paying their customers!
Are the affiliates complicit in the scam?
Not technically, some likely don't even realize the site is a sham but without affiliates promoting scam gambling websites, they would have significantly less business. So essentially, these affiliates are keeping these criminal gambling operations from going out of business.
Sadly, some affiliates write reviews praising rogue bookmakers, endorsing them as wonderful operators that are highly trusted.
NFL Season Attracts Ripoffs and Cons
The kickoff of the NFL season sees a sizeable jump in deposits into online betting sites. New brands will often appear just before the season starts, and some of them may be scam outfits. Because so many bettors are depositing online, it's easy for some of them to fall through the cracks and end up depositing in a less than reputable operator.
Because so many bettors are depositing online, it's easy for some of them to end up depositing at a less than reputable gambling operator.
These are your basic "fly by night" organizations. They pop up and then disappear a few weeks later leaving customers scratching their heads. That is yet another reason to stick with well-known betting sites with positive reputations dating back many years.
Choose Your Betting Sites Wisely
Even experienced bettors get scammed by rogue betting sites from time to time. This is especially true for US-based players who cannot play at the big-brand European sites. It is absolutely crucial to research any prospective sportsbooks before depositing. Use multiple sources and read what other customers have said in forums.
Keep an eye on the scam reports offered by SBR as well. Just keep in mind that SBR has suffered a number of accusations of treating high-paying betting sites favorably.
Avoid all sites on this blacklist and use your good judgment in where you choose to play. Remember that if it sounds too good to be true, it usually is.
Like this article on social media or share it with your friends to help others avoid rogue gambling sites and shady operators.
Use Common Sense to Avoid Betting Scams
Despite the negative tone of this article, most betting sites are safe places to bet online. Just use your common sense and trust your instincts. If a betting site gives you a sense of unease, stop and reconsider. There are always other options out there.
Whenever you try new betting sites, start with small deposits and work your way up from there. Let the brand earn your trust as it processes a couple of withdrawals.
Closing Thoughts
The thing to remember with these warning signs is that they are not perfect. Scam sportsbooks are always changing tactics and coming up with new ways to swindle innocent punters. Furthermore, not all of these warning signs is an ironclad indictment.
In any case, your best bet will always be to stick with well-known, big-name betting sites. Here at OnlineBettingSites.com, we only review and recommend the biggest names in the industry because we are well aware of the risks that come with signing up and depositing at unknown websites.
It would probably be more exciting if we branched out and talked more about lesser-known sites, but there's a reason we stick to the same old, tried-and-true bookmakers. It's because they work. Longstanding betting sites such as William Hill have been licensed, regulated, and paying winners for years. As the old saying goes, "if it ain't broke, don't fix it."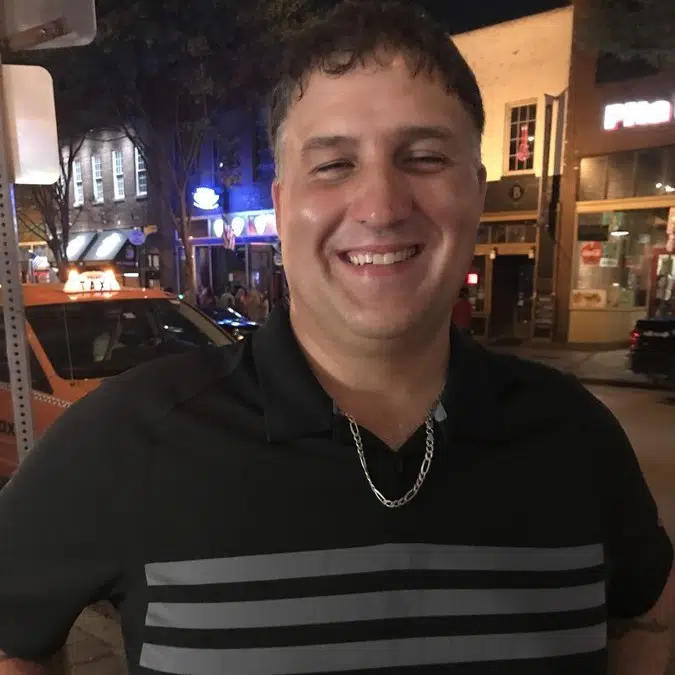 Mike Murphy is the founder of OnlineBettingSites.com and has over 10 years of experience in the legal online betting industry. A regular attendee of industry trade shows and conferences, Mike is a strong proponent of regulated markets and responsible gambling policies.