14 Red-Flag Warning Signs Exhibited by Scam Betting Sites

The online gambling industry is a target-rich environment for scammers, thieves and other miscreants. It offers the convergence of three things scammers like: the anonymity of the internet, large sums of money and easy prey. Today, we will be looking at the most important warning signs to watch for so you can protect yourself from scam betting sites.
Scam betting sites come in all different forms. The most extreme are what some punters call "deposit only" books. Deposit only books just straight up steal money with little attempt to hide the fact. Others may not be quite as blatant but use other tricks such as sneaky terms and conditions as an excuse to confiscate legitimate winnings.
We won't go into too much detail discussing the various types of scams you might run into on the internet. You can see our page dedicated to describing scam betting sites here. We are simply discussing the warning signs exhibited by bookmakers that are up to no good. If you see any of these warning signs, buyer beware.
It's important to stress that warning signs are not the same thing as proof. Even perfectly legitimate betting sites can display one or more warning signs for various reasons. For example, just because you personally don't recognize the name of a particular bookmaker does not necessarily mean it was established yesterday morning; it's possible you simply haven't heard of it yet.
Some warning signs obviously hold more weight than others. It's not such a bad thing if a site is brand new. After all, even 888Sport had to start somewhere. You just need to take note and add that piece of information to the overall picture. It's a whole different ballgame, however, if a site is telling blatant lies about its licensing status.
And before we get to the actual list, let me stress that it's OK to trust your gut instinct. If you're just getting a bad vibe from an online bookmaker and don't know why, it's time to slow down and think. What is it about this betting site that doesn't quite rub right with you?
Remember, there are always more options out there. Don't get caught up in the heat of the moment and deposit somewhere that doesn't inspire a sense of complete confidence in you. When it comes to your hard-earned money, it is better to be overly cautious than to be slightly reckless. Trust me, you're not going to run out of alternatives any time soon.
This is going to be a very long post, so I'm going to post the list of scam warning signs up front so you can see them all in one place. Below that will be all the details, examples and further details. Enjoy and be safe.
14 Warning Signs:
The name of the betting site is completely unfamiliar to you
The name of the website is strange or seems completely random
The website appears to be mimicking a different high-profile betting site
Unrealistic bonus offers
Many complaints on discussion forums and warnings on other review websites
The sportsbook has a history of frequent "changes in ownership"
You cannot identify the owners or verify their history
The book claims to have a license it does not have (huge red flag)
Problematic terms and conditions
Missing or false contact information
Headquartered in a country with no effective regulatory body
Withdrawals are taking longer and longer
Poor customer support
Out of date promotions
The Name of the Betting site is Completely Unfamiliar to You
This is a "soft" warning sign in that it isn't necessarily an indictment against any particular betting site. It could just be that you simply don't know the name even though it is run by an established and respected operator. Run a couple searches for the name of the site and see if it has been around for a while or if it is indeed a brand new startup.
If the site is indeed brand new, my advice would be to hold off a while and let other, more adventurous gamblers act as the guinea pigs. There are too many established and high quality companies out there that there is no need to take your chances with someone new to the game.
New betting sites need to prove themselves before they are worth depositing to. The only way they can do that is with time and happy customers. The most vulnerable time of a bookmaker's life is during the initial startup stages during which the operators, oddsmakers and owners are gaining experience and learning how to manage financial risk. Even if a new site has good intentions, things can still go poorly for the end user if the site runs into financial problems.
The Name of the Website is Strange or Seems Completely Random
GamblingDogLine.com and ProFootballLinesandOdds.com were once actual, operational betting sites that were later revealed to be complete scams. Can you guess what the first clue was that these betting sites might not be the best? It is surprising anyone thought these seemed like safe places to send their money, but it happens even to smart people in certain situations.
In the case of "Dog Line Gambling" SBR describes how a gambler was directed to that website by a scammer who claimed to be a winning handicapper and who just happened to have access to a large line of credit at that specific website. Of course, all the victim had to do to keep those winning picks coming was deposit thousands of dollars at that so-called betting site… which promptly vanished into thin air.
There are two lessons to be learned here. First of all, don't trust a betting site with a cheeseball name. Second, you need to be mindful of your mindset at all times. I'm sure the poor victim from that previous story was a smart enough person, but let himself get carried away with this handicapper (who had already given him one winning tip) in his ear telling him everything he wanted to hear.
The Website Appears to be Mimicking a Different High-Profile Betting Site
Imposter websites pose all sorts of problems for gamblers. Not only will you not get a fair game, but it is likely your most personal private information will be stolen, sold and distributed to bad actors all around the world.
This is such a widespread problem in the Asian market that Dafabet has set up an official website dedicated entirely to educating players on spotting the differences between a real betting site and an imposter. They even offer rewards ranging from $100 to $20,000 in gaming credits for information on Dafabet imposters.
The most obvious sign that something is wrong is if the website domain does not match the brand name. If you're trying to visit ComeOn.com but the domain is anything other than exactly this: www.comeon.com, there's a chance you're at a fake website.
There are actually certain instances in which legitimate bookmakers establish mirrors on different domains in order to get around internet censorship efforts implemented by certain governments. In that case, you may indeed find a legitimate bookmaker operating on a strange domain.
Naturally, this creates a chaotic environment which is just perfect for imposters. If you ever find yourself being directed to a domain that does not look right, you should verify the domain manually by typing in the original domain manually and sending an e-mail or finding the original site's official Twitter account and asking them.
Note: Twitter is also a playground for scammers. One popular Twitter scam is to set up an official-looking account and then respond privately to people who have reached out to public companies for support. Go to your browser, manually type in the betting site address and look for their official Twitter account there. Furthermore, do not ever give out any private information over Twitter even if it is via DM.
Other signs that a website may be an imposter:
The domain is not secured (i.e. the address begins with http instead of the more-secure https)
The images look like they are poorly aligned or of low quality
The website in general doesn't quite look "right"
The website contains numerous broken links
You notice obvious misspellings
The name of the website appears to be an attempt to piggy-back off the name of an unconnected high profile website in an attempt to confuse visitors
The lock icon is missing in the address bar (see below)
Unrealistic Bonus Offers
One thing we should always keep in mind regarding deposit bonuses is their primary purpose is to drive new business to the website, not to just hand out money from the goodness of their hearts. While there can certainly be value in claiming bonuses, we should remember that ultimately bonuses are self-serving from the bookmaker's point of view. They are not running a charity; they are trying to attract new customers.
So with that in mind, your scam radar should begin pinging whenever you run across a bonus offer that looks too good to be true. This points to one of several possible problems at that betting site:
The operators have miscalculated the true cost of the bonus and will soon find themselves in financial trouble. The site may refuse to honour the bonus or it could close shop entirely and leave depositing players out in the cold.
The site is purposely overstating the bonus up front while loading it with all sorts of terms and conditions on the backend that make the bonus much less worthwhile in the end
The site is a complete scam from top to bottom and is offering an unrealistic welcome bonus for no other reason than to attract deposits before cutting and running
If you find a welcome offer that is abnormally generous, it's time to get online and do a little research. Is this an established and reputable bookmaker? If so, you need to check the terms and conditions. Large bonuses tend to have high wagering requirements that will cause you to lose back most of the money before it is eligible for withdrawal.
If you are new to online gambling, you may not even have a useful reference point against which you can compare bonus offers to determine what is realistic and what is not. When it comes to sports betting, most bonuses are small and fairly unimpressive. A free £20 bet or 100% up to £100 offer is about as good as it gets for the most part.
You can also check the terms and conditions to see what is required of you to claim your bonus. In many cases, you will find that you'll be required to place real money bets equivalent to 5 times your original bonus + deposit amount before you can withdraw the bonus cash or any winnings. A 5x rollover is pretty standard for sports betting bonuses, but bonuses become progressively more difficult to clear as the requirements go up to 10x, 20x and beyond.
Also look for other sneaky terms and conditions attached to any large bonus offers. In the past, I have seen betting sites that place a limit on the size of any single bet you can place while clearing the bonus. Placing a single bet over that maximum would have voided the entire bonus. Other sites have been known to attach "win caps" that place an artificial limit to how much you can win with the bonus.
Betting sites that attach ridiculous terms to their bonus offers are engaging in deceptive advertising and should not be trusted. It would better serve you to accept a small, straightforward bonus than to try to clear a huge bonus and feel like you're walking through a minefield the entire time. Besides, why would you trust a betting site that acts in this manner?
Many Complaints on Discussion Forums and Warnings on Other Review Websites
The phrase "where there's smoke, there's fire" rings true for online gambling. Every betting site is bound to receive its fair share of critics, but it's a sign there are serious problems when literally every mention of that site on discussion boards is negative and when respected review websites warn players to stay away.
Run a couple searches online before you sign up at a new betting site and see what other people have to say. Make sure to also dig a little deeper and make sure you're getting the real picture. Sadly, there are some review websites out there that give perfect ratings to any betting site for the right price.
One thing I like to do is run a search and look for results from major discussion forums such as the SBR forums, Covers.com forums and Reddit. If you see nothing but complaints, it's time to move on.
The Bookmaker has a History of Frequent "Changes in Ownership"
Frequent changes in ownership are never a good sign. Once or twice in a betting site's lifetime is understandable, but if a site is constantly trying to remake itself, there may be a problem. In fact, the betting site may not actually be changing ownership at all!
This warning sign is most pronounced among certain offshore sportsbooks that target prohibited markets such as the United States. Such betting sites are invariably headquartered in third-world countries in which there is little oversight and business records are practically nonexistent.
It has happened before where a bookmaker started earning a well-deserved poor reputation and then later claimed to have been bought out by "new ownership" who couldn't promise to pay back any of the players stiffed previously, but would definitely "do everything we can" to act in good faith moving forward.
This kind of thing is difficult to prove, but there have been numerous instances in the past where evidence discovered by online sleuths pointed to a change in ownership being completely fabricated.
It is also highly suspicious when a betting site that is in poor financial condition, often with limited brand awareness, slow payouts and a negative reputation online suddenly manages to find a mysterious, unnamed buyer just in time to save the company. What does a broke, dysfunctional business have to offer anyone from an investment perspective?
You Cannot Identify the Owners or Verify Their History
Without exception, all of the world's biggest and most respected betting sites maintain a policy of transparency regarding ownership details. We can look up the corporate structure behind ComeOn, Betsson and others. There is no effort to hide who owns these sites because they are all legitimate companies that are licensed in major markets such as the UK, Spain, Italy and elsewhere.
A lack of transparency regarding ownership indicates one of two things. One, the site targets forbidden markets (such as the USA) and must maintain secrecy to keep the owners out of jail. Two, the owners know they have a poor reputation and do not want to scare off potential customers victims.
Whatever the reasoning may be, any betting site with mysterious owners should be treated with a great deal of caution. If you entrust your money with anonymous people, don't be surprised if one day you find yourself unable to withdraw your winnings.
The Site Claims to Have a License it Does not Have (huge red flag)
There is no bigger red flag than a gambling site that lies about its licensing status. If you discover that a site claims to have a license it does not actually have, you should not deposit there for any reason whatsoever. Nothing good will ever come from dealing with such crooks.
A complete lack of licensing is troubling all by itself. All legitimate betting sites are licensed somewhere, even if it's by a smaller jurisdiction with substandard licensing requirements. If a site cannot even be bothered to earn Costa Rica betting license (which is basically a rubber-stamp approval regulator), you shouldn't even be bothered to deposit there.
What's even worse than no license is lying about a license. Incorrect licensing information isn't something that happens by accident; it is a deliberate lie told to paying customers.
The good news is you don't have to take a betting site's word for it. Most legitimate licensing jurisdictions maintain a public database of approved gambling sites. Follow the links below to see a list of licensees at each of the world's largest regulators:
Let's work through a quick case study to show how these links can save you from a lot of trouble. A gambling site called 12WinCasino.net is live as of April, 2017 and if you scroll to the bottom of the page, you can see that it has the Malta Gaming Authority and the Gambling Commission logos indicating the casino is licensed by both regulatory bodies.

Let's try the UK Gambling Commission first…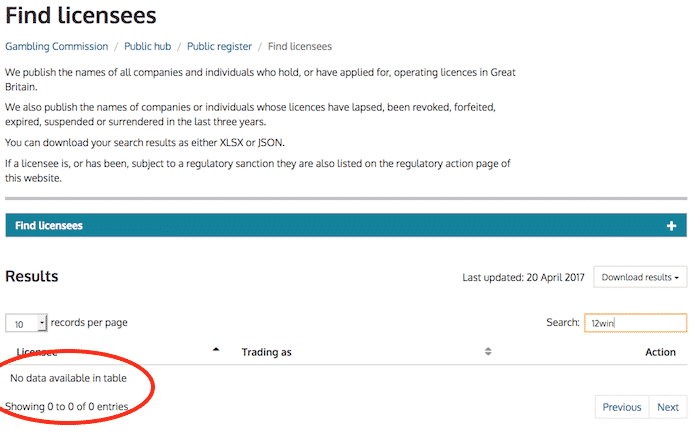 No luck. You'll get the same results if you check the Malta website as well. In fact, the MGA has a warning on this particular casino here. This goes to show that even today, there are casinos trying to pull the same old scams we've been seeing since the 90s.
As a side note, 12WinCasino.net is full of red flags: a nonsensical name, poor grammar all over the website, fake licensing logos and zero information on their "about us" page. I wouldn't be at all surprised if we were to find out they were using pirated casino games as well.
Problematic Terms and Conditions
Terms and conditions are a part of life in today's litigious society, but the terms and conditions page is also used by dodgy bookmakers as a nice little hiding place for unique ways to prey on their customers.
Always, always give the Ts and Cs a quick read before you sign up to a new betting site. If it's one of the major operators that we list here at OBS, you should be fine. Otherwise, you never know what you might find. You may be quite surprised in some cases.
Some sites like to hide hard withdrawal limits deep in their terms page. What this does is make it impossible for you to win any significant amount of money. Sure, their slots might actually have an average return-to-player of 96.4% in theory, but a max withdrawal limit drops that down to almost nothing.
For example, here is a screenshot taken just today from the terms and conditions page of Cash Pot casino:
In case the text in our screenshot is illegible, here's what it says:
"If a player's accumulated deposit amount does not exceed €200, player will be entitled only up to X10 last deposit. This maximum payout will be enforced also in cases where the player made additional deposits which were deemed at the sole discretion of the Casino to have been made in order to exceed the €200 accumulated deposit amount."
This sneaky term actually displays two common tactics used by scam betting sites. First, they have a completely random rule used to limit winnings. This is just a cheap way to save money and avoid paying anything significant to the vast majority of their customers (most new customers deposit less than €200).
Second, this screenshot provides us with a great example of sites using vague wording in their terms in order to do pretty much anything they want. In this example, they are saying that not only are sub-€200 depositors subject to win limits, but so is anyone else "at the sole discretion of the casino."
Bonus offers are frequently the subject of predatory terms, so make sure you read all the terms associated with any bonus before claiming it. For example, the StayBet.com sportsbook and casino offers bonuses that are confiscated (along with all winnings) if you place bets in the casino greater than €5:
Predatory terms and conditions may skirt the law on technicalities, but the end result is the same for the player – a poor experience.
Missing or False Contact Information
This one is fairly self-explanatory. Legitimate businesses want to hear from their customers in order to resolve complaints and keep their customers happy. If you find a betting site that does not have any means of contact, it shows either complete a lack of regard for their customers or severe underfunding issues.
Also, generic "contact us" forms do not make the cut. You should see real e-mail addresses and live chat support at the minimum. Twenty-four-hour phone support is even better.
Headquartered in a Country with no Effective Regulatory Body
Betting sites headquartered in Panama, Costa Rica and other countries without effective regulatory bodies should be approached with a huge deal of caution if not avoided outright. A lack of oversight leaves the bookmaker free to do almost anything it wants with no penalties. They can steal from their players, refuse to pay winning bets, rig the games and more with virtually zero repercussions.
There are a handful of trusted betting sites that operate out of these countries, but only sites that target illegal markets. Even in that case, you should remember that you are at those sites' mercy. If you live in a country where online betting is prohibited, you will have no recourse if your site decides to take your money and close shop.
Withdrawals are Taking Longer and Longer
One of the most reliable signs that something bad is about to happen is an online bookmaker that is taking longer and longer to pay its winners. In most cases, it is a sign of serious financial troubles. Often, sites that are delaying withdrawals have somehow found themselves short on cash and are relying on new customer deposits in order to pay what they owe to other customers.
We have seen this time after time in the industry. First, the site begins taking longer than usual to pay winners. Wait times grow longer and people begin to complain. Sometimes, the site even sends a representative to major discussion forums who assures everyone that everything is fine, payments will be back on track soon, "we just had a problem with one of our payment processors, but your balance is safe," they say.
Then one day, the site simply vanishes with no further word. The representatives who assured the public that everything was fine are nowhere to be found. Customer support e-mails go unanswered and withdrawals stop altogether. The unlucky people who happened to join near the end of that site's life are simply out of luck and usually lose their account balances.
Poor Customer Support
Poor customer support is quite common and it does not serve as ironclad proof that any one gambling site is a rogue. Instead, poor customer should be your cue to do a little more investigating to make sure this is indeed a betting site with which you feel comfortable trusting your money.
Even the best betting sites sometimes hire bad employees. But if poor customer support is a recurring theme or if your experience is especially bad, you should definitely consider taking your business elsewhere. I have personally seen numerous screenshots of live chat support people cursing at customers and even threatening them. If it's that bad, you should find somewhere else to play.
If a betting site has no respect for its customers, it will have no qualms stealing from its customers.
Out of Date Promotions
If it's April and the latest promotion on your betting site has a distinctly Christmas theme, something is seriously wrong. This does happen sometimes and it's never a good sign. The site has likely been abandoned and there is no telling where your money will end up if you make a deposit.