UFC 194 Betting: Jose Aldo vs. Conor McGregor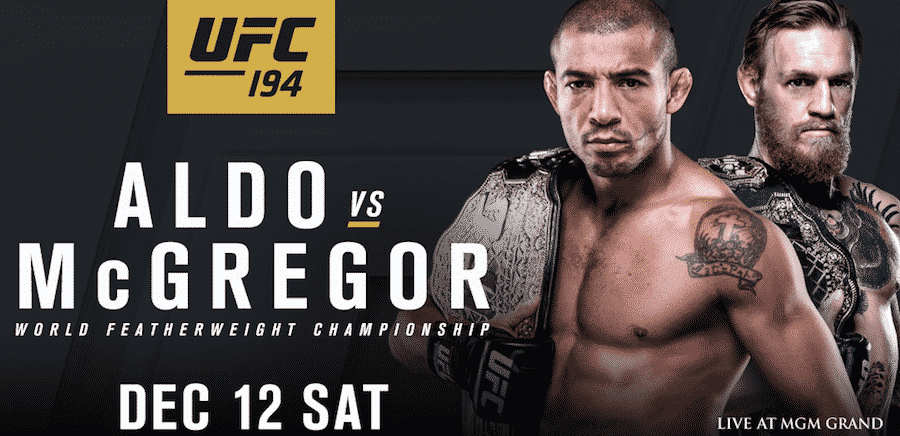 What: UFC 194
When: Saturday, 12 December 2015
Where: MGM Grand Garden Arena in Las Vegas
UFC 194 is shaping up to be one of the best fight cards we've seen in a long time. It's not just the huge main event that makes this such a promising card; but almost every fight on the main card consists of interesting matchups and major implications for at least two weight divisions and maybe three. If you like to bet on fights, this is one event not to miss.
As for the main event, we have the long-anticipated featherweight title reunification bout between Brazilian champion Jose Aldo and Irish interim title-holder Conor McGregor. We will also get to see Chris Weidman defend his middleweight title against Luke Rockhold. Meanwhile, Ronaldo "Jacare" Souza and Yoel Romero will face off to cement their places in middleweight title contention. The winner of that one will likely challenge the winner of the Weidman-Rockhold fight in a future title fight.
A welterweight matchup between Demian Maia and Gunnar Nelson pits two grappling aces who have a combined 11 wins via submission. If you can appreciate high level grappling in an MMA context, this fight will be a treat. UFC 194 will deliver something for everyone: decorated submission grapplers, powerhouse wrestlers, unorthodox strikers and well-rounded "do it all" fighters will all meet in Las Vegas on December 12th.
It isn't just the big names that make this a great card. It's really hard to predict a winner in every matchup. And whenever it is tough to pick a winner, it makes for an interesting fight. Plus, the stakes are high for almost everyone involved. Two title fights, one fight to determine the next middleweight challenger and one more just for good measure all combine to make UFC 194 a must-watch event.
Jose Aldo vs. Conor McGregor
It is rare to see fighters as dominant as Jose Aldo or Conor McGregor. It is even rarer to see them enter the same octagon and fight. Both look utterly unstoppable but yet only one man will have his gloves raised at the end of it all.
In Jose Aldo, we have the reigning Brazilian champ who hasn't lost a fight in over 10 years. His record dating back to 2004 stands at 25-1 with only 9 of those wins making it to a decision. He has successfully defended his title 7 times since 2011 and is always in the mix when we talk about the best fighters of all time. Jose Also holds wins over a who's who in the featherweight division: Chad Mendes (twice), Frankie Edgar, Kenny Florian, Urijah Faber and Cub Swanson.
The ever confident Conor McGregor will enter the arena backed by an 18-2 record and a unique fighting style that routinely throws other fighters off their games. He always looks supremely relaxed in the cage with a willingness to throw flashy spinning kicks, cardio-killing spinning back kicks to the body and long punches that hit harder than they look. Conor McGregor also possesses the rare ability to knock opponent out while backing up.
Conor McGregor talks a big game, but he has backed it up so far. He has been on a 14-win streak since 2010 with 13 of those ending early via KO, TKO or submission. His three most recent fights consist of dominant victories over Dustin Poirier, Dennis Siver and Chad Mendes.
This fight could go either way. Jose Aldo has been in the fight game for an eternity and simply does not lose. He seems to play it a little "safer" these days with decision wins, but he has such a well-rounded game between his vicious leg kicks, refined standup game and world class grappling. Aldo is more than competent everywhere.
McGregor, on the other hand, is a tough opponent to prepare for. He is efficient, conserves his energy, displays great movement in the ring and consistently shows that he is more than just a well-dressed trash talker. He is vicious in the ring and ridiculously confident.
The main question mark against Conor McGregor is how well he can handle grappling exchanges. Aldo's recent fights have showcased his excellent striking, but he is also one of the best grapplers in the division. McGregor seems to have a solid ground game, but we haven't seen it in action at a high level yet. If Aldo has as much of an edge on the ground as I suspect, we can look for him to shoot a takedown at some point and finish the fight on the ground.
Chris Weidman vs. Luke Rockhold
The Weidman-Rockhold fight is another tough one to call. Both Americans are well-rounded MMA fighters who can do it all – wrestling, striking and submission grappling. Chris Weidman's resume to date is nothing short of miraculous. He started making waves early in his career, but it was his first victory over Anderson Silva in 2013 for the middleweight title that put him on the general public's radar.
Going into that fight, Anderson Silva was the most dominant fighter in the UFC by a long shot. Many called him the greatest of all time because of his matrix-like ability to slip strikes with his hands down and making elite competition look absolutely silly. Chris Weidman derailed the Silva train in 2013, and then broke the Spider's leg again with a leg kick check later that year in the rematch.
Weidman has defended his title three times now against legendary fighters. He beat Silva in the rematch, beat Machida in an awesome fight in 2014 and then ended Vitor Beltfort in the first round in early 2015. Weidman is 13-0 in MMA competition and now 9-0 in the UFC. Now, he takes on the up-and-coming Luke Rockhold.
Luck Rockhold is a big middleweight at 6'3 and holds a 14-2 MMA record (4-1 UFC). Like Weidman, he has a wrestling background and wins over some big names such as Lyoto Machida, Tim Kennedy and Jacare. In his 14 wins, Rockhold has ended 12 of those fights early. He has six round 1 submissions, two round 2 submissions and four KO/TKO wins.
Weidman and Rockhold do have fights against common opponents, but those fights don't tell us as much as we'd like. Both fighters have faced Vitor Belfort, with Weidman beating Belfor in the first round and Rockhold losing to Belfort in the first. The problem with that comparison is that the Belfort-Rockhold fight happened before Belfort was forced to drop his TRT regimen. By the time Weidman fought Belfort, Vitor was a completely different fighter.
Both fighters have also faced Lyoto Machida. In that one, Weidman had five hard rounds against Machida in a fight-of-the-year matchup. Weidman managed to take the decision, but it was by no means a lopsided domination. When Rockhold fought Machida, Rockhold was able to end the fight in the second round with a rear naked choke.
Like the other fights scheduled for UFC 194, this one is hard to call. Weidman should have the edge with a better wrestling and BJJ background. We shouldn't forget that Weidman entered the East Coast Grappler's Quest just months after making the switch to BJJ and won all 13 matches there by submission. He later qualified for the 2009 ADCC Championship just a year after training and only lost in the quarter finals by points to Andre Galvao (who is a world class grappler himself).
Rockhold is dangerous everywhere, but he doesn't yet have the same credentials as Weidman. Looking at both men, we can see that they have already defeated some of the top fighers in the middleweight division. The odds may favor Weidman, but again, this one could go either way.
Yoel Romero vs. Ronaldo "Jacare" Souza
Watching Yoel Romero fight is like watching a runaway truck careen down a steep mountain road. It's not always pretty, but it is a sight to behold. He'll come in with a flying knee, fall over and jump back up again to pounce on his opponent who looks like he's just been hit by a truck. He can toss big men through the air effortlessly and constantly keep coming forward. I can only imagine what it must be like to be locked in a small cage with a madman like Yoel Romero.
It is easy to see his freak athleticism and forget just how technical this Cuban really is. Yoel Romero is a former world champion and Olympic silver medalist in freestyle wrestling. He has defeated multiple Olympic gold medalists and other world champions over the course of his career. Now, he takes that wrestling acumen into mixed martial arts to make him a constant takedown threat. His sheer force of will, wrestling abilities and explosive striking make him an extremely dangerous opponent for as long as he's conscious. If you blink or let him overwhelm you for even a second, you're going to be in big trouble really soon.
However, he is not unstoppable. We've seen Yoel Romero stopped by strikes and even taken down and mounted. His one loss came at the hands of Rafael Cavalcante back in 2011. Since then, Romero has clearly improved and now has six wins in a row. All of those except one ended with an early stoppage. He now holds wins over Lyoto Machida, Tim Kennedy and Brad Tavares.
Jacare Souza is also an impressive physical specimen with a grappling acumen that is just as impressive. In Jacare, we have a five-time world Jiu Jitsu champion with first place finishes in the absolute division from 2003 through 2005, a 2005 ADCC championship in his weight class and a 2005 runner-up finish in that same year's ADCC open weight division. Jacare is one of the most accomplished submission grapplers alive today.
His striking game has come a long way as well. When he first entered mixed martial arts, he sought to rely on his BJJ and Judo to put the fight on the ground and get the submission. His lack of standup was exposed with a first round KO loss in his first MMA fight. Ever since then, he has worked on his standup. He still gets submission wins, but his striking now makes him a multi-faceted fighter. His striking complements his grappling and vice versa. If you respect his striking too much, you open yourself for a takedown and submission. If you look for the takedown too much, you find yourself getting lit up on the feet.
In this matchup, we have two of the most talented grapplers in all of mixed martial arts. One of them is a powerhouse wrestler. The other is a Brazilian Jiu Jitsu prodigy. They come from completely different athletic backgrounds, but both are immensely athletic. Both have improved their striking by leaps and bounds. One of them will soon be fighting for the middleweight title.
Fighter Highlights
Other UFC Events: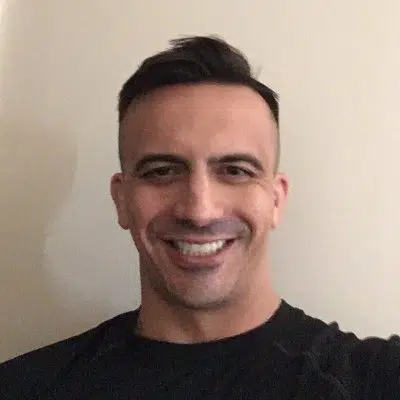 Wes Burns has more than a decade's worth of experience as a writer, researcher, and analyst in the legal online betting industry and is co-founder of OnlineBettingSites.com. Wes approaches his work from the viewpoint of players.